Recession or not, CEOs are preparing for the worst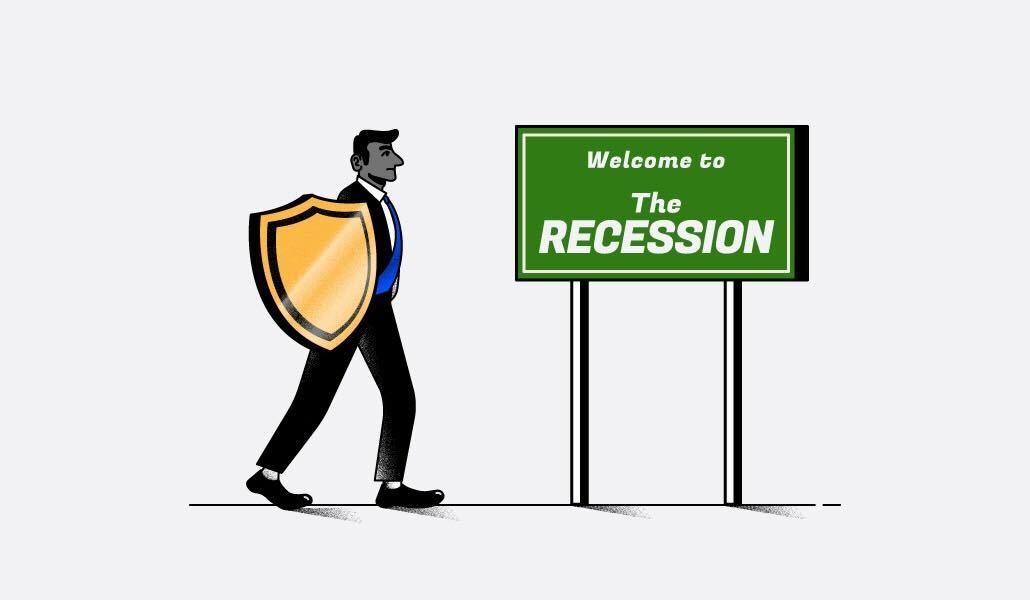 Experts have differing opinions on whether the U.S. is officially in a recession. Most executives aren't waiting for a formal announcement.
"Every CEO I know is doing some level of recession-planning," said Camille Fetter, CEO of the executive recruiting firm Talentfoot. "Everyone got really nervous when the tech layoffs happened when the market crashed. As a result, they're saying, 'Let's not make any sudden moves, but let's be prepared.'"
There's reason to be cautious, albeit a bit unsure, since there is opposing data. Recessions are often accompanied by a downturn in the job market. Despite recent news of hiring freezes and layoffs at tech companies like Meta and Tesla, the job market remains remarkably strong. Unemployment remained at 3.6%, according to Friday's June jobs report from the Bureau of Labor Statistics.
Digital professions like software engineers, AI engineers and cloud security architects are in such high demand that employers are tripping over each other to out-offer the talent recently let go by Meta and venture capital-backed firms that were hit by the downturn in the stock market.
Still, indicators such as record-high inflation, the rising cost of borrowing money and the hit to the stock market tell a different story. And that's got CEOs working to mitigate potential fallout.
It's one reason Lisa Yarnell, COO of AVYA Skincare, stopped replacing employees when they left the company starting six weeks ago. Instead, two employees are asked to split the responsibilities of each newly open role. It's what Yarnell calls "job expansion."
"I don't want to have the same payroll in 12 months that I do now," Yarnell said. "We're trying to be as cautious as we can and not over-hire, so that we don't have to terminate anybody. I've lived through those years in corporate America when there were mass firings. It was horrible."
"It takes a lot to gain employees' trust but it doesn't take a lot to lose it. If we start changing things for the sake of a recession it's going to be so hard to regain it."
AVYA, which sells its products online direct-to-consumer and via sites like Macy's.com and Amazon, has 24 full-time employees. As a business in growth mode — it sold its first product in 2018 — Yarnell manages costs with an army of freelancers. That allows the company to be nimble and staff up during busy times and downshift in leaner ones.
Freelancing grew exponentially throughout the past two years, as workers prioritized work-life balance over full-time employment. Companies happily scooped up the skilled talent to fill holes. It's also been a way for older employees who retired to reenter the workforce on their terms and supplement their income amidst rising inflation, according to Upwork, a platform that matches freelancers with jobs.
Those workers could be the first ones impacted.
"Independent contractors, freelancers, that's the easiest place to look [to cut] since first and foremost leaders want to protect their own employees," said Jason Heinrich, management consultancy Bain & Company's head of performance improvement practice. "We're in the early days of the recession so the key question is, how long and how deep will it be. That will ultimately be what determines the impact on the supply and demand for labor."
Winners and losers
When Heinrich looks at the companies that came out of past recessions successfully, themes emerge. Perhaps the most significant: Double down on client relationships.
That's why Jay Milligan, the recently appointed CEO of Competitive Capabilities International (CCI), a consultancy that advises manufacturers and supply chain and logistics firms on finding efficiencies, is traveling much of the next three months. Like Heinrich, he believes it's a crucial moment to get face time with customers — especially since decreasing Covid numbers make travel more palatable for some people — to discuss why it's important to continue working together.
He's got stops in the U.K., where he'll meet with 10 clients in eight days. Then he's back in the U.S., where he'll travel to multiple clients throughout the country and on to Cape Town in the fall.
"I'm going to meet my customers where they are," Milligan told WorkLife. "That's just what we have to do right now."
The move to remote work has also allowed CCI to reduce overheads by leasing out "redundant" office space they own in California and South Africa.
Deciding what's essential
In downturns leaders often cut the things they don't deem essential. One could be their commitment to environmental, social and corporate governance (ESG). That was a huge growth area in recent years, as employees flexed their muscle by demanding the companies they work for commit to environmental issues. Many employers invested in sustainability initiatives and even hired professionals to get those programs running. Some employees decided to join a company based on their commitment to diversity equity and inclusion and sustainability.
"It takes a lot to gain employees' trust but it doesn't take a lot to lose it," said Daniel J. Busch, CEO of InvenTrust Properties Corp. "If we start changing things for the sake of a recession it's going to be so hard to regain it."
3 Questions with Jennifer Strauel, chief people and diversity officer at travel tech company arrivia
Travel-inspired benefits, like retreats or working overseas, are becoming a popular talent-retention move. Why is travel such a perk at this time?

Travel is highly-valued by employees now for a variety of reasons. People are tired of being at home as we emerge from the pandemic. They miss traveling, which has led to a lot of pent-up demand. And the pandemic has made many of us value experiences over material possessions. Travel benefits for employees are still relatively uncommon, so it's a way to distinguish one company over another and can be a deciding factor in attracting and retaining talent in a tough labor market.
At arrivia we offer a free seven-day resort stay on people's first anniversary with the organization, and vacation cash awards on milestone anniversaries to use on travel. We are also considering an exchange program, where employees would be eligible to work in another one of our offices globally for two to four weeks. This has come up as a desired benefit in our employee surveys and focus groups over the past year.
If companies offer employees the chance to work abroad for some months, what would they need to do to cover themselves, in terms of payroll, or other potential complications?

In this remote work environment, this is one of the largest compliance challenges that employers like arrivia are facing. While we'd love to allow our people to truly "work from anywhere", it's not that simple. As an employer, we're not licensed or insured to have employees everywhere across the globe. It's difficult for us to know the employment and tax laws of every country, immigration/visa requirements, and banking/currency processes. Making visas, immigration, taxation and global benefits the responsibility of the employee would not release an employer of liability and would be burdensome to the employee.

To make it work, employers would need to create a policy for such work, with eligibility criteria, time limits, rules of engagement, cost responsibilities, expectations for performance and other factors to ensure mutual understanding and assess fit for such an arrangement. Plus, determine geographical limitations, if any, on where the employee can work from based upon things like IT security risks, licensure requirements, employment laws. And confirm how taxes will be handled, to name a few things.
With a potential recession looming, how might that impact an employer's ability to offer such perks?

It depends on the expense of such a program to employers. If it's a low cost to the company with all or most expenses borne by the employee, a recession would have a limited impact on the program. However, if it's a high-cost benefit with many of the expenses borne by the employer, that might be one that gets cut back when a company needs to save money. — Jessica Davies.
By the numbers
59% of 1,000 U.K. workers polled, said they will consider relocating to cheaper regions, to cope with the growing cost of living crisis, and capitalize on the rise of hybrid and remote working.
[Source of data: Moneypenny report.]

From April to June, demand for NFT and crypto-related skills and available jobs plunged. NFT-related jobs dropped 49% to 1,431; Bitcoin fell 48% to 542 jobs and Blockchain-related jobs dropped 33% to 3,226.
[Source of data: taken from 306,000 jobs posted on Freelancer.com.]
Quote of the week
"There's a huge trend towards customizing benefits and treating everyone as individuals at scale. I've seen it a lot in the tech space, but I still don't see it as often as I would expect. The companies that are going to win will be those that give more control to their employees."
What else we've covered
What we're reading
Check the fine print: There may be a surge in remote job postings, but some candidates have found the reality doesn't measure up [WSJ.]
A deep dive into the history of the physical office and its historical and current status in the future of work [The Atlantic.]