Culture
// July 8, 2022 ■ 4 min read
Collective recharging: Why companies gave employees July 4 week off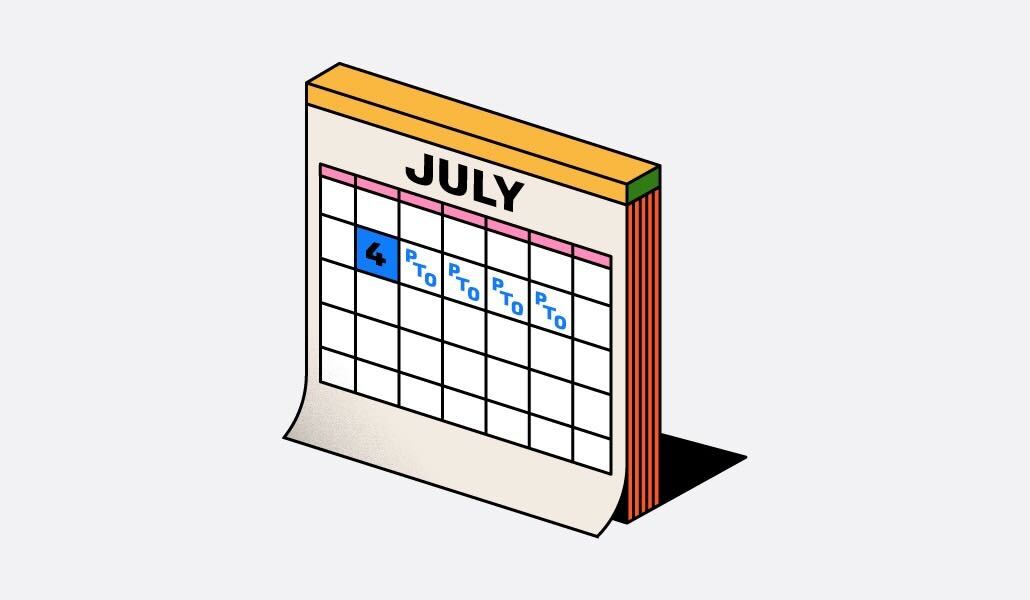 Automatic out-of-office messages are still rolling out, despite the July 4 holiday being over. Why? Employers have decided to give their employees the entire week off, separate from their regular paid time off, to rest and recharge.
Dan Colwin, an account director at LinkedIn, wrote a post that went viral on the platform last week announcing that most of LinkedIn's U.S. staff would be off for a full five days. "It's an amazing gift and I'm very grateful for it," he wrote.
LinkedIn made a similar move last April, giving staff an extra week off after the company surveyed its employees and found that the pandemic was inflicting "clear burnout," LinkedIn's chief people officer Teuila Hanson told CNN at the time.
And LinkedIn isn't alone. Colwin's post, which saw over 200,000 likes, drew comments from across the globe, including employers who said they're doing the same, like Chicago-based media agency GRP Media which gave staff a mid-year "recharge week" to coincide with the July 4 holiday.
"Our story is the same as every other company out there," said Bob Porcaro, president of the 30-employee company. "It's been very, very challenging."
In April, GRP Media transitioned to a hybrid model and asked employees to return to the office a couple of days a week. But the leadership team also wanted to acknowledge, and be sensitive to the fact, that much has changed over the past two years.
"We were talking about whether there is something we can do mid-year as a reward for sticking it out and doing an amazing job, and also coming off the heels knowing it would be tough for people to come back even a couple days a week," said Porcaro. "When we thought of it, we were like, how did we not think of this before? Like so many other companies, our eyes have been so open to considering things we would have never considered in a million years. We were used to the way we were doing things, but we said 'let's give it a try.'"
The timing is also a factor. Early July is especially slow with clients who might be on vacation themselves. That said, there is one caveat: urgent client requests must still be answered. Porcaro said 99% of the time, no urgent requests come up because of how supportive clients have been to the idea of a mid-year break.
Some employees at GRP Media planned vacations for the week, others – including Porcaro – stayed at home and relaxed.
"We were talking about whether there is something we can do mid-year as a reward for sticking it out and doing an amazing job, and also coming off the heels knowing it would be tough for people to come back even a couple days a week."
"It's a thank you to our great employees," said Porcaro. "We do hope people come back refreshed and feel that GRP appreciates them."
While many companies have previously given staff one or two extra PTO days around July 4, so they can have an extended weekend, giving the entire week off on top of a regular PTO allowance is far more novel. And with the seemingly relentless string of global calamities, from the pandemic, to war in Ukraine, school shootings, restrictions on women's healthcare, soaring gas prices and a potential looming recession, being not only a continuous distraction but also zapping people's motivation, some extra PTO couldn't come at a better time.
Other offices also closed until July 11, including audit and accounting firm PricewaterhouseCoopers, which had a company-wide week-long July 4 shutdown, according to various out-of-office replies. Similarly, a manager at London-based accounting firm Ernst & Young commented on LinkedIn that his company has the entire July 4 week off, as well as a winter break between Christmas and New Years. Software Company Bitly also does the same, according to an employee on LinkedIn.
Medium, an online publishing company, also closed for a summer break this week. Lauren Newton, head of people at Medium, wrote a post on LinkedIn saying it is "a collective recharge." While it's new for the company, Newton wrote that she is eager to collect feedback once employees return.
HubSpot, a software company based in Boston, is on its third company-wide "Global Week of Rest" since it was introduced last year as a part of its plan to prevent and battle burnout. Chief people officer Katie Burke said it's possible by having a skeleton crew online, providing advanced communication with customers and setting up additional resources. When the company announced the program to its customers, 86% of the feedback was positive.
Whether or not companies will make the week-long July 4 holiday permanent is yet to be seen. HubSpot certainly plans to make it a yearly perk. GRP Media's Porcaro said there will be "serious conversations about repeating it," though nothing has officially been agreed.
Other employers are inching towards a longer break, but aren't yet all in. Advertising agency Dentsu Creative's offices were closed on July 1 to let its employees enjoy an extended holiday. Its office has other company-wide days off, including before Memorial Day and Labor Day, for World Mental Health Day and Election Day.
"People are most likely to unplug when everyone unplugs," said Abbey Klaassen, Dentsu Creative president of the East region. "I personally feel it when I'm off for a day and the rest of the agency is on. The emails and notifications still come. It's much easier for people to step away and not feel the constant notifications and to be able to use that time with family and recharge."