These tech tools make collaboration between in-person and remote workers easier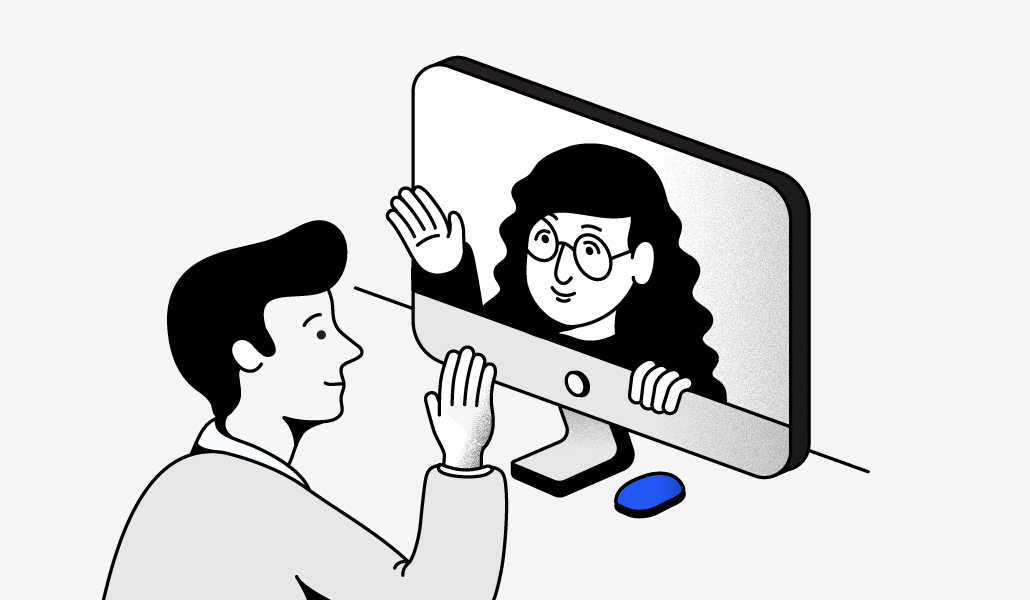 Ivy Liu
While many employers offer employees a hybrid work option, there will still be some people who remain home for the duration of Covid because they're immunocompromised or have young children not able to get vaccinated.
And let's face it, even with tools like Zoom, Slack and Google Meet, working together while being apart is clunky. Here's a look at how technology is being used to foster collaboration between employees at home and in the office.
Jugo
Jugo was born out of necessity. Early in the pandemic, its parent company, the business services firm JDS Group, needed a way to meet with clients during the lockdown, but the available options weren't ideal. They weren't meant to host meetings with dozens of people for hours at a time. As Jugo CEO Amy Kim puts it, their developers "hodgepodged together technologies to deliver that experience."
They spun it off into a separate entity — Jugo — and after a year of beta testing, recently opened for business to the public.
"We needed a platform that was scalable but created the interactiveness, as if you were in an in-person meeting, as well as being reliable and easy to use," Kim told WorkLife.
Jugo takes virtual attendees and places them in a 3-D, circular, sleek meeting room where everyone is visible. During a demonstration for WorkLife, Kim sat at the center of the presentation space at a virtual lectern with a presentation board behind her. That display board can change according to a user's needs.
Instead of little squares with participants' faces that users must scroll through when attendance hits a certain number, Jugo displays participants' faces in a half-moon audience that is three rows deep (the number of rows changes based on the number of attendees), curving around the lectern. The configuration is adaptable based on the number of meeting attendees.
"Zoom and Microsoft Teams were a survival mechanism for business continuity," Kim said. "They were never purposely built for a one-to-many interactive, immersive experience. The reason people are feeling Zoomed out isn't because Zoom is a bad platform. It's because our eyes are not used to watching a very two-dimensional experience for eight hours."
Miro
Online collaborative whiteboards were around before the pandemic, but usage has soared in the last two years. One example, Miro, launched in 2011 (known then as RealtimeBoard). In 2020 its use jumped 300%, according to the company.
Like a physical whiteboard, Miro is a tool for brainstorming and mind mapping, with the added benefit of an infinite canvas — it expands as ideas are added — can have more than 100 people within a board with "edit rights" and has the ability to host virtual meetings while participants use the platform.
Miro's library has more than 250 templates of business use cases, such as strategy sessions and user experience journeys. When a session is over, all work is saved within the board. Miro has quirky elements like templates for ice breakers, emojis and virtual sticky note reminders.
"There has been perhaps no bigger challenge than replicating the emotion and creativity we feel when gathering in the same room," Varun Parmar, Miro's chief product officer, wrote in an email to WorkLife. "We're at an interesting moment in time where every company is in a high-stakes process to define the future of the workplace. If one thing is clear, it is that nobody wants to go back to the way that things were pre-pandemic."
Mural
Mural is another collaborative online whiteboard that has seen tremendous growth in the past two years. Between Feb 2020 and Feb 2022, Mural's monthly active users increased by 25 times.
Like Miro, teams use Mural to work together live or asynchronously. Common use cases are team brainstorming, idea generation and mind-mapping. It has more than 300 templates to guide users through a variety of scenarios including product roadmaps, goal setting, user journey maps, running a board meeting and icebreakers. It can also be used to keep meetings running according to schedule.
Like Miro, Mural has integrations with the most popular business tools such as Zoom, Webex, Slack and Microsoft Teams.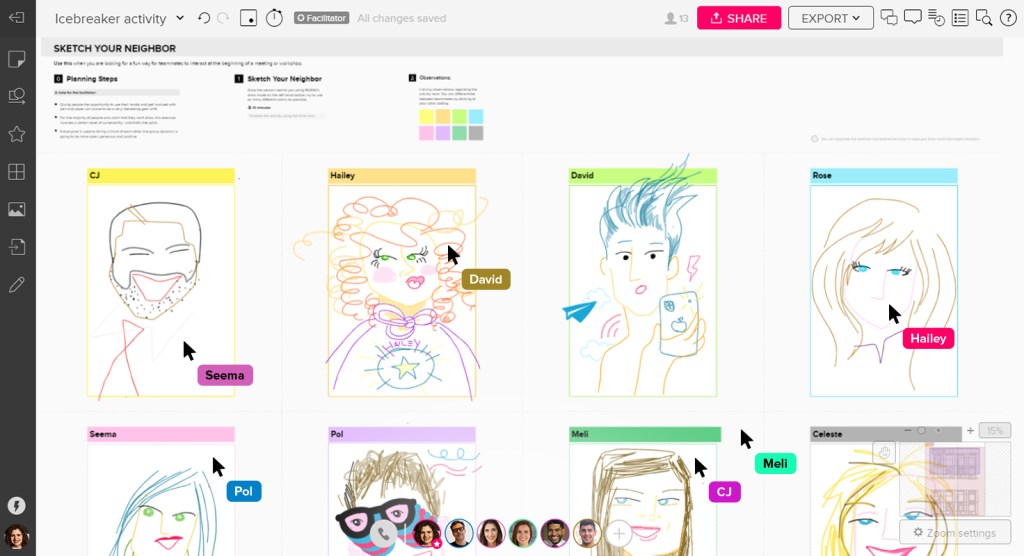 Owl Labs
The Owl is a tool that gives a team member who works from home a panoramic view of an in-person meeting. It's a smart camera, speaker and microphone that is voice-activated and moves to focus on the speaker. It connects with video conferencing platforms such as Zoom, Microsoft Teams, Google Hangouts and RingCentral.
The screen can split up to three times to show different participants and on the top of the screen, there is a panoramic view of the meeting room so the at-home participant can see everyone.
The Owl launched in 2017 after its co-founder Mark Schnittman had an "aha" moment with his remote team. When he took a job at a Las Vegas-based company while living in Boston, his boss routinely stood during meetings and Schnittman was forced to stare at the man's belly. A team member put the laptop on a stool and swiveled it to capture the person speaking. Schnittman, a trained mechanical engineer, saw an opportunity to create a product to enhance video conferencing.
"Now that we're going back into the office, we have to support those people that will still be remote," Owl Labs CEO Frank Weishaupt, told WorkLife. "You still want to be able to have that face-to-face experience now that so many people are still virtual."
3 Questions with Christine Trodella, head of Workplace from Meta
Would you say that there is a disconnect between corporate and head office staff and frontline workers? If so, please describe how and whether it was highlighted further during the pandemic?
In short — yes. Frontline workers are at the heart of their organizations, but they are often forgotten about when the C-suite makes decisions. Physical distance and technologies that have historically prioritized office workers haven't been built with these employees — who make up 80% of the global workforce — in mind, only furthering that distance. The pandemic thrust frontline workers, now "essential" into the spotlight and finally shed light on the value they bring to their organizations, but that disconnect still stands. Our global research found that 45% of frontline workers surveyed still feel they are not connected to corporate headquarters and 51% believe they are seen as less important than their HQ counterparts. On the other hand, 99% of C-suite leaders believe frontline workers trust them — so really, these groups are living in two different worlds.
What are the consequences of leadership not rectifying that disconnect or 'lack of trust' long term?
The risk is acute: businesses will lose great talent, and now during the Great Resignation or Reshuffling, it'll be harder to replace them. Nearly half (45%) of frontline workers we surveyed around the world are planning on leaving the frontline altogether in 2022, for a multitude of reasons — increased pay, access to better tools and technology, and more opportunities for growth. Safety and well-being also plays into that now during the pandemic. A full 100% of leaders say the frontline is a strategic priority for them and their business, so it's long overdue to address these concerns and hold onto those employees that aren't fulfilled enough to stay.
What can organizations do to bridge this 'trust divide' that exists between frontline workers, headquarters and desk-based workers through technology?
Frontline workers are hungry to be better connected to their organizations, but they need C-suite leaders to make the investment in both time and technology. Open up the conversation. Look to the "feet on the street" for insight that comes from doing what they do all day — digging their hands into the work, interacting with customers, and furthering their company's mission. Empower mid-level managers to gather feedback, and listen when they do.
The overwhelming majority, 77%, of frontline workers believe that good communications technology should be standard for their role. Organizations need to start prioritizing the needs of frontline workers in the same way they've traditionally prioritized desk-based technology and create a channel that connects the frontline worker to the organization itself. — Jessica Davies.
By the numbers
2 in 5 employed Americans (out of 950 polled) say their motivation to do their job is heavily impacted by current global events, like Covid-19, the Ukraine war and climate change.
[Source of data: Blueboard report.]

63% of employees have taken a mental health day in the last year, including 68% of those aged 35 to 44 and 47% of those over the age of 54. However, 44% of them lied to their boss about they needed the day off.
[Source of data: MeetBreeze report.]

In a survey of 1,000 professionals in the U.S. and Australia, exploring older workers' experiences with educational opportunities, baby boomers said they prefer upskilling (50%) as opposed to reskilling (35%.)
[Source of data: Southern Cross University report.]
What else we've covered
What we're reading
Apple has delayed and modified its return-to-office plan, due to the resurgence of Covid cases [New York Times.]
The pandemic put an end to required birthday cupcakes, team happy hours and forced "fun" activities. Many workers are deeply relieved [BBC.]
Desk shortages at the U.K.'s department of education have resulted in staff being sent home and others forced to work in "chaotic" conditions [The Guardian.]