WTF
// October 25, 2023 ■ 4 min read
WTF is cognitive AI?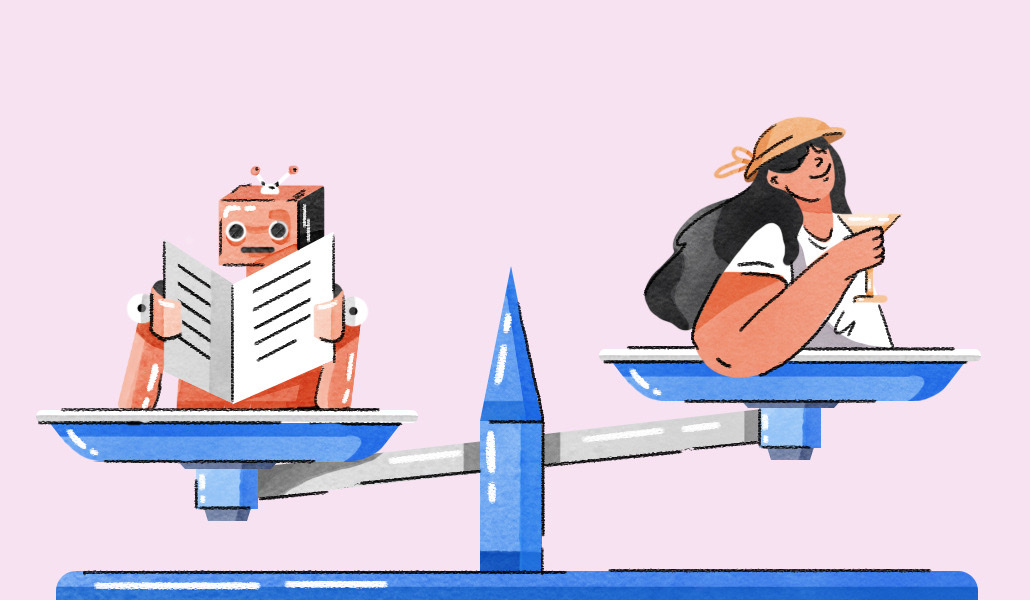 Generative AI, predictive AI, conversational AI, adaptive AI, cognitive AI. The artificial intelligence boom has unleashed a slew of new tech terms that are so finely nuanced they can easily get mixed up.
Cognitive AI in particular is now being dropped into conversations more due to its capabilities like using context clues and not needing such carefully crafted prompting that other AI tools require to produce correct answers.
We spoke to two experts to dive into exactly what cognitive AI is and the impact it could have.
What is cognitive AI?
Cognitive AI differs from other AI tools because it's been built to "think."
"Generative AI tools, like ChatGPT, require input to get output," said Cliff Jurkiewicz, vp of strategy at global HR tech company Phenom. "Cognitive AI is different in how it helps humans 'think' through problems."
Jurkiewicz framed it like this: Let's say you're looking for a job. With ChatGPT, it may help you refine your resume, write cover letters and even analyze company data to focus your research. With cognitive AI, it would help you think through what is the right job, who are the ideal companies and what strategy you might use to gain the upper hand in the job hunt. "This is a very different purpose from the output of generative AI," said Jurkiewicz.
Michelle Zhou, co-founder and CEO of cognitive AI company Juji, explained it as teaching machines advanced human soft skills like active listening, reading between the lines and understanding context clues.
"It's kind of like how you teach your kid how to speak English and respond, but you also teach them manners and other soft skills," said Zhou. "We believe it's the next step beyond generative AI. It's teaching machines how to be collaborators and not lousy conversationalists."
"We believe it's the next step beyond generative AI. It's teaching machines how to be collaborators and not lousy conversationalists."
Cognitive AI is meant to interact with humans in a more natural way. Rather than being explicitly programmed, these systems learn and reason based on their interactions with humans and their experiences with their environments. For example, cognitive AI focuses on mimicking human behavior and reasoning to solve complex problems, while other AI is focused on augmenting human thinking to solve complex problems. Cognitive AI focuses on providing accurate results.
What are the capabilities of cognitive AI?
"The current goal of cognitive AI would be to assist in the more soft and strategic thinking, like examining organizational problems and processes, for example." said Jurkiewicz.
For example, many physicians use AI to help diagnose patients' health issues. In the future, it will examine all the possible protocols for treatment and create a personalized, viable course of treatment based on a massive amount of data and a consideration for the patient's emotional state and experience.
"Those last two elements, emotion and experience, are how we humans interact and respond to the world around us," said Jurkiewicz. "In a sense, it is a form of curiosity and imagination delivered by a machine. Cognitive AI will begin to understand how to calculate these attributes and factor that into a recommendation."
Zhou said Juji's product largely works with higher education institutions to help young professionals by connecting them with their cognitive AI tool when mentors aren't available. They've also started working in the health care industry.
For example, when a person is deciding on a career change, an AI assistant might find a relevant job where their skills match the position, but a cognitive AI assistant suggests potential career paths and additional details like education requirements and salary.
"Maybe someone just got laid off and they want to upskill to find a new career," said Zhou. "Cognitive AI can help you understand strengths and weaknesses and find the best career path."
"In a sense, it is a form of curiosity and imagination delivered by a machine."
What are experts most concerned about when it comes to cognitive AI?
Currently, most people understand that generative AI has limitations and that humans still need to connect the dots and think about the bigger picture. AI is seen as an assistant, not a replacement, which helps calm the nerves of some people who are worried about the AI boom. Could that change if cognitive AI continues to grow, especially if it's trained to "think" like humans do?
"As of today, the biggest concerns surround ethics and keeping humans in control," said Jurkiewicz. "As with any AI, cognitive AI has the same potential to discriminate against human beings."
Zhou agreed and advised users to be careful when it comes to sensitive information. "I wouldn't claim we have a total solution yet, but we have guardrails in place," she added.