Spaces
// August 17, 2022 ■ 4 min read
Why content rooms are so crucial for the office of the future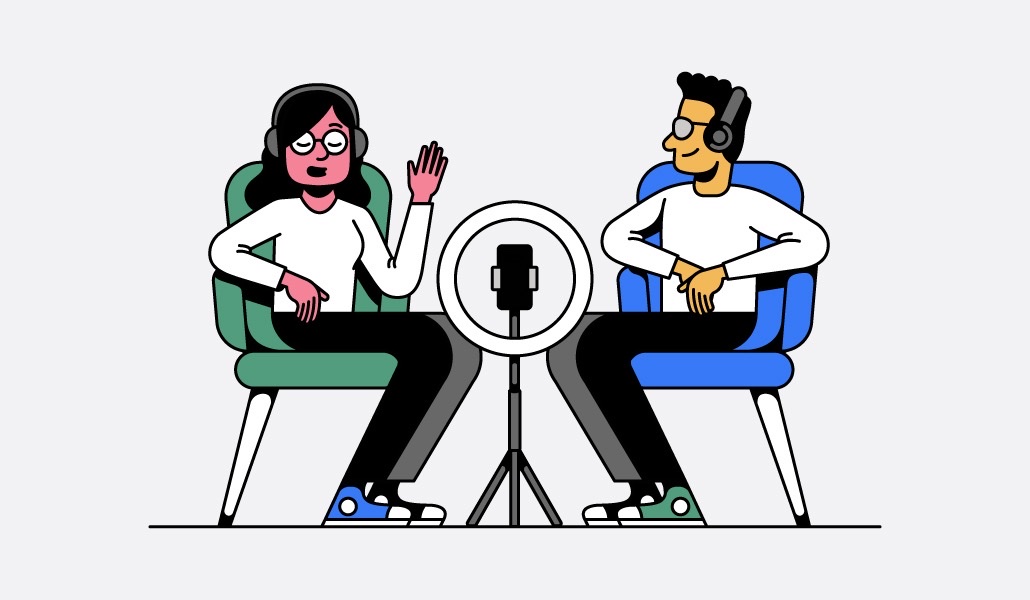 Office layouts are being redesigned everywhere to reflect how the purpose of work has changed. As well as how our new work environments can cater to current working needs. For some companies – like the Washington Post – that means the creation of "content rooms" – a place where anyone can come together to create video or audio content for social platforms they're prolific on, like TikTok.
These rooms are being designed to feel informal and cozy but with great sound design, and are fast becoming a coveted, centralized workspace in offices for teams that create this kind of content.
The Washington Post, which has 1.5 million TikTok followers, approved the budget for a new content room to be built in July, according to associate TikTok producer Carmella Boykin.
The publisher's TikTok three-person team – Boykin, Chris Vazquez and Dave Jorgenson – writes scripts, shoots and edits up to four TikToks a day. Before the team returned to the office on a hybrid basis of three days a week, they had to film separately from each of their homes – using their own green screens and mounting their device on a tripod to film, as detailed in this behind-the-scenes look from Jorgenson earlier this year. They filmed 1,000 TikToks from their apartments in total. When the Washington Post announced its return to office plan on Feb. 2. the team fell over themselves to return and shoot their videos together in the office.
However, without a centralized space – the experience has been somewhat scattered.
The new content room will provide a centralized point for them to shoot video and audio film (for any platform, not just TikTok)
"We're really excited about that, because right now we're kind of shooting in miscellaneous places in the office wherever we can squeeze in," said Boykin. "Now we're going to have a designated space to do TikTok lives, keep our costumes in, and have a high quality green screen."
"It will help bolster our creativity because we'll be able to have all the elements of our brand in one space and keep it consistent, but keep it fresh too."
The team will no longer have to ask for permission to film in other areas of the office. Plus, the Washington Post hosts live interviews on TikTok, which Boykin is confident will lead to a smoother filming process given the room will have the right lighting, setup and feel.
The details of the content room is still under wraps, and there is no set timeline for when it will be unveiled, however Boykin described the vision for the room as a "cozy, creative space."
The publisher plans to build the room with an in-house team, from across its tech and video departments. However, there are workplace design companies which have assisted with building content rooms at other companies.
Room & Board, a furniture company which has diversified its business to include office space design with Room & Board Business Interiors, outlined the top seven spaces that every company needs for a future-focused, employee-oriented workplace. Top of the list was content rooms.
"We are connecting with people in new ways, and the content room is so important because it's all about your brand, the feeling you're trying to convey, or the picture behind you," said Elise Nicpon, director of business customer experience at Room & Board. "How can we provide that real branded experience? You need to be able to have that filming space to be on brand."
"We are connecting with people in new ways, and the content room is so important because it's all about your brand."
The company describes the content room as being all about the backdrop, and less about traditional flow and functionality. Nicpon explained that the two most important elements when it comes to designing the content room are dimension and flexibility. What's in this type of room aside from tech needed to create content? It might be a more relaxed setup, with high-back chairs, sofas, or multiple side tables instead of one large one. Questions like what's the right look, tone, color and material are all important.
Architectural firm Gensler is also helping companies create content rooms. Benjamin Vela, associate designer at Gensler, said the content room is different from a recording studio where acoustics and lighting have to be professional grade. Content rooms are more informal, makeshift settings to create content.
"The shorter, more palpable content being created here benefits from a more authentic non-produced environment where a good amount of flexibility is possible," said Vela.
Flexibility is truly key.
"A lot of things are moving around, so a lot of our customers are looking at tables with casters," said Nicpon. "Companies are even using bar carts for a surface just because it can move around."
New projects may require different backdrops and themes, so having a space where you can easily shift things around will pay off.
Room & Board partnered with San-Francisco-based sneaker artists Vicky Vuong and Ann Duskus to build their content room, which serves as a multi-functional area for content creation, workshops, podcasts and filming. 
"It helped them and their business to take this really incredible creative experience that they were providing not only just for the customers they were creating for, but then it allowed them to invite in everyone from social to see what they were doing," said Nicpon. "There's been huge interest in it and it's taken them to the next level to be able to really provide an incredible experience and help grow their business."