Spaces
// March 22, 2023 ■ 4 min read
How camping sites are evolving to meet open-air work-from-anywhere demand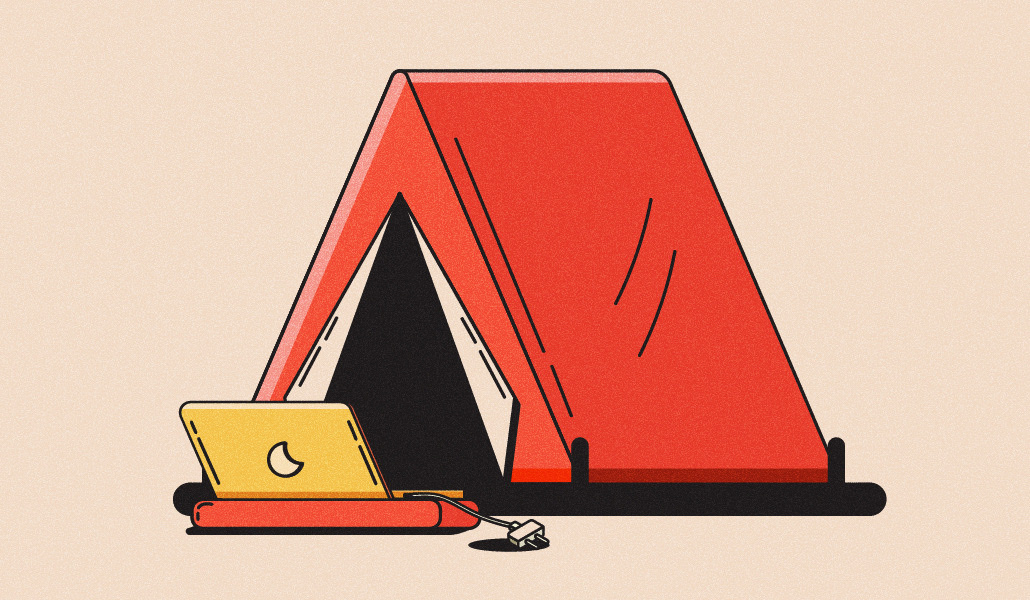 There was a time when going camping with the family or friends out in the wilderness was very much a vacation activity. A way to disconnect from the outside world, spend time in nature, and ultimately be hard to reach.
But the rise in employee nomads, in the wake of the coronavirus pandemic, has turned that on its head.
Now campsites are going the extra mile to provide facilities that cater to the increased demand from people wanting to work out in the open air. As such, campgrounds have begun to build the infrastructure to offer free public outdoor WiFi. It allows more individuals to work from anywhere in new locations that weren't possible before.
It's being dubbed "open air work from anywhere," by Campsited, a digital marketplace for the open-air economy in Europe. The marketplace has partnered with over 30 campgrounds across France, Italy and Spain that promise strong WiFi connection. Campsited is working with employers who are interested in offering it as a benefit to their employees. The benefit would allow employees to live and work in one of the campgrounds for one to 12 weeks at a time.
"We weren't necessarily expecting to create a program like this," said James Gormley, co-founder and COO of Campsited. "Everyone in the company gets five days at a campsite per year, so people were doing that and working from there. We found it was a great program for our own employees, so why not create a program that will encourage other companies to do this too."
A study of 20,000 people found that people who spent two hours a week in green spaces — local parks or other natural environments, either all at once or spaced over several visits — were substantially more likely to report good health and psychological well-being than those who don't. It can help increase your happiness and mood, improves your energy levels and relieves stress levels, which all help you show up better at work.
"Being in open air, work becomes less of a chore than perhaps it does if you're sitting in an office," said Gormley.
"Being in open air, work becomes less of a chore than perhaps it does if you're sitting in an office."
One of Campsited's first clients adopting the program is an outsourced call center service provider, Zevas. A call center being one of the first clients is a testament to how strong the service is at the locations Campsited picked to partner with. "We work with the employee, employer and the campground to ensure that they have the best possible stay to make this work efficiently," said Gormley.
Rowena Hennigan, digital nomad and remote work expert, is trying out one of the new locations in France with her daughter in a few weeks.
"For me, in my type of work, especially at the moment, because I am focused on building my digital nomad community on Substack, it suits me really well," said Hennigan. "I can work a flexible day and build my work day around the times my daughter is being cared for, working asynchronously and not on live calls."
Besides Campsited's program, a lot of digital nomads have considered ways to work their desk job in nature. If a public park doesn't have WiFi, there are ways to stay connected with tools like Starlink Roam, which RVshare, an RV rental service, worked with to get RV owners quicker access to. Starlink Roam offers unlimited high-speed internet in the more remote areas because it's satellite-based. Hipcamp also offers a data service coverage map, which helps traveling workers choose the best spot to camp out where they can still answer emails and calls. It shows the type of cellular service you can expect at more than 399,000 campsites across the U.S., based on your cell phone carrier.
"It opens up our world to explore and stay connected and work in remote places in which you can disconnect after work hours and go out on a hike, sit by the lake and you're already immersed within the outdoors."
"There's still a lot of people out there using their flexible work as a way to travel and to potentially camp while working," said director of communications at RVshare, Maddi Bourgerie, who takes advantage of it herself. Last year, she chose a glampsite about 30 minutes from the Big Bend National Park entrance because it offered high-speed WiFi.
A recent RVshare survey found that 67% say a strong WiFi signal is a must-have on a glamping or camping trip, which was a huge jump from pre-pandemic where it was only 15%.
"It's done a complete 180 to not wanting to be connected to now completely wanting to be connected so that they can be outside while working," said Bourgerie.
With infrastructure upgrades and coverage expanding across the U.S., it makes it possible to travel and work from nature.
"It opens up our world to explore and stay connected and work in remote places in which you can disconnect after work hours and go out on a hike, sit by the lake and you're already immersed within the outdoors," said Bourgerie. "Getting fresh air and sunshine improves your overall mood and helps you show up better at work."