Spaces
// March 31, 2021 ■ 4 min read
Businesses grapple with how to avoid proximity bias when offices reopen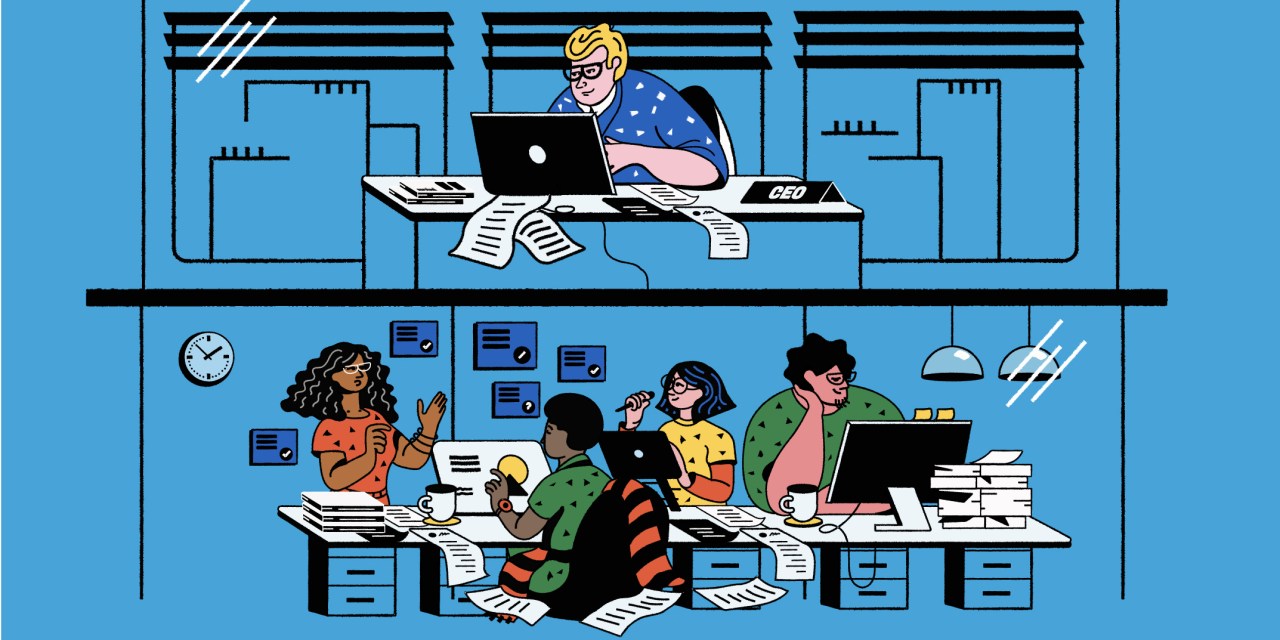 As human beings, we react positively to familiar people around us physically and to those who follow our lead. This can be a dangerous habit in the workplace where there is a risk of proximity bias, often unconsciously.
The issue could come to a head as employers adopt a hybrid working model and consider how to fairly balance perks between employees working remotely and in person.
We all know of colleagues pre-pandemic who curried favor with the boss; or groups of employees who always lunched or played golf together.
So, as early morning in-person chats over coffees and after-work happy hours between colleagues return, managers must keep their entire team in mind — including those they still only ever see on the computer screen.
"Those located away from the office or unable to find an excuse to get close to the leaders could be left out," warned Kevin Wheeler, founder of The Future of Talent Institute in California. "Some people do not have the same opportunities to build a close relationship with an organization's leaders."
Wheeler said it is difficult for employees to raise concerns. "Proximity says it all — you need to be near managers and aware of what they are working on."
So how do employers ensure that employees working remotely are treated the same as in-person, office-based workers?
Employers can avoid potential problems by continuing to use collaboration tools such as Slack. And when physical meetings are held, remote workers should be included via a video link and encouraged to keep on their cameras.
Malcolm Manswell, head of marketing at the Los Angeles-based record company CMG The Label, founded by rapper Yo Gotti, agreed remote workers could be overlooked but said many people can be more difficult to manage remotely.
"Things can fall through the cracks and it is harder to manage the process of projects if someone isn't able to get clarity right away or if communication isn't airtight with regards to details," Manswell said. "I've seen this happen a bunch over the past year and it is extremely detrimental to a business."
In this new climate, leaders and managers will need to be more diligent in communicating exactly what they need and when they need it by when it comes to project management, according to Manswell.
In many ways, the pandemic has leveled the playing field between those who preferred to work in the office and those who wanted to be at home.
Rebekah Wallis, director of people at Ricoh U.K., part of the global office and IT services group, said that those who perhaps perpetuated the proximity bias before Covid-19 have since found themselves in the same remote working situation as their colleagues. It has become the norm to see a colleague's home life as a very real and tangible aspect that does not negatively impact someone's work.
"In all likelihood, going to the office will be seen as an event and a place people go to for a particular purpose rather than every day," said Wallis. "With this shifting mindset, it is likely the mentality that favors output over input will continue. This will reduce proximity bias due to our collective experience of home working."
However, some are fearful a hybrid office could create an unconscious bias between pay scales as well as promotion opportunities, including Ali Shalfrooshan, head of international assessment at consultancy PSI, a company of psychologists and HR experts.
"Companies need to evaluate their inclusiveness and build in processes designed to level things up between remote and office workers," he said. "This starts with managers and directors leading from the front, and including home workers in meetings, strategic planning and recruitment."
At award-winning business-to-business PR agency GingerMay, founder Victoria Usher has already put in place plans to avoid proximity bias.
"To ensure all team members have the opportunity to fully participate in client work and campaigns, we plan to compile agendas for meetings well ahead of time," she said. This should mean everyone in the team, whether they're at home or in the office, can gather their thoughts, contribute their discussion points to the agenda and secure an allocated spot to share them in the meeting.
"This also gives individuals the chance to indicate if they're interested in a particular role before decisions are finalized, ensuring that no one gets missed out because of their work location," she added.