Culture
// May 15, 2023 ■ 5 min read
WTF is a worker's 'digital debt' and can AI help fix it?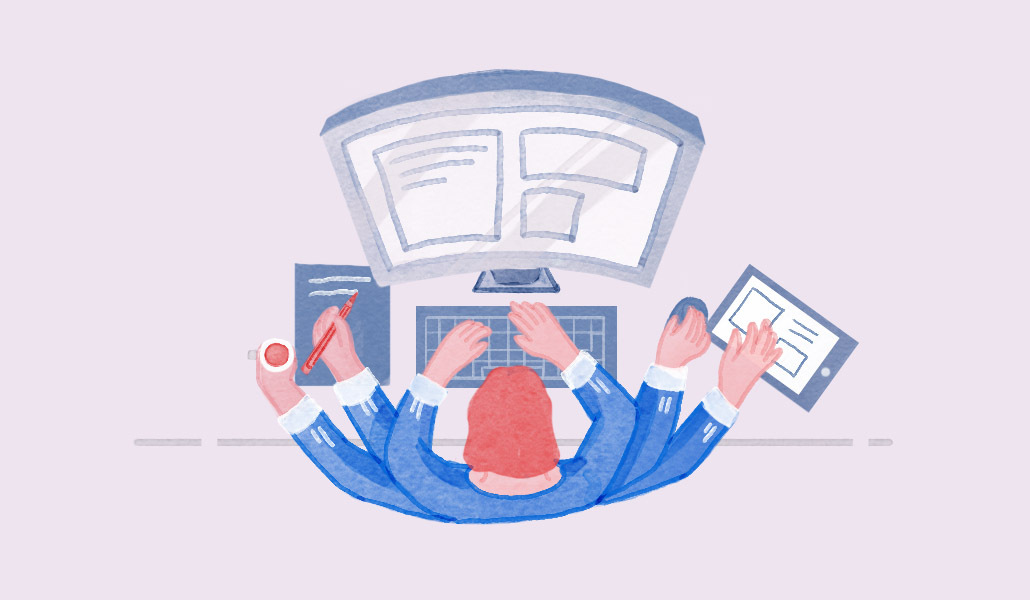 Ever have those days when you feel like you've worked non-stop but by the end of the day feel only a sense of dissatisfaction and weary frustration? Like, you haven't actually achieved anything?
You're not alone. And guess what, there's now a new term for it: digital debt.
Modern workers are being buried under a mountain of ever-increasing digital communications. Whether it's in the form of emails, chat platforms, video meetings or other digital notifications – the sheer volume of digital information and communications we're required to consume and respond to on a daily basis, is becoming overwhelming.
It's putting workers in "digital debt" — where the constant need to coordinate and communicate at work is taking time away from deep thinking, creating and actually working, according to a new report from Microsoft.
While desk workers have long been slammed with overloaded inboxes, the pandemic and hybrid working arrangements are highlighting how communicating too much can harm productivity and hinder employees' abilities to do their jobs effectively.
On Microsoft's own 365 apps, workers on average spend almost two thirds (57%) of their workday communicating, either through video or audio meetings, or over email and chat messages, according to the report. The rest of their time is spent actually working on documents, spreadsheets and presentations. And Microsoft's researchers have concluded that this doesn't just harm employees, but businesses too.
"When I talk to people and ask 'what did you do today?', they say, 'oh, really great day, I just knocked off 80% of my emails,'" said Cary Cooper, professor of organizational psychology and health at the University of Manchester.
"But what did you actually do, what product did you develop? What ideas did you come up with for future products or services? When do you have any time to just think?" Cooper said.
Why does it matter?
When workers spend too much time managing so-called digital debt, they have little time or energy left to reflect, critically think and come up with creative and innovative new ideas.
Sixty-four percent of workers in Microsoft's survey, which included responses from more than 30,000 respondents collected between February and March, said they struggle to find the time and energy to do their job.
Those workers are also three times more likely to also struggle with strategic thinking and innovation.
Their managers are noticing — with over 60% of leaders reporting a lack of innovation or breakthrough ideas on their teams is a growing concern.
"When I talk to people and ask 'what did you do today?', they say, 'oh, really great day, I just knocked off 80% of my emails… When do you have any time to just think?"
Like many workplace trends, the enforced remote working during the peak years of the coronavirus pandemic accelerated our use of, and reliance on, digital technology for most desk-based workers. With workforces suddenly spread out and no longer working from the same physical location by default anymore, communicating effectively via digital channels was crucial. But this acceleration of an existing trend has tipped us into an imbalance, whereby communicating has become the core part of people's working days.
And overcommunicating can also make people's jobs more stressful, especially amid ongoing concerns about occupational burnout.
In another survey from video communication platform Loom, which includes responses from 1,500 adults in the U.S working full-time, 45% of employees say communicating is the most mentally taxing part of their job, while 55% need a mental break in the workday because of communication stress.
What's being done to counter this?
Overloaded workplace communications, particularly outside of work hours, led France to pass a Right to Disconnect law in 2017, which forbids managers from contacting employees outside of work hours and levies fines on companies found not following the rules.
Since then, other European countries including Portugal, Spain and Belgium have passed similar laws.
While well-intentioned, such rules pose a threat to the flexibility remote and hybrid arrangements have to offer, Cooper said, giving an example of a working mother who typically does her work at later hours.
Many companies in the U.K. have started issuing their own guidance and policies around communications and email etiquette to stem the overload and stress workers are reporting, he said.
One such policy is to not email anyone in the same building and instead go find them to talk an issue out. Another is to minimize CC'ing others on emails by limiting them to two to three people, he said.
Another important communication policy is to always have in-person, face-to-face meetings when working out significant HR issues, like those concerning job security or personal relationships, and avoid Zoom meetings if possible.
Some companies have gone a step further and either banned video meetings outright or paired them back and have since reported big productivity gains.
Companies navigating hybrid arrangements and return-to-office plans need to determine exactly what kind of work needs to be done together, and what can be done apart, to stem communications challenges and preserve dedicated time for focusing on projects and other tasks, Anique Drumright, COO of video communication platform Loom, said.
Chat tools like Slack and Microsoft Teams were initially seen as asynchronous tools, though anxiety around responding and staying available to colleagues are making them more synchronous, Drumright said.
"I definitely think being opinionated on what's synchronous versus asynchronous is critical," Drumright said.
Will AI help?
Artificial intelligence's full impact on the future of work is still unclear, though new tools show some promise in helping minimize workers' time spent managing digital debt.
"AI will help us to reduce the signal-to-noise ratio and kind of focus on the right communications, and will summarize less important communications."
Microsoft is betting on this as a certainty. "This new generation of AI will remove the drudgery of work and unleash creativity," Satya Nadella, chairman and CEO of Microsoft wrote in its Work Trend Index annual report, released May 9. "There's an enormous opportunity for AI-powered tools to help alleviate digital debt, build AI aptitude, and empower employees," he added.
Tools like ChatGPT can already help draft emails and other communications but are still imperfect — sometimes providing inaccurate responses or "hallucinating."
Microsoft recently announced it was expanding access to its 365 Copilot preview – a product integrating AI tools within its applications to help automate more administrative tasks.
Some 49% of respondents in Microsoft's survey said they're worried AI will replace their jobs, but 70% said they would delegate as much work as possible to AI to ease their workloads.
With more time, "AI will help us to reduce the signal-to-noise ratio and focus on the right communications, and will summarize less important communications," Andrew Filev, CEO and founder of Wrike, a collaborative work management platform, said.