'Happier and more fulfilled': How some companies have successfully banned meetings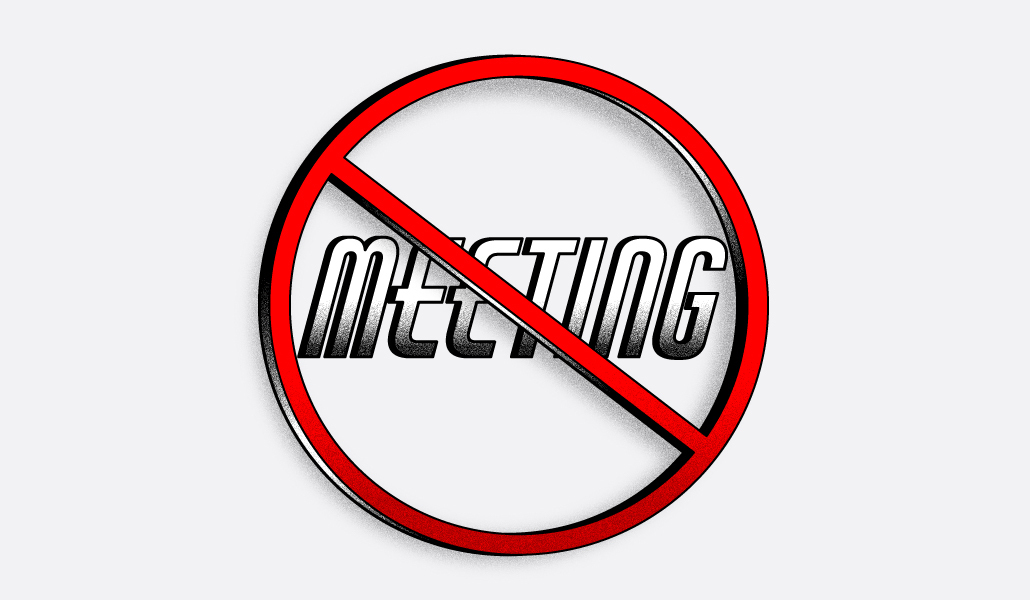 Some companies are banning meetings — and reaping the benefits.
When the founders of digital healthcare company Alan set up their business in 2019, there was one thing that's de rigueur across most companies that they decided they definitely wouldn't adopt — holding meetings. The French business, which is radical in many of its ways of working such as making salaries transparent, believed there were better ways to communicate.
"Meetings are a great way to lose time," said Charles Gorintin, co-founder and chief technology officer at Alan, based in Paris. "Six people doing an hour-long meeting is the equivalent of six hours of work. The ratio [of] time versus productivity is usually not good."
Instead of meetings, the team relies on a robust written culture, helped by hiring people who are strong written communicators.
"In our recruiting process, every candidate has to go through a written question stage," said Gorintin. "We ask the candidate to answer questions related to their motivation, their fit with our culture and the work they will be doing. This enables us to select candidates who are intuitively able to communicate effectively."
Instead of meetings, they use tools like Slack for quick discussions, to share quick updates of work, and to communicate ETAs. For more complex topics they turn to GitHub, a code hosting platform, where employees can chip in their thoughts to help solve issues. "We hijacked a tool meant for developers and use it for the whole team," he added.
Gorintin is quick to reel off the benefits. "Our days have much more thinking time. The team can work asynchronously, and manage their time as they like."
While meetings can be useful for bringing people together to bounce around ideas, often diaries can be weighed down by meetings. The average professional has 21.5 hours of meetings a week, while meetings have increased 70% since before the pandemic, according to smart calendar assistant Reclaim.ai.
For some, back-to-back meetings are not uncommon, especially now it's more possible to bring people together remotely via Zoom, for instance, but people are finding it's impossible to crack on with their day job when their diary is full of meetings. However, some companies are calling time on meetings in order to boost productivity.
Digital Studio TheSoul Publishing, based in Cyprus, formally banned meetings — which it defines as any live discussion between two or more people, whether that's in person, over the phone or on a video chat — in December 2019 after it found organizing meetings across multiple time zones across 70 countries limited productivity.
"With so many meetings these days taking place online, they can easily become an ineffective information exchange," said Victor Potrel, vp of platform partnerships at TheSoul Publishing. Plus they aren't easy to coordinate across multiple time zones, he added. "Employees find themselves time-constrained, with little space for actual 'heads down' work. There is also a natural inclination to hold off on taking action until the next 'catch-up', with meetings becoming passive status updates and not the best use of everyone's time."
Instead they communicate using project management tools.
"Here the whole team can find all the relevant information, whenever they need it," said Potrel. "As a result, we avoid the loss of transparency associated with meetings which usually take place behind closed doors. We also use chat applications and have set up an internal Wikipedia-style source for company information and documentation. Each tool serves a specific purpose and using them properly has really helped us increase efficiency across the board."
He says there are rare exceptions to the no-meeting policy. But initially, the employee has to try to solve the issue without setting up a meeting by using project management software and its Wiki-style best practice resource platform. Meetings must be requested at least 24 hours in advance, with a planned agenda created allowing for attendees to prepare accordingly to maximize the opportunity. If a meeting has to take place, they're limited to two people, and 30 minutes. The person who called the meeting has to log the details so everyone can benefit and post a record of it.
Two and half years later, Potrel says reducing meetings has created a happier company culture. "In many businesses, it becomes a badge of honour to have back-to-back meetings all day long. Here people are actually proud to have a free calendar, meaning they control how their time is spent. This in turn makes them feel happier and fulfilled since they can work at their own pace when they feel the most productive."
While meetings have not been banned completely over at payment specialists MWB Solutions, based in Cambridgeshire, England, they have been limited to once a month in order to increase productivity.
"We were previously holding way too many meetings, which distracted us from focusing on the core tasks that would grow the business and yield the greatest ROI," said managing director Warren Whitfield. "We're attempting to keep them to once a month, unless an urgent meeting is necessary, which we stress to the team is fine if required. This also doesn't involve HR meetings, which can be more regular, if staff members need to discuss anything important."
While the team communicates regularly through emails, they use Slack and Trello to list tasks being completed.
Whitfield says the biggest challenge has been staying on top of projects and ensuring staff members are on track. "You want to make sure that anyone that has questions doesn't feel nervous bringing them up, so open communication is key.
Professor Almuth McDowall, assistant dean of Department of Organizational Psychology at Birkbeck University of London, says companies need to assess the level of meetings and how many they need to attend.
"It's an easy mistake to make that you need everyone in there. But do you really? Think about the time and resource impact of having everyone there. We are spending a lot of time taking meetings and not measuring the return. I don't think we have started to measure impact on productivity and efficiency." She says other negative impacts are they tend to be diversity unfriendly, often with micro aggressions against ethnic minorities, while endless meetings are stressful and cognitively challenging.
However she feels meetings are still warranted. "Some issues have to be agreed and decided by consensus and are even less effective to resolve with endless messaging strands."
To ensure that meetings are useful for staff and don't consume most of their working day, she says consider what the meeting is for, who is essential to the meeting, what decision is needed in the meeting, what the agenda is, how you can make it inclusive and diversity friendly and how you can brief others who are not there.
For Whitfield, limiting meetings has proved a healthy decision. "The most obvious success point has been the increase in productivity, with completed tasks shooting through the roof. Staff members have been able to focus on other projects that are normally pushed to the side due to time constraints. By focusing our time on the tasks set out, we can accomplish more in the day, have a happier team and help the business to grow," he said.