Talent
// December 14, 2021 ■ 5 min read
How companies are tapping avatars, virtual spaces to introduce new hires to their colleagues and cultures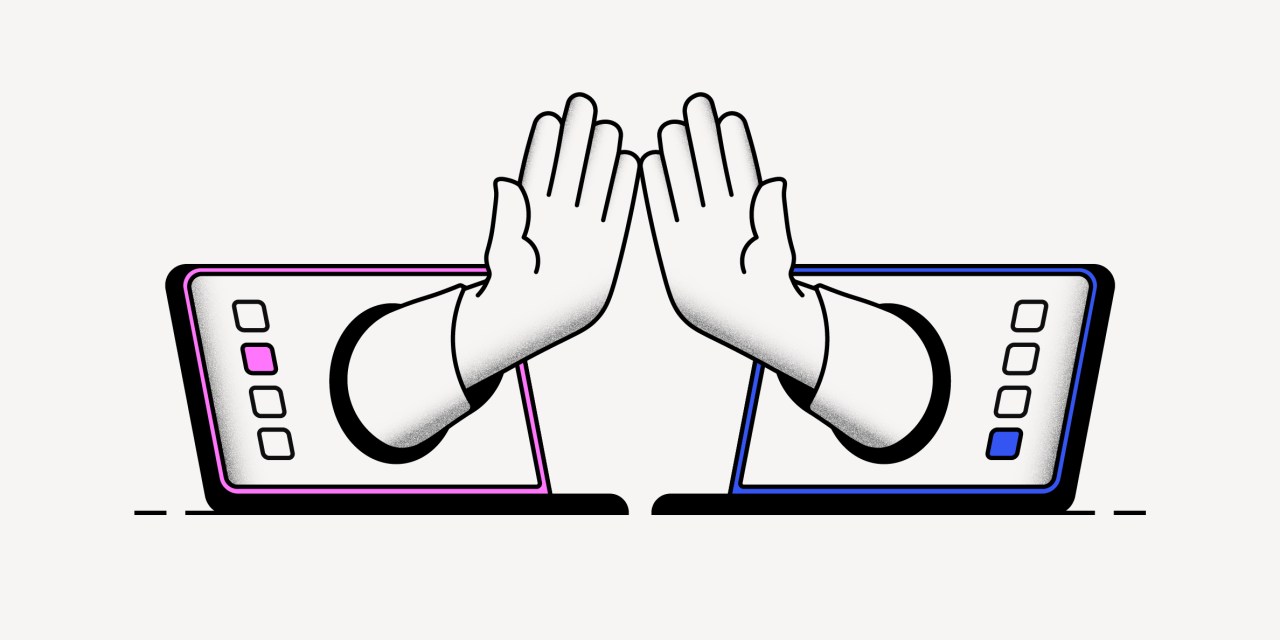 Illustrated by Ivy Liu
The digital world, where hybrid working is increasingly the norm, can be a lonely place — especially when joining an organization or learning a new skill for career development. To solve this challenge, companies are reaching for their virtual and augmented reality headsets and taking the plunge with immersive training.
One such organization is HubSpot. The customer relationship management company is trialing VR remote office tours and using it to present employees with an "immersive and unique look" into HubSpot's remote community. "The VR platform allows employees to build an avatar, walk around the virtual space, and even hear other employee voices — connecting in real-time, as you would in an office setting," said Hubspot's Boston-based culture manager Meaghan Williams.
While members of staff were initially skeptical, they soon took to the new set up and claimed they had fun and built rapports with people they wouldn't have otherwise met while working remotely, added Williams.
Hubspot already had a strong culture — winning Glassdoor's Best Place to Work in the U.S. in 2020 a couple of months before the pandemic forced offices to close. Williams wanted to ensure that high standard was maintained virtually. Making a strong impression during the on-boarding process is critical, improves retention by 82% and productivity by 70%, according to research from Glassdoor. And against the backdrop of the Great Resignation, it's more critical than ever to get it right.
"Joining a new workplace can be an incredibly daunting experience, but it's especially difficult while working remotely," said Williams. "It's all too easy for people to miss out on that in-office culture and buzz, which often makes a job what it is. Culture plays a big part in onboarding, and new hires don't need to be physically present at work to experience our values or get a sense of camaraderie. So we're constantly looking at how we can utilize technology to make sure our culture isn't limited to location."
Entering the "metaverse"
Elsewhere, Walmart, Bank of America, and Accenture have all started using VR to embed new hires. It puts them, in theory, a step closer to having a presence in the (much-hyped) metaverse — loosely defined as a VR space where users can interact with a computer-generated environment and other users.
Companies have toyed with the idea of the metaverse for some time, but recently that interest has started to turn into intent. From Facebook's rebrand to Meta to the likes of Vans and Nike creating virtual, branded worlds on platforms like Roblox, businesses are trying to make sense of what's actually a nebulous concept akin to the internet.
For Tom Goodwin, co-founder of ALL WE HAVE IS NOW, a New York transformation consultancy, the metaverse is "a new vague label that suits VR headset makers who need a new hope to explain away disastrous sales. It's a nice PR distraction for Facebook, the same way drone deliveries were when Amazon faced hard questions. It's a term that means nothing, but can look good in trends documents. Nobody can explain what it is, which is why when it's not here in 10 years, nobody will have failed."
Regardless of its label, immersive VR experience is becoming vital for businesses to engage and train employers, according to Roger Thomas, AR and VR specialist at the University of Sunderland's Sustainable Advanced Manufacturing Project. "VR is increasingly being used for training and simulation – virtual tours for inductions, multi-site company operations and to accelerate onboarding and support ongoing training."
As a tool, immersive training can save time for those who would normally, for instance, conduct a training, Thomas added. "Repetitive, measurable task-based training can be delivered anywhere and safely. It can negate the need to shut down a production line to deliver apprentice training. It generally accelerates training by around 80%," he said.
It's not a perfect solution, though. "Sometimes, the missing 'tactile' element is critical — if the experience is for wind turbine engineers, that sense of 60mph winds buffeting you. Even here, however, haptic technology [used to create VR and AR experiences] is advancing to emulate conditions," he said. "I think lifelong upskilling using VR and AR will soon be the norm."
Role-playing simulations and learning soft skills
Little wonder technology market analyst firm CCS Insight's latest extended reality (XR) forecast, unveiled last month, showed businesses are expected to account for 18% of the estimated 11 million VR and AR unit sales in 2021. Further, the report predicts that in 2025 businesses will buy over 13 million XR devices.
The events of the last 20 months have undoubtedly accelerated progress, said Angela Ashenden, principal analyst of Workplace Transformation at CCS Insight. "The sustained nature of the pandemic has forced businesses to find new ways to onboard and train staff," she said. "XR technology, which already existed, has been an ideal solution for many businesses. With no one able to travel, it came into its own; you can ship the device to the employee, and they have immediate access to the training."
Ashenden said immersive training is particularly valuable in scenarios where physical simulations are required. For example, in frontline worker roles, where learners have the opportunity to be hands-on. "At the same time they have the space to make mistakes safely, and then to learn from those mistakes," she added.
It's not just physical training where it's useful, though. Soft skills are another important use case for immersive training, Ashenden suggested, providing a role-playing simulation that can mimic the same levels of stress that the employee will encounter in a real-life situation. "What's more, we're seeing growing evidence that learners' retention from this type of immersive training is much better than traditional classroom or online learning methods."
The immersive market is expected to be worth $463.7 billion by 2026. One vendor seeking to take advantage of this trend is digital training platform Virti, which has recently worked with the U.K.'s National Health Service to train frontline staff during the pandemic. The company has developed a no-code platform to enable organizations to build their own immersive training simulations and AI "virtual humans" to standardize and scale soft-skills training and deliver remote onboarding.
"VR training is more engaging than reading or lectures," said Virti's founder and CEO, Alex Young. "Simulations can be overlaid with prompts and questions to test the employee's knowledge and generate objective data on performance that can be used to help them improve."
Gamified learning, what's not to love?