'Finding their sweet spot': How publishers are quickly becoming large global licensors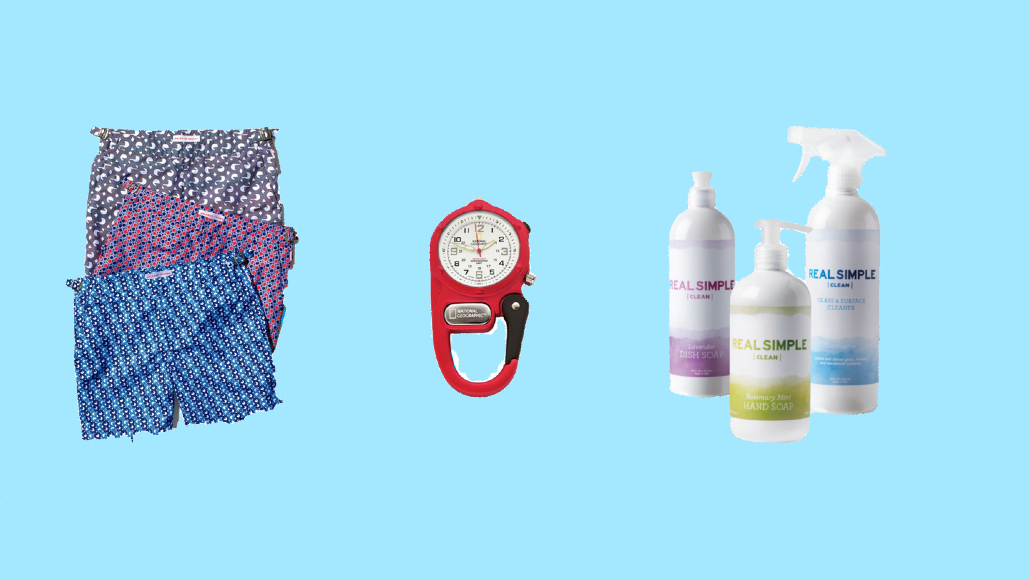 Product licensing is not a new revenue stream for publishers, but it's becoming an increasingly more valuable one.
Recently, traditional and digitally native publishers alike have made more deliberate efforts to create products and merchandise with the help of retailers and manufacturers that are seen as natural extensions of their brands, enough so to get their audiences to buy — and the strategy is paying off.
Meredith Corporation, Hearst, BuzzFeed and Condé Nast have all seen their annual total sales of branded merchandise increase from 2018 to 2019 by tens of millions of dollars, if not billions, according to License Global's 2020 Top 150 Global Licensors List.
Meredith — publisher of Better Homes & Gardens, Allrecipes and Southern Living — is ranked number two on License Global's list, just behind The Walt Disney Company. Last year, it amassed $26.5 billion in total sales of its branded products.
The publisher has 25 active licensing programs, which accounted for $98 million, or 3% of the company's total revenue in the 2020 fiscal year that ended on June 30, according to Mike Lovell, executive director of corporate communications. Brand licensing revenues were up 3% year over year.
Two of its more recent licensing deals included a line of Allrecipes-branded kitchenware items sold at Kroger, which launched in January, and a line of Coastal Living branded home furniture through Universal Furniture that launched last spring and is set to expand into outdoor furniture next spring.
The real differentiator, however, that Meredith has, according to Amanda Cioletti, content director of License Global, is its licensing deal with Realogy Holdings for its Better Homes & Gardens brand that allows the real estate company to hold Better Homes & Gardens Real Estate.
"Gone are the days of slapping a logo on a product. It's much more about the thoughtful and sophisticated process of taking a core brand and reimagining it in a way that makes sense," said Cioletti.
BuzzFeed currently has in the neighborhood of 100 active brand licensing deals and is expecting that the sales from this business will be up by more than 40% year over year, according to a company spokesperson.
When its licensing business first launched in 2017, BuzzFeed generated less than $5 million in licensing sales, the spokesperson said. In 2019, that number increased to $260 million and the digital publisher is now ranked 92 on the Top 150 list.
"It's a traditional approach to a non-traditional brand," said Cioletti, who added that she thinks BuzzFeed is a strong example of a publisher who is capitalizing on brand licensing. The publisher first made the list last year, coming in at 132. "They're clearly finding their sweet spot and a lot of that is driven by homegrown brands."
Its Tasty and Goodful verticals have been the primary drivers of the company's licensing business, with a line of cookware under Tasty that's sold at Walmart. And in addition to continuing to extend those brands out, the spokesperson said the team is looking to start discussions with retailers around its other lifestyle verticals, Nifty (DIY and home) and BringMe (travel and experience).
Hearst saw sales of its licensed good increase from $505 million in 2018 to $580 million in 2019, according to License Global's list, and its ranking subsequently increased from 71 last year to 63 this year. Hearst declined to share information about revenue earned from this line of business, but it is continually signing new deals, including its most recent multi-brand deal with DTC bedding and furniture holdings company, Idle.
Idle and Hearst Magazines entered into a multi-year licensing partnership for a line of mattresses that will have four different Hearst titles on the label. The partnerships is a revenue share model between the two companies.
The first mattress will be Country Living branded and will launch in the fourth quarter. Early next year, House Beautiful, Men's Health and Women's Health will debut their branded bed-in-a-box products.
"There is a massive consumer trust element" in working with Hearst Magazines, said Idle CEO Craig Schmeizer, adding that this is the first publisher licensing deal that the mattress manufacturer has signed. "Especially with larger ticket items like mattresses, consumers are looking for brand recognition," which helps Idle's mattresses "cut through" all of the other bed-in-a-box companies in the market.
Some publishers are in the midst of refiguring what their modern licensing business looks like.
Condé Nast's women's health and wellness title Self has licensed its brand in some capacity since it launched in 1979, according to editor-in-chief Carolyn Kylstra. But last year after several licensing deals were coming to a close, she said she wanted to move away from fitness-focused products and get into wellness as a way to represent the new direction that the digital publication was moving in.
And early next year, Self will relaunch its licensing business with a line of sex toys with manufacturer Jimmyjane.
Condé Nast earned $250 million in sales from its licensing deals last year, which was $100 million more than the previous year. The company ranked 121 on the License Global's 2019 list and increased to 96 this year.
"We know that our audience really trusts us when we say a product is worth spending money on, whether the product has our logo on it or it's something we're recommending," said Kylstra, and when re-building the licensing business, she said her goal is to focus on creating products that will serve its audience.
"Brand affinity is the entire appeal of licensing. Consumers will gravitate towards those products much more frequently if that brand resonates with them," said Cioletti.
Help us make your experience with Digiday even better by taking a quick survey. Respondents will be entered to win a $25 Amazon gift card.