Talent
// July 26, 2021 ■ 7 min read
'It will be draining to build new routines': Rusty interpersonal skills need addressing for office returns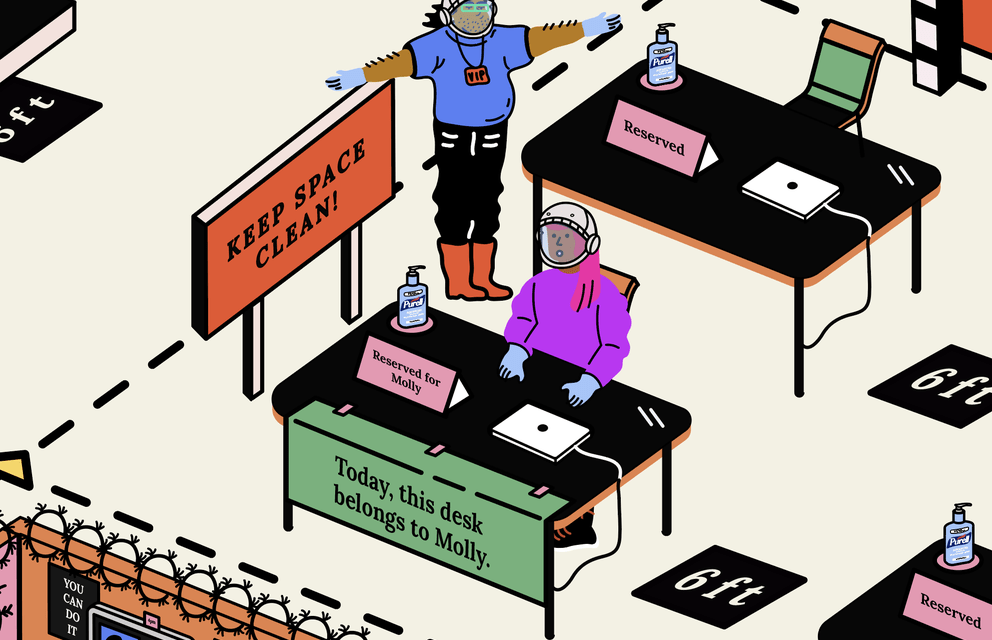 This article is part of the Future of Work briefing, a weekly email with stories, interviews, trends and links about how work, workplaces and workforces are changing. Sign up here.
Employees' soft skills didn't disappear during lockdown, but they did lie dormant and will need dusting off and refreshing as people return to the office.
Core skills that help people progress at work and improve productivity, such as critical thinking, teamwork, presenting effectively and even demonstrating a clear work ethic could all need a boost.
Susy Roberts is founder of international people development consultancy Hunter Roberts, and she has identified problem-solving and fast thinking as two skills that will need attention.
"These both require high levels of cognitive and execution function," she said. "Many soft skills have been drained by loneliness, long COVID and grief. Leaders will need to show high levels of empathy and accept that allowances will have to be made."
She added that communicating and collaborating face-to-face will take a lot of getting used to. "The mental effort required to be around people when you are not used to it is quite exhausting."
Associate insight director at U.S. and U.K.-based employee behavioral experts Canvas8, Helen Jambunathan, agreed that bosses must make allowances for those who will need extra help reconnecting and empathizing with others.
"'Compassion fatigue' which can result in a lack of empathy was mentioned a lot during the pandemic. It has not gone away completely — it's just had to change shape. The return to real-life interactions will make empathizing with each other easier," said Jambunathan.
She cited how soft skills around areas such as body language will need to be addressed as people move from a virtual-only world and start meeting clients and senior colleagues face-to-face again.
"This will be a key part of adjusting to in-person interaction," she said. "On Zoom, we've been using purely verbal and facial cues, but when returning to the office, we suddenly have much more information to work with."
Some believe that less reliance on body language was one reason video calls felt so jarring initially. "In-person meetings where you know that someone is looking at you and you are responding accordingly with your body will help people to read the room better."
Heath Podvesker, general manager at New York-based marketing analytics company Adverity, has identified a few interpersonal skills that will need a boost. These include an ability to solve in-person conflicts and delivering face-to-face presentations.
"It will be draining to build new routines and adapt behaviors once again," he said. "Team-building exercises will be important for repairing companies' cultural and social fabric, while also providing valuable benefit to mental health."
He urged employers to be flexible, patient and understanding. Adverity has shown its intention to support staff by investing in a wellness coach.
One mental health tool popular in the U.K. and part of the National Health Service's apps library is called Companion. It was inspired by Cognitive Behavioral Therapy and aims to reduce work-related worries. It was co-founded by psychologist and behavioural expert Dr. Robin Hart, and he has some top tips as people return to the workplace.
These include remembering how much communication in the office is visual in terms of someone's body language, accepting it might take time for in-office productivity to pick up, and even encouraging employees to adjust their sleep routine after 18 months as they embrace commuting again.
"When it comes to personal skills and habits, organizations should reflect on what they have learned as a business while working remotely and try to keep the things that work well," he said. "For example, people might feel better if some meetings were held permanently online and they are given time at home to catch up on administration."
Rusty social skills will also need to be refreshed as people deal with awkward questions around co-worker health, hygiene — and vaccinations. Newer workers who have never met their colleagues in person could lack confidence in their soft skills.
Communications agency Clarity has offices in the U.S., the UK and in the Netherlands and global head of people and culture Jody Johnson is confident that employees' soft skills will come back naturally. Staff just need to be encouraged to bring their personalities as well as their professional insights back to the office.
"You need today's office environment to allow each person to show up as their whole self," she said. "This could be through presentations or small talk where people will be a bit rusty. You need a nurturing and inclusive workplace and culture."
3 Questions with Jikku Venkat, CEO of infectious- disease management platform ReturnSafe
What are the core factors employers must consider when planning workforce returns?
Employers need to consider two important issues that are top of mind for employees returning to in-person work: flexibility and health and safety. When it comes the latter, the pandemic has brought health-related concerns to the forefront, especially the risk of infection in the workplace. So employers must consider two core factors when bringing employees back to work: most leaders will be dealing with a mixed immunity population, and poorly strategized in-person returns make workers especially vulnerable to the Delta variant. Most businesses aren't mandating vaccines, which means that some teammates will be immunized, and others won't. Because Delta has the potential to spread among unvaccinated populations, employers who aren't requiring the vaccine will need to treat Delta as an active, ongoing threat in their workplace and plan accordingly. Without accepting these two factors, employers both put their employees at risk and create conditions for further closure or a return to isolated work environments.
What protocols should they follow to keep on top of health and safety in workplaces, with unvaccinated and vaccinated staff?
To combat the threats associated with mixed-immunity populations, the first thing employers need to do is log who has and has not received a vaccine. With this information in mind, employers can better monitor who needs to continue wearing masks and abide by social distancing protocols. Additionally, employers should consider implementing routine testing, contact tracing and quarantine measures. Testing is now widely available and inexpensive. It is a great way to stop silent spread across the organization. By keeping track of who comes in contact with whom, positive tests can result in fast, surgical quarantining to ensure that outbreaks don't spread across an entire workplace.
What will be the biggest challenges in maintaining this?
These health safety strategies require the collection of a lot of information, which can be a challenge for organizations who don't want to store employee health-related data. One way to handle this burden is to create a safety-specific role or partner with a secure outside organization. This option has a price tag, but the cost of planning ahead outweighs the potential loss of lives, business closure or return to remote work.
By the numbers:
48% of 1,010 employees surveyed, feel some level of anxiety when requesting time off, while employees with unlimited PTO feel the most out-of-office anxiety.
[Source of data: Skynova's Out of Office Anxiety study.]

51% of 996 millennial employees (in a total survey of 2391 respondents) are worried about future job prospects, but 63% of those would quit their jobs if employer values do not align with their own.
[Source of data: Atlassian's Return on Action report.]

69% of 275 executives polled said they expect overall travel budgets to be reduced to at least 75% of pre-pandemic levels in 2022.
[Source of data: Deloitte's Return to the Workplace survey.]
What else we've covered
With employee well-being top of mind for employers, many are incorporating fitness programs and studios into their offices as an additional perk and to encourage those who may not want to return.

With remote working becoming a way of life, and the acceptance of communicating over online communication tools such as Slack and Zoom, working from overseas is set to become even more popular, and no longer confined to digital nomads traveling for months on end.

While TikTok Resumes has been embraced by many candidates and businesses as a useful recruitment tool, the pilot has caused some HR execs to worry that it will inadvertently inflame unconscious bias.

There is nothing more emotive than a favorite song or album, and they can get us through both happy and tough times. We asked executives from the ad industry which three tracks helped buoy them through difficult moments during lockdowns.

This email briefing is edited by Jessica Davies, managing editor, Future of Work.