DE&I
// July 5, 2023 ■ 8 min read
'A logistical and financial nightmare': Working parents share their summer vacation dread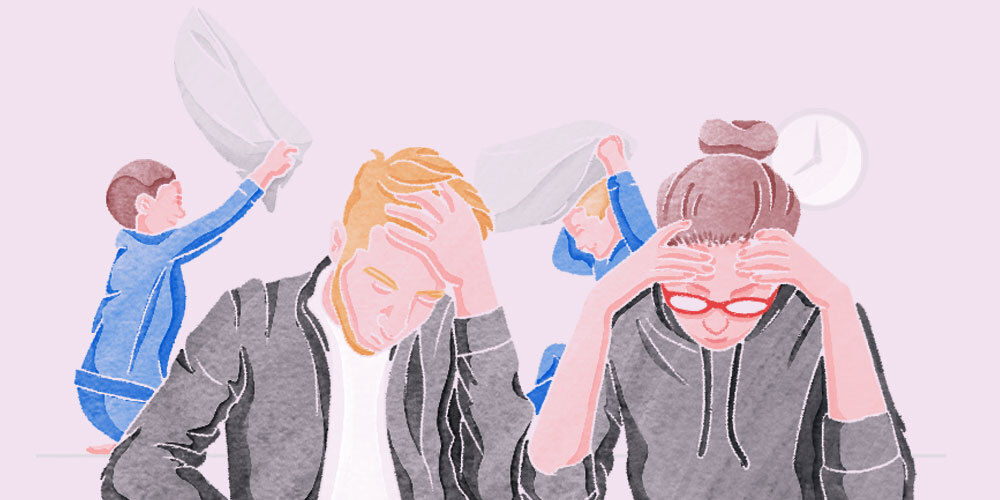 School summer vacation time can be an intensely stressful period for working parents. And for those struggling with cost-of-living price hikes, and the ongoing mayhem caused by the wildfires smoke, packing kids off for endless fun activities or camps isn't always an option.
It's not just kids themselves that appreciate the routine of school term time either. Working parents also come to rely on the rhythm of the daily school runs, and plan their workdays around them.
Stacey Paris Bechtel, a senior media relations specialist for Breakaway Communications and a mom to an 8-year-old son, likens being a working parent to having two highly demanding clients. When he was 4 years old her son strode into her home office, while she was on a video conference, in his bathing suit – a habit Bechtel went to great lengths to discourage. "I was one click of 'video off' away from becoming the next viral YouTube video of conference call gone wrong," she said. But they've both grown from there. "I went from teaching my son early on not to barge into the closed office door when I'm on a video call to designating days where I log out early and work at my parent job in the afternoon. I'm always figuring out different ways to negotiate between the two."
She's not alone. We asked working parents to share their challenges when it comes to the work-life juggle when schools are out for summer.
Answers were edited for clarity and flow.
"Summers have become a logistical and financial nightmare for working parents. Parents find themselves in a constant juggle of day camps promising to provide their kids with 'enrichment,' but really functioning as a holding place so parents can squeeze in some work hours. These camps typically run only half days or for an extra fee, an extended day of only 5 to 6 hours. Working parents dart in and out during prime working hours to carpool in the heat, leaving them physically and mentally depleted and nowhere to be fully present. Plus, camps are often fully booked by March. So, working parents who don't preemptively register online or who face financial limitations are unable to secure a spot by the time summer rolls around. For parents with infants and toddlers, most daycares are closed for the summer, leaving parents to rely on more expensive sitters to make the days work. Families like mine, with two working parents and three young children, consider ourselves fortunate to afford a sitter, but summers leave us financially strained and emotionally depleted." – Lauren McKinnon, Founder and CEO, Project Mockingbird.
"I dread the shift in schedule. Summer camps are not geared around working parents. Start times are early, pick up is early, with little if any flexibility and then there are weeks with zero coverage or only one option, so if you don't jump on it, you're out of luck. I spent 45 mins this morning doing two separate camp drop offs and started my zoom meeting in the car. It's chaos. The pick up juggle starts at 2:30 p.m., just 5.5 hours after drop off. On top of it all the kids are tired, and want extra time at home. There are a few tricks: Make lunches easy, and mostly cold so you can prepack the night before. Shower and have your clothes (and your kids') laid out before bed. Let the kids watch an extra show. And by all means, go to sleep when your kids sleep. I follow that last rule four out of seven days. Without the extra hours of sleep I could never survive summer." – Terri Lee, Creative Design Director, Unybrands.
"As a founder and CEO, quality childcare for my kids is essential for the health and growth of my business and my kids. Personally, my summer childcare situation feels way more predictable than many other parents I talk to and yet it still includes five different summer day camps plus in-home care. The one thing I didn't plan for: air quality issues due to the Canadian wildfires leading to outdoor day camps being canceled or unsafe. In addition to global pandemics, working parents now need to add climate change to the list of factors outside their control that can completely derail any childcare plans." – Lindsey Michaelides, Founder and CEO, Strongsuit.
"I am mom to three boys (ages, 3, 5 and 7) would describe my summer work-from-home strategy as controlled chaos. We are lucky to have a fantastic nanny who spends the days with them at our house. Even during the school year, my kiddos frequently appear in the background while I am in virtual meetings, tapping on the doors of my office. In the summer though, they also tend to be soaking wet from the swimming pool. I believe the best thing you can do as both a parent and colleague is to embrace all of this. Don't be afraid to have them join in, say hello, and even ask cute questions. As a working mom, work-life balance is everything and a great way to help achieve that balance is through an output-focused mentality." – Mallory Lee, vp of operations at Nylas.
"Working as a parent becomes challenging when my kids are out of school for the summer, so my kids are signed up for all the lessons I can find. Swimming, basketball, tennis… you name it. Having help with childcare is the only time I can spend focused on work, so most of my challenges arise when one of my children is sick or when surprise circumstances come up. Then, I prioritize my role as a parent first and let my work get done when I have the time." – Peter Mutabazi, founder of the Now I Am Known Foundation.
"I have two boys, 7 and 5, who are now in separate camps for the summer. This means I need to rearrange my work calendar for camp drop-off and pick-up times, which are very different from the school year's drop-off and pick-up times. I have other colleagues with young kids, so we're all navigating this together and with understanding. We had 1.5 weeks of no coverage at all between school ending and camp starting, which coincided with a work off-site and event for me, and I was very lucky to be able to rely upon my husband and my parents to rearrange their schedules to bridge the gap in care coverage." – Brenna Fitzgerald, Outcomes4Me.
"Summers have become a logistical and financial nightmare for working parents…summers leave us financially strained and emotionally depleted."
"Having been at this company for a few years, I have let my boss know I'll get the work done in between getting the kids to and from activities during the summer, and he was agreeable. My boss, who has kids of his own, understands the importance of family. I believe it helps that my boss is aware of my work ethic and diligence. Fortunately, kids may be in camps for most of the time. While I've been working from home, I've already assisted my oldest with a kit he received at Christmas to make a cyborg hand and guide him to cook his own lunch on the stove." – Vicki Scozzafava, full time worker and mom of two boys.
"As a parent I make sure that my schedule allows me to pick my daughters up from school, and plenty of time for other family obligations. Just last week, we hosted a birthday party for one of my daughters Wednesday afternoon in our backyard, and I was able to both help with the party and planning as well as keep up with Summer — and I encourage members of our team to give themselves the same grace and opportunity. We're here to support our parents – and appreciate the occasions when a kid ducks on-screen during a Zoom." – Leigh Gross, chief revenue officer at Summer.
"My summer childcare situation feels way more predictable than many other parents I talk to and yet it still includes 5 different summer day camps plus in-home care."
"The challenge I faced in finding childcare this summer was finding a camp that best suited my daughter's interests and was cost-friendly in my neighborhood. I often have to travel to other neighborhoods or boroughs to find better childcare and a better environment for my child, where she will feel safe and learn and experience new things. It's important as a mother to have a sense of stability and security in knowing our children are in good hands. As of right now it doesn't affect my work life so much because my mom steps in to help me when I need it. My mom will come stay with me during the week to take her granddaughter to school and/or camp and pick her up for me. However, hypothetically speaking if my mom was not available to help me, I would have to ask my job for a change of shift. My regular work shift is 6 a.m. to 2 p.m. There are no summer camps that have a start time of 5 a.m." – Tina Williams, Jeremiah Program Brooklyn.

"During the summer, I have some serious guilt about the "camp dance" because my kids tell me that it feels like just being in school all summer – but it's necessary to keep them entertained and safe. You can't just let them roam the streets like we did as kids in the 80s. For one, they'd be the only kids outside because everyone else is at camp, and in Texas specifically, we have a dangerous heat advisory on the daily. So if we don't go to camp, they are stuck inside with nothing to do except fight with each other, pester me that they're bored, ask for endless snacks, or play video games. Fortunately, my company is incredibly flexible and supportive of working parents." – Nycole Walsh, Senior Research + Content Manager at Kickstand.