DE&I
// July 1, 2022 ■ 4 min read
How Huddersfield Town FC became the U.K.'s first menopause-friendly football club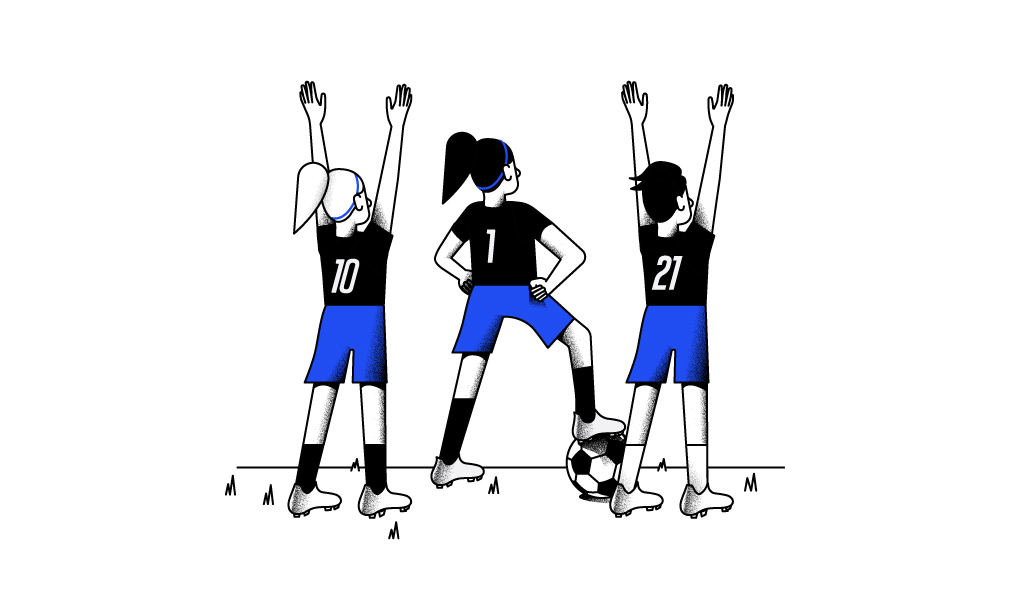 It might seem counterproductive for a male-dominated organization in a male-dominated industry to become accredited as "menopause friendly." But turning those tables is what Huddersfield Town Football Club (HTFC) hopes to achieve, with this latest initiative part of a wider strategy to build the club's diversity, equality and inclusion credentials.
Founded in 1908 in England's north, HTFC currently competes in the English Championship League, the second tier of English football, below the world-famous Premier League.
But it was during the brief time in which HTFC was promoted to the Premier League — throughout 2017 and 2018 — that the club was required to meet the league's DEI standards, assessed at preliminary, intermediate and advanced levels. Throughout the process, football clubs demonstrate how they are meeting requirements relating to policies, procedures, leadership, learning and development, to promote inclusion and tackle discrimination.
HTFC achieved preliminary level in 2018. But once it was relegated back to the Championship League for the 2019 season, the DEI framework became less structured and rigorous. However, the club's HR manager and equality lead, Zoe Shackleton, was determined to continue toward the club's wider ambition of attracting more women to the sport and the industry around it. Currently, 130 people work at HTFC, around 40 of whom are women.
HTFC passed the Premier League's intermediate level in November 2020 and will be assessed for advanced in May 2023. It earned its menopause-friendly accreditation this May through the organization Menopause in the Workplace, passing its 29 criteria.
These include offering training, support, health referrals, securing senior leader support, and making relevant adjustments, whether it's adapting uniforms and workstations, or offering flexible and hybrid working. It was assessed by an independent adjudication panel, which include Vanessa Vallely, CEO of women's career development organization We are the City, and Susannah Fish, the former chief constable of Nottinghamshire Police, which launched its menopause policy in 2017.
The panel praised HTFC specifically for how it has created an open culture for discussing menopause, offering free sanitary products in both staff and audience bathrooms, adapting uniforms and increasing shower facilities. Senior managers at the club have also commented on how much more equipped they feel to support team members experiencing menopause.
"Menopause can cause anxiety, depression, and insomnia – issues that will affect absenteeism and performance at work. Every employer knows it is more cost effective to keep an employee than to hire and train a new one."
"We've identified three clear areas of under-representation: females, disabled people and people from culturally and ethnically diverse backgrounds. We want our environment to be attractive to women, but it's not easy to attract more women into this sector," HTFC's Shackleton told WorkLife.
"Menopause is something I feel passionate about because everyone will know someone affected by it, whether it's a partner, daughter, sister, friend, or colleague. It's important for everybody to have a level of awareness as to what this is and how it affects people," she added.
The club's head of safeguarding, Karen Crosland, said she worked through menopause symptoms prior to HTFC launching its training program, and that she had "suffered in silence" for much of that time.
"My colleagues now are having more open conversations. The most heartfelt thing for me was when a male colleague told me, 'I had no idea what my partner was trying to deal with.' It brought tears to my eyes — unless someone tells you, you won't know," said Crosland.
Other initiatives to increase female representation at the club include visiting local high schools to promote the football industry as a viable career path to young women. The club also offers flexible and remote working where it's feasible for a role, and is reviewing its maternity and paternity leave policies (currently six weeks full pay and 18 weeks half pay/one-week full pay respectively.) Other football clubs have also approached Shackleton to learn more about becoming "menopause-friendly."
"We want football to be accessible to everybody. If we've done something that could help somebody else make their environment more inclusive, that's got to be a good thing," Shackleton added.
There are 200 Menopause in the Workplace members in the U.K., 20 of which have achieved Menopause Friendly accreditation, director Deborah Garlick told WorkLife. The first company to achieve the accreditation was banking group HSBC, while John Lewis became the first general retailer, and Sainsbury's the first supermarket.
Garlick is hoping the Menopause Friendly movement also gains traction in the U.S., working with organizations there too and appearing on radio shows to raise awareness. Yet Chicago-based menopause coach Melissa Bell feels the issue is not widely discussed or understood in the U.S. — and employers are best placed to change that.
"Almost all organizations in the U.S. regard pregnancy as the only women's health issue. I have not come across any business with training and policies around menopause," Bell said.
"Menopause can cause anxiety, depression, and insomnia — issues that will affect absenteeism and performance at work. Every employer knows it is more cost-effective to keep an employee than to hire and train a new one. By opening up the conversation, making women feel more supported, and educating them on what they can do to take back control over their bodies, it is a win-win situation for all," added Bell.