Culture
// November 2, 2023 ■ 5 min read
How to negotiate remote and hybrid work schedules as a job candidate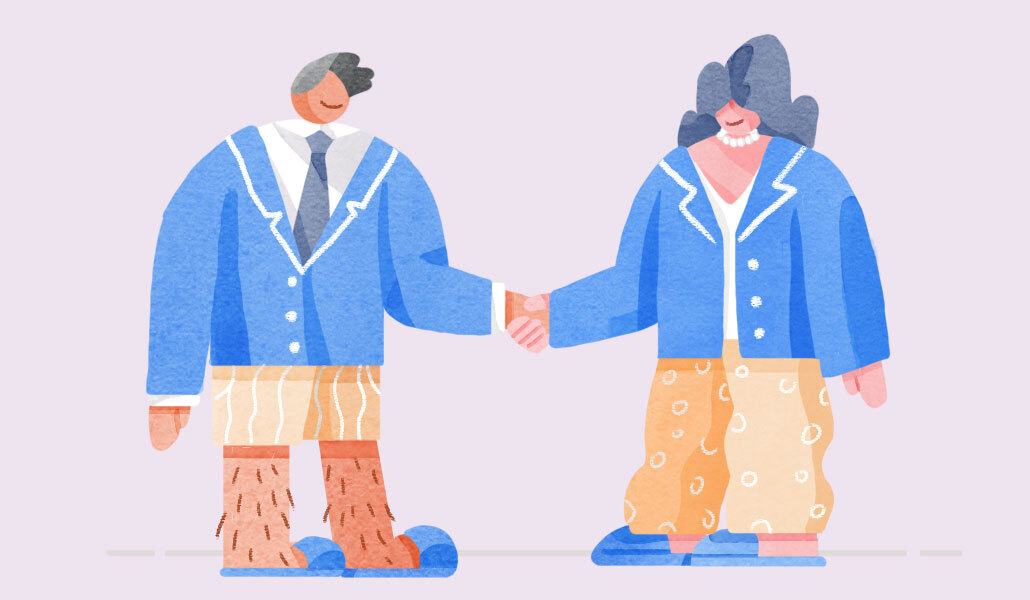 Jane, an alias that WorkLife agreed to, was applying only for remote and hybrid jobs in the marketing industry when she came across her dream job. There was one snag: it was located in New Jersey, about a two-hour commute from where she lives in upstate New York.
She submitted her resume anyway, especially since the job listing stated that the company offers "hybrid and remote work schedules to ensure a healthy work/life balance." It wasn't until the interview that she learned it wasn't as hybrid as the ad had portrayed. But Jane figured she could negotiate a hybrid schedule, especially since she lives so far away from its main office and that's how the company was presented in the first place.
So in her post-interview email, she explained that such a long commute wouldn't be sustainable for her every day, but that she could manage it for onboarding and then move to a hybrid schedule after that.
She was ghosted.
Sure, candidates get ghosted during the interview process all the time, but Jane's situation emphasizes a new challenge job seekers now have: What's the right way to negotiate a remote or hybrid work schedule?
We talked to experts to figure out the best tips for negotiating a remote schedule, similar to how we would negotiate other things like PTO, benefits, and salary.
1. Figure out the best part of the interview to bring it up
In Jane's case, she brought up her wish for a hybrid work schedule early in the interview process. That's what Jack Appleby, consultant and creator of "Future Social" – a newsletter about social media strategy – suggests, as it saves both the job seeker and employer time if they're not on the same page.
"Don't shy away from compensation and culture talks in the very first call," said Appleby. "You don't want to waste their time or your own time. If the final negotiation comes down to how many days you're in the office and the job is turned down, it could've saved a lot of time."
"Don't shy away from compensation and culture talks in the very first call."
However, that might not be the way that everyone wants to go about it. John Mullinix, chief growth officer at Ladders, the job site for six-figure jobs, agrees that if remote work accommodations are non-negotiable, then it's best to bring it up as soon as possible. However, if you can be more flexible on that, but would prefer some accommodations, then it's better to save it for the final stages of the interview process, similar to when you would bring up salary negotiations.
"See what their initial response is, and if they respond well or are open to it, go ahead with negotiations," said Mullinix. "Wait until the fourth or fifth round of interviews but still play it safe…If they already extended the offer to you, it's fair play."
2. Give the company reasons why you can do your job from home and make a plan about when you would go into the office
"You need to be able to make sure that you can clearly articulate why you can effectively do your job remotely," said Heather Matalon, CEO of NAV, a digital career optimization and advocacy tool for career professionals. "What are your plans for doing it remotely? It's all of the other pieces like 'I understand it's important for me to be in for sales meetings or product launches or celebrations.' Clearly think through those opportunities."
Put this all down in a proposal which gives details on when you will be in the office, and when that may change depending on certain things going on at the company, like company meetings for instance.
Part of this, like any negotiation, is proving why you deserve it.
"Why would it be catastrophic for a company to lose you?," said Matalon. "That's a hard question for a lot of people to answer. People tend to undervalue themselves. Talk about what are the unique knowledge areas you possess."
She says that doesn't mean that remote work is just reserved for superstars, but people are up against a perception that working from home is less productive, which is why it's important to overcompensate what values you bring to the table and how you plan to get things done at home.
And it doesn't hurt to speak using language that the employer will like to hear: "Make sure that you're capable of putting yourself in the employer's mindset," said Howard Matalon, co-founder of NAV. "Most employers are not Machiavellian, they're genuinely worried about the economy and they want to do everything they can to maximize profitability and effectiveness. The extent that you are someone who can maintain that for them, they're not going to be as concerned about you going remote."
"You need to be able to make sure that you can clearly articulate why you can effectively do your job remotely."
Job seekers could also consider getting a career coach to help navigate how to position themselves during the interview process.
"This is a time and place where having a career coach is really, really valuable," said Heather Matalon. "Coaches are able to mirror back to us our value and articulate for us some of the great things about us. It's an outsider's perspective on your contributions."
3. Understand the company's culture to judge if it is likely to offer a flexible schedule
Appleby believes it's actually best to steer clear from having to negotiate at all by simply applying to jobs that clearly state and show that they support flexible work schedules that include remote and hybrid work.
"There are many companies that have permanent work from home, full-time in office and others hybrid," said Appleby. "Try to not change the culture of companies you're applying for. Go pursue companies offering the work-life balance you're interested in."
He worries that one person negotiating for remote work in a mostly in-office environment could lead to unfairness in the organization. For example, if someone in a leadership position works from home, their junior team member might be left wondering why their boss isn't there. On the flip side, if a junior person isn't in the office, they might miss out on additional mentorship opportunities and even promotions.
"Save yourself time and headaches and apply for jobs that make sense for the culture you want and then ask how flexible things are," said Appleby.
That's exactly why Mullinix says that it's important for job seekers to start by researching before even applying for a job. He says that if the organization already has people working remotely and in different regions, that's a green light to ask for a flexible schedule during your hiring process.
"Most of these companies already have established cultures," said Mullinix. "Filter your job search down to remote or hybrid if that's what you want."