Culture
// August 31, 2023 ■ 3 min read
Gen Z workers' tightrope: balancing authenticity and professionalism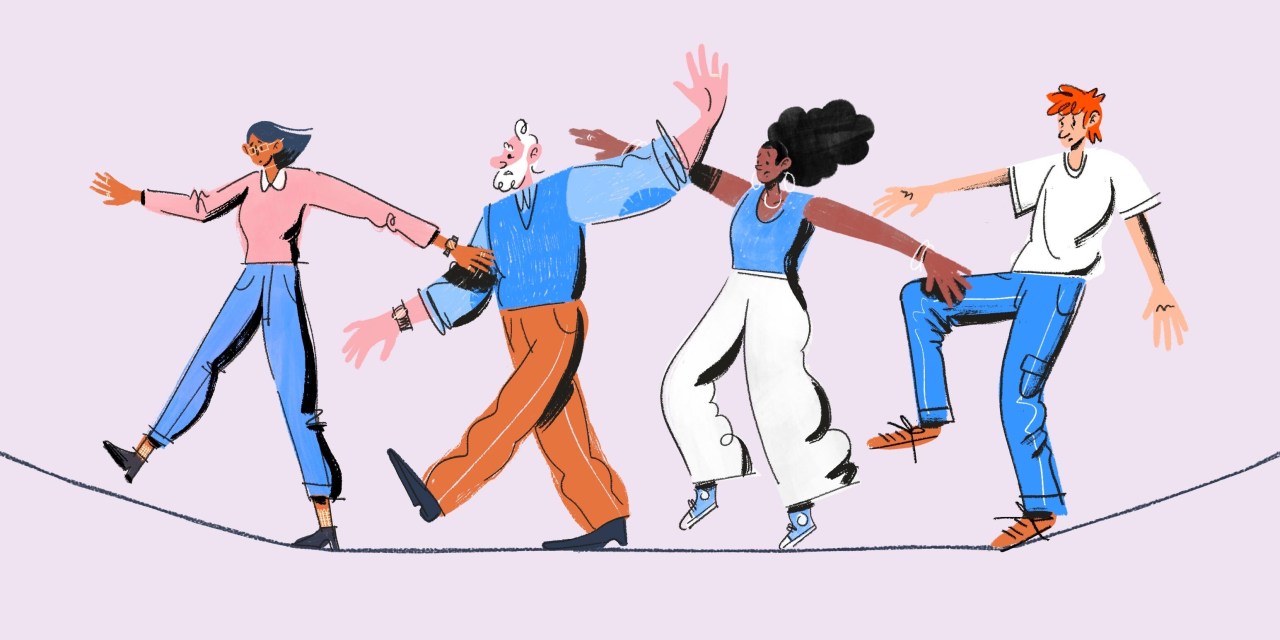 Younger workers are navigating a variety of challenges early in their careers as many start jobs remotely or in hybrid arrangements. One of those issues they're currently working through is how to express and make a name for themselves while maintaining a certain level of professionalism.
They're toeing the line in workplace communications by using silly email signatures, slang and curse words and generally making their virtual and in-person interactions with others increasingly casual. It's another example of Gen Z questioning and rejecting long held social norms and one that employers are split on how to handle.
Sarcastic and witty email signatures took off on social media after a TikTok video with over a million views from Ninety Eight, a Los Angeles-based digital marketing firm run by Gen Z employees, featured some examples from its staff last year.
Some of those sign-offs include: "Hehe bye," "OK then," and "Seeyas later."
"Let me know if you have any questions! Or don't" "Apologies for existing" and "Insert pleasantry here" are other examples shared in a video from Fox & Robin, an activewear company where staff are also primarily a part of Generation Z.
Staff at Ninety Eight of course use their discretion when including the sarcastic sign-offs in emails sent externally, but depending on the relationship, "for some clients, they're definitely a lot more casual," cofounder Celine Chai said.
What really matters more than adhering to longstanding norms in the name of keeping everyone comfortable is delivering a quality work product, and that notion is resonating with Gen Z, she said.
But generational differences of course mean some of those attempts at authenticity aren't translating the same, especially at larger organizations with less representation among Gen Z workers.
"There are certain norms where you need specificity, where you need to have outlined something in a way that there is no room for different interpretations," said Cara Shortsleeve, CEO and cofounder of the Leadership Consortium.
Such casual language can also cause widespread miscommunication if other workers from different generations don't use the same lingo. Naturally, this kind of email language may even come across as unprofessional if replicated to external clients.
"I think the desire to go fully casual might not acknowledge the difference in the room and the difference in preferences in the room," added Shortsleeve. "It might not acknowledge some of the success that has come historically where certain things do need to be prescribed in slightly more detail, or codified in a more stringent way, to ensure that everybody can align and understand."
"There are certain norms where you need specificity, where you need to have outlined something in a way that there is no room for different interpretations."
It comes as more employers issue return-to-office requirements, and they're realizing their staff — especially younger ones — are either rusty or unaware of what's traditionally been acceptable workplace behavior.
Almost half of employers are currently offering business etiquette classes, while 18% said they plan to do so by next year, according to a survey from ResumeBuilder.com of 1,500 respondents who hold executive or management titles at companies with 11 or more employees.
Among those who said training will be required for only some employees, more than half said they'd require new college graduates or employees younger than 25 years old to do the programs.
But across all age groups, the top workplace skill employees returning to the office need to work on is having appropriate workplace conversations, the survey found.
Some Gen Z employees have also taken it upon themselves to figure out what is and isn't OK in the workplace by turning to online courses. Views are up on Linkedin learning videos covering topics like business etiquette. One course in particular seeing growing demand covers the basics of email etiquette and what considerations to make regarding tone, timing and audience.
"With every generation there are great ways we get pushed forward," Shortsleeve said.
"And there are certain things that stand the test of time," she said.