Talent
// June 10, 2022 ■ 6 min read
Digital nomads are no longer niche, but balancing work and travel successfully takes practice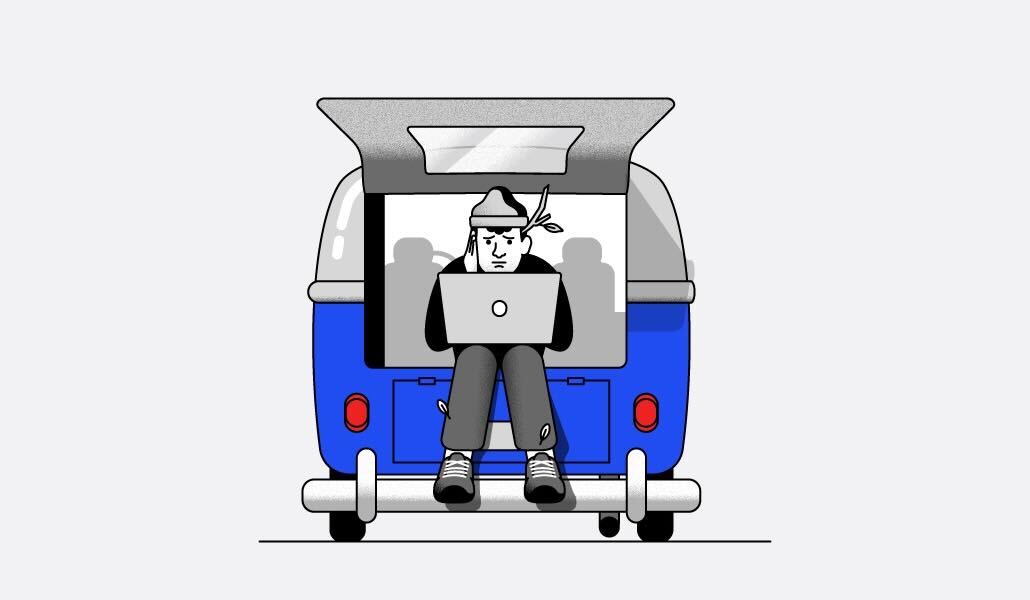 I'm writing this from a cabin at the end of a lush green garden in Toulouse, France. I know, sounds dreamy doesn't it? Especially if I casually throw in that it's sunny, there are a couple of sun loungers in front of me, the sweet scent of jasmine lingering in the air and a decent-size swimming pool.
But I'm not on a lounger, I'm certainly not in the pool (have they made waterproof laptops yet?), and I haven't been wandering around La Ville Rose – The Pink City, famed for its terracotta buildings and won't be for the next few hours, because I'm working.
Now I don't expect anyone to pull out the violin for me right now. Because well, I'm traveling for six weeks across Spain and France. It really is rather lovely. But along with the sun lotion, my hiking boots and a well-thumbed Lonely Planet for Spain from about 2008 (which has actually come in really useful) is my laptop. Could I have turned everything off and just travelled without doing any work? Perhaps. There's no gun to my head here. But if I'm being honest, as a freelance journalist I would have struggled to turn off completely. I have PR workshops to set up and promote, I certainly can't not respond to editors' questions about articles I've submitted (unless I want to tarnish those relationships), and so in reality, no. Plus, I need some sort of income to trickle through. And so my laptop is with me for this trip.
But I will admit it's a constant juggle: I'm visiting sun-filled and soul-stirring destinations and so of course, I just want to throw myself into that. But there are articles to write, people to interview, emails to answer and editors to respond to. Again, no violins. The question is: when I've got two days in a place, do I really want to spend eight hours tied to the laptop?
I've been living and working like this for close to 11 years since I quit my job to go freelance. Since then I've worked from Vietnam, Myanmar, Bali, Madrid. I've also done stints in New York, Lisbon and Berlin. Looking back, there's no doubt staying in one place for a while is probably the right and easier approach rather than moving around so much and trying to squeeze in sightseeing and working.
"Make use of co-living or co-working spaces so you can meet other remote workers both local and travelers. If your work requires a lot of calls, don't pick a distant time zone. For example, working from Bali if most of your business is in the U.S. is not practical."
The pandemic has accelerated this way of working and living. Thanks to the proliferation of companies allowing remote working, digital nomads and this kind of lifestyle is no longer niche.
Just look at the sheer growth of co-living company Outsite, which now has 34 outposts with more openings on the agenda – it expects to be running up to 45 properties by the end of the year including Portuguese towns Porto, Cascais and Sagres this summer alongside Las Palmas (Canary Islands), Athens and Marrakesh. These are places where people can stay anywhere from a night to months at a time. With dedicated workspaces to work from, they're created to really make it a place where you can knuckle down to the work grind.
Whereas in one place I stayed, the Wifi didn't work and there was no phone reception, meaning I couldn't do any interviews (which needed to be in private) and I had to go to a hotel to work late at night.
So how do you balance working and traveling?
I'm now writing this on the train from Toulouse to Paris. Finally, a train with working Wifi. Phew. It ain't always the case. I've also booked buses where I thought I could – wishful thinking – work with on my lap, but with someone next to me, there was just not enough room. In these cases I've stuck to email, replied to LinkedIn messages, posted on social media about my course and matched PR execs and business owners with journalists for brainstorming sessions through my content network.
To make it work, I've had to reduce my work output. If I'm taking this (semi) time out, why put myself under so much pressure? So I decided to press pause on my newsletter. It's only out fortnightly but I didn't want the added stress of having to be really tuned into what was happening in the world of journalism to write something topical, to edit, to triple check. Perhaps a more organized person would have created evergreen content.
"It is important to keep time aside for things like going for a long walk at the end of the day, enjoying sunsets… cooking a meal and unwinding – it's important to try to have a life outside of work. Sometimes, you have to listen to your body and mind and have to switch off when you're not having a good day."
Outsite founder Emmanuel Guisset has a base in California, where he usually stays up to six months of the year, then he lives and works from Mexico in the spring and then France and Portugal in the summer. He believes it's better to stay somewhere for at least a month to get settled, rather than be constantly traveling.
He also stressed that double-checking your accommodation has good WiFi and work set-up is critical. "It's obvious for co-living/co-working spaces like Outsite but much more a lottery for Airbnb or hotels. In that case, I asked them to send me screenshot of WiFi," he said. "Make use of co-living or co-working spaces so you can meet other remote workers both local and travelers. If your work requires a lot of calls, don't pick a distant time zone. For example, working from Bali if most of your business is in the U.S. is not practical."
Another good tip is to buy a portable laptop stand, keyboard and mouse. "Working just with your laptop keypad will kill your back and wrists," he added.
Kash Bhattacharya, owner of BudgetTraveller.org, has been nomadic for the past 13 years. He says it's a constant, non-stop struggle finding a balance between work and travel.
"The nature of working freelance and being available to work at short notice for a job means that we will have intense periods of work where you won't see the light of day for a week and forget about those long sunset walks or the guilty pleasure of working out in the morning or having dinner somewhere," said Bhattacharya, who is currently in Lisbon and travels with his girlfriend.
He suggests having a routine. "The key to life on the road and anywhere is having some set sort of routine. Routine gives you focus, focus give you balance. We'll start of the day with coffee, plenty of it. Then we will go to the gym or go for a run. We try to find a good co-working space to work from. We try to work from cafes too but sometimes these spaces are not set up for work. A good co-working space will organize lots of socials and community events so you can meet other nomads. Plus you have a readymade network to plug into and make connections," he said.
Bhattacharya says they don't tend to work on weekends and try not to work too late in general. "It is important to keep time aside for things like going for a long walk at the end of the day, enjoying sunsets by the beach with coconut water or a beer (when in Asia), cooking a meal and unwiring – it's important to try to have a life outside of work. Sometimes, you have to listen to your body and mind and have to switch off when you're not having a good day. Things will go wrong on the road. Then again, a life without mistakes or problems, would be very boring."