Spaces
// October 28, 2021 ■ 4 min read
'Working from roam': Brits embrace office-place diaspora, logging on from gardens, pubs, gyms — and from abroad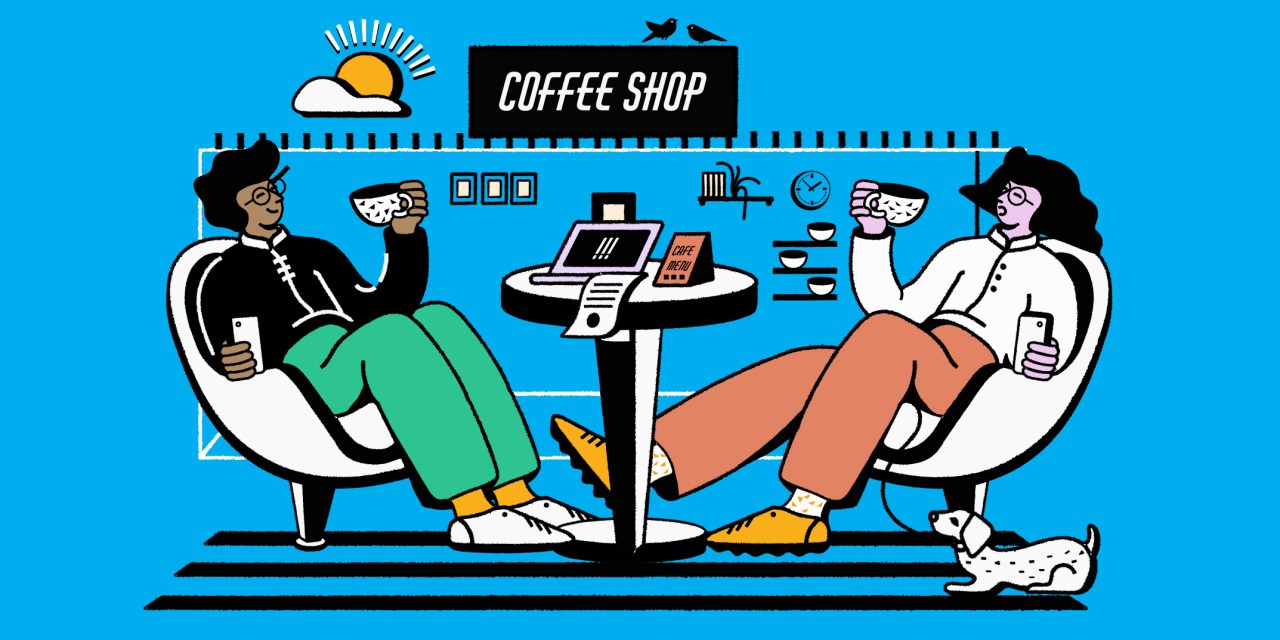 Video editor, Rob David, based in Bristol, in the South West of England, can often be found joining meetings virtually from his allotment, using the hotspot on his phone to work remotely. "Working in a creative industry, I've realized I'm happier and find more inspiration when I can work from where I want, especially when I'm outdoors."
He is not alone.
The U.K. government's work from home mandate was lifted on July 19, 2021. And 100 days on, many people's working lives have changed as employers have embraced flexibility, adopting hybrid models of working and enabling employees to split their time working at home, in the office — or on the move.
Research released today from British media and telecom group Virgin Media O2 has revealed that of the top 15 alternative working locations, 27% of British people are logging on from friends' and family's houses, and one in ten have worked from the pub. Other locations featured include gardens, train journeys, the school run, the supermarket and even while exercising at home.
Nottingham-based digital marketing agency, Hallam, in central England, recently adopted a hybrid model. Jake Third, managing director at Hallam said he feels healthier and more balanced as a result. "I will often find a quiet place in the members area at my gym or take my laptop to a café and spend a few hours there. [Flexible working] is something we've encouraged across the agency."
The research, which surveyed 2,262 respondents who worked remotely in October 2021, and was carried out in partnership with research firm Censuswide, revealed that almost one in four people log on to work via their phones on the go, using technology to create a portable office.
Third tends to spend one day in the office and four on the move, or at home. "I'll take casual calls while out jogging, for things that require a quick decision rather than complex matters. But if I'm having a one-to-one with a colleague, I often find going for a walk improves the quality — I can focus better when I am away from screens, where I can give my full attention."
Becca Nicholson, who works in content and PR at digital marketing agency, The Audit Lab in Bolton, North West England, also works while walking. She is continually checking emails to spot PR opportunities, so works from anywhere. "If there are tight deadlines, I can start writing on my phone through the Google Drive app. For example, when we spotted an opportunity for us to cover social media expertise and the use of emojis in marketing, I started straight away on mobile on a Google Doc while I was out walking."
Jade Emmons, PR Mmanager for North America and Asia at workforce upskilling platform, Degreed, which has offices in London, the U.S., Holland and Australia, also benefits from working for a company with a remote-first policy. She enjoys her home office space in Barnet, North London, when she is writing or poring over data research. "I can make it as quiet as I need to concentrate, or I can put on some music to help me get in the zone. In the London office, I can't always control the noise levels and often I will get interrupted while writing and then it's tricky to get back into the same thought space."
Emmons is also able to take her 16-year-old stepdaughter to regular hospital appointments. "I prefer to work from hospital cafés, but I have worked from waiting rooms before, or from the car (usually to take calls). Usually, I do admin, answer emails or write short articles."
Other employees are enjoying working on the move while further afield. Melissa Hull, CFO at business-to-business marketing firm, Fox Agency, which has offices in Leeds and London, bought a place in Italy this year, giving her an alternative workspace for the summer. "My evenings saw me wander off to the local café for a glass of vino, laptop on table finishing my work before going for a wander and getting dinner in a local restaurant. As we drove there, I was able to work in the car when it wasn't my turn to drive. I could take calls and continue meetings, working at my laptop on the road."
Jo Bertram, managing director, business and wholesale at Virgin Media O2, said the new research supports the fact that employers must continue to invest in technology "as people shift from working from home to a hybrid approach across home, the office and 'working from roam'."