Spaces
// May 13, 2022 ■ 5 min read
'Pajama pants welcome': How this marketing agency created an office that feels like home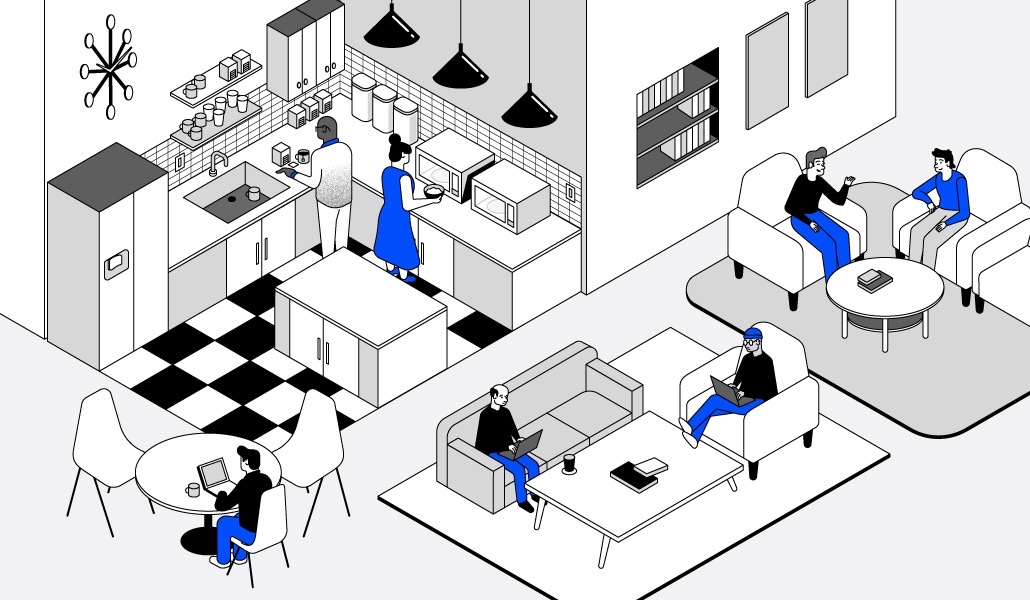 Ivy Liu
Employers who have had trouble persuading their people to return to the office could take a cue from the New England-based marketing agency Overabove.
When the lease came up on the firm's office space in late 2020, CEO John Visgilio began an extensive search for a new headquarters — while leading a companywide conversation about the needs of a communal workspace in the age of Covid, as so many agencies were shrinking their physical footprints, closing offices and brainstorming how to inspire employees to eventually come back.
Running an agency that specializes in placemaking and storytelling for real estate, hospitality and education companies, and that has worked with famous brands like Mohegan Sun and Marriott International, Visgilio knows a little something about the importance of spaces. He understood that when it came to his own company, he needed to create not just another office space but a real "home" for his employees.
Overabove landed on a 1970s-era, two-story commercial building in historic Chester, Connecticut, that had previously housed an insurance agency. ("Being a true neighbor in Chester was important for Overabove, having a real stake in the community as a 'homeowner' and being part of the neighborhood," the CEO explained.) Visgilio assembled a team of architects, designers and builders to renovate the space, giving them a unique challenge: Imagine your most perfect place to work, think and dream, and then use that idea to design the agency's new base — one that would stimulate creativity and strategic thinking to enable the agency to compete effectively in a highly competitive field.
"We recognized that we needed a collaborative space to work and host clients, and many of our employees were ready to come back on a hybrid basis. However, many of our employees also like working from home and remain tenuous about coming back to the office full time," said Visgilio. "Home is still, in a sense, very much where the heart is, so we wanted to honor that and create something that feels like home when employees come into the office." The Overabove team was fully involved in envisioning what the space could be, sharing mood boards and collaborating on furniture decisions, paint colors and room layouts.
The end result is a space that's big on cozy, homey features, with multiple lounge and sitting areas, collaborative spaces, even a deck and a backyard garden. Flooded with natural light, the layout recalls a traditional home floorplan, with a large central kitchen and dining space featuring quartzite countertops, deep blue-black cabinetry and brass hardware. The building is a manifestation of the Overabove brand itself: sophisticated and stylish, while also being warm, welcoming and communal.
"Home is still, in a sense, very much where the heart is, so we wanted to honor that and create something that feels like home when employees come into the office."
The transformation of the space became a labor of love for the team, and even inspired a webisode series, "Home at Work," which captured the process from design phase to construction to finished product.
"This series participates in the timely conversation around the purpose of the office after a prolonged two-year work-from-home period," Visgilio said. "This process encouraged some much-needed Overabove teambuilding. The greatest benefit was enabling our team to do what we do best: create great content that showcases our talents in extensive storytelling, placemaking and video work."
The team officially moved in this spring, with many employees choosing a hybrid work/home arrangement. Throughout the beautiful new environment, there are 20 unassigned workstations with chairs and wall-mounted monitors where team members can set up shop whenever they come in.
"Colors and materials needed to have a dual functionality for a commercial/residential space, while honoring the small village atmosphere," said Debra White-Swanski, interior designer and owner of Wiser Living, who worked on the project. "Furnishings are soft but durable and many surfaces extend or lift to create work surfaces. Portable laptop desks can be taken outside where there are outdoor lounge spaces. Careful thought was given to functionality and comfort, and I think it shows."
The space truly functions like a home first, an office second, Visgilio emphasized. "Team members tend to want to be there more often and hang longer because the space is a real departure from an expected, corporate environment," he said. "From gathering around the kitchen island to discuss work over a cup of coffee, to lounging on couches and brainstorming solutions for our clients, these are examples of what keeps us engaged and feeling home at work."
Combining live and workspaces seems like a natural evolution of the work from home trend, and one that architects are being increasingly asked to accommodate by employers. Larry Cohn, principal at New York City-based Shadow Architect said that bringing domesticity into the workplace was a big part of the design discussions it had with a creative agency for its headquarters last year. "This shows itself in the selection of finishes and furnishings, and lounge-like areas, as well as items like kitchens, which become more central to the company culture," he said. "We are seeing expansive kitchen counters directly next to work areas, where grabbing a drink or snack and pulling up chairs to collaborate with a peer is a day-to-day norm. This just becomes a part of the combined live-work scenario."
Naturally, there are downsides to this blurring of two – previously very separate – environments. "For employees or visitors, it can go from feeling not professional enough to full-on awkward," added Cohn. "Having your boss walk up to your desk in pajamas, or get into a fight with their spouse while you are trying to work, is not a good look for a firm." The best set-ups are where there are dedicated live-only spaces physically, visually, and acoustically separated from the live-work areas, advised Cohn. "Separate floors and separate entrances are ideal," he added.
Overabove has not formally implemented a requirement about how often employees must be in the office, opting instead for a soft transition back that makes employee flexibility paramount. Visgilio said a hybrid standard where an employee spends 50% of the time working from home, 50% in the office will eventually be formalized.
"Hybrid work is exactly what we designed this space for," the CEO said. "When we're in the office for a client meeting, or working collaboratively in person, this workspace feels like an extension of home. We're making the concept of home at work a reality. Pajama pants welcome."