Culture
// December 20, 2021 ■ 8 min read
'Old maps don't apply to new worlds': Experts predict what's in store for 2022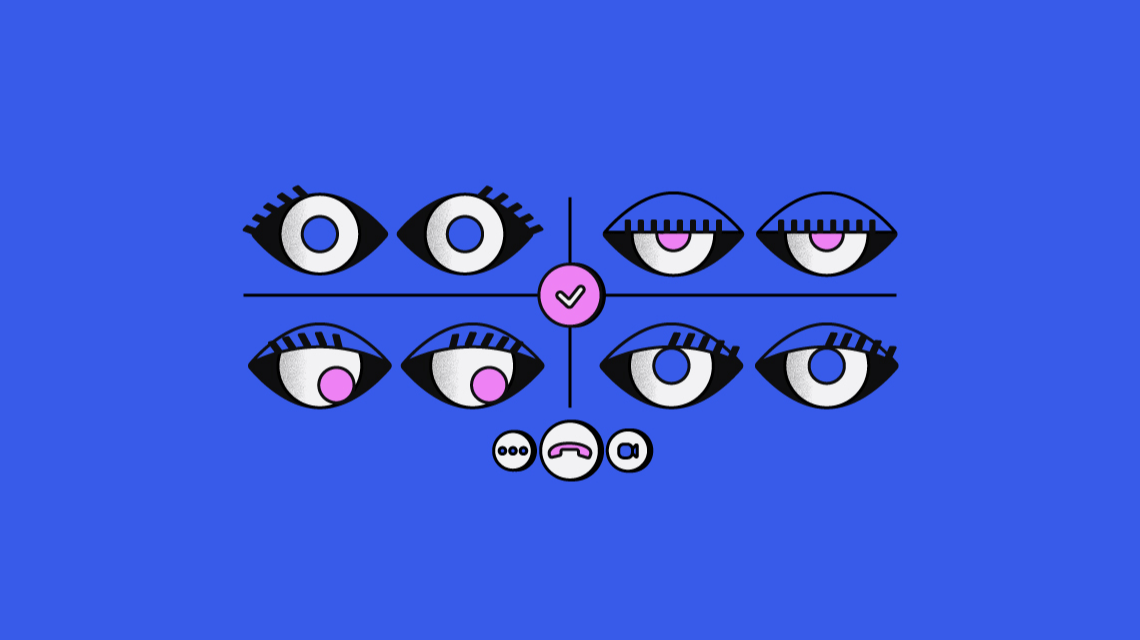 illustrated by ivy liu
Toward the end of 2019, business leaders discussed the likely trends in the next year, claiming to have a "20/20 vision." No one had the foresight, however, to spot a once-in-a-lifetime global pandemic that would alter every aspect of the "old normal."
To begin with, organizations and governments blindly battled the coronavirus crisis. It is only now we can blink into the light and see more clearly what factors might shape the future of work in the coming year.
Given the U.S. military phrase VUCA — an acronym for volatility, uncertainty, complexity, and ambiguity — encapsulates the world in which companies now operate, long-term plans are so last year. So instead, more immediate, tangible, and attainable goals are recommended. And it is in this spirit that a raft of business leaders offered bold future-of-work predictions for 2022.
We've outlined some of the key ones below.
Firming up hybrid working
Many agree that 2022 will be the year that organizations crystalize what hybrid working truly means for them. "We've seen that good work can be done nearly anywhere, and people expect flexibility in how they work, but there is still so much we don't know about what it takes to make remote and hybrid work successful," said Brynn Harrington, vp of people experience at Meta.
She stressed that until companies start returning to offices at scale, everyone is still working from home during a pandemic. "But, over the next year, as we establish new routines, we will begin to understand the opportunities and challenges this new era of work will bring," she added.
Similarly, Bruce Daisley, best-selling author of "The Joy of Work", predicts teething problems for hybrid working. "By spring workers will start expressing frustration with taking Zoom calls at their desk," he said. "'I was promised creative conversations by the watercooler and told there would be surges of serendipity by the sofas – instead I'm doing a Teams call with someone in their spare room,'" Daisley added, tongue in cheek. "By the end of the year, bosses will be filled with remorse: they'd have loved to have workers back full-time, but the finance director has just signed off a move to a smaller office."
This theme is developed by Darren Murph, head of remote at GitLab, who business models have to be ripped up completely to best serve employees. "Old maps don't apply to new worlds," he said. "Hybrid-remote will be tried out, but it will always be constrained by dysfunction, largely because of many organizations' lack of understanding of the careful planning and adoption of distinct processes needed for it to be successful," he warned. For Murph, all-remote and all-colocated working models will become the prevailing environments in 2022.
Meanwhile, cybersecurity will be paramount, whatever style of working model businesses commit to next year. "The hybrid model has many benefits, such as increased flexibility and productivity, but it also comes with some cybersecurity shortcomings," said Bharat Mistry, technical director at cybersecurity software firm Trend Micro. "It is imperative for organizations to craft and implement security policies that take into account the perimeter-less nature of the post-pandemic workplace."
The rise and rise of the gig economy
To add to the worries of security professionals desperate to protect the work devices used by a disparate workforce, futurist Tom Cheesewright believes companies will streamline their headcount and use freelancers more often in 2022. "Companies will continue to get smaller," he said. "Automation, augmentation, and low-friction communication mean that success increasingly comes from collaborations rather than monolithic enterprises. This changes the nature of work: everyone is closer to the edge of an organization now, so communication skills are more highly prized."
Meanwhile, he believes that as businesses shrink, the number of freelancers – highly skilled and self-employed individuals – will surge. "Technology takes away the friction from taking on talent for the short term, and for those with in-demand talents the risk is manageable versus the flexibility it offers," added Cheesewright.
Meanwhile, Angela Ashenden, principal analyst of Workplace Transformation at analyst firm CCS Insight, spies trouble ahead for companies who use technology to monitor their workers. "In 2022, a focus on employee productivity monitoring will prompt a backlash from employees, culminating in successful litigation," she said.
With businesses lacking visibility of employees' activities and well-being when they are working remotely, there is a growing appetite among business leaders for monitoring technologies that use data from applications and devices to determine the way employees are working, behaving, and feeling, according to Ashenden. "This has explosive consequences, though, with employees concerned that this monitoring fails to respect their privacy – particularly when they are working from home – or is being misused by their managers."
This article is the first in a two-part installment featuring bold predictions from experts across a range of industries.
3 Questions with Jared Spataro, corporate VP, Modern Work at Microsoft
Microsoft has fully embraced the hybrid concept more perhaps than other major tech companies – what has worked well and that hasn't worked?
Since the beginning of the pandemic, we've been deliberate in taking a "learn-it-all" approach. We're listening to feedback from our employees, partners and customers, and are relying on data rather than dogma to guide our decision-making. That, coupled with offering flexibility in when, where and how work gets done, has served us well.
One thing we changed (based in part on employee feedback) was how we communicate about office reopenings. Rather than focus on specific dates, which invariably shifted due to the evolving nature of the pandemic, employees now know we'll reopen when it's safe to do so, based on public health factors and local guidance. They also know we'll give them plenty of notice. This updated approach is more in line with our focus on flexibility and offers a better experience for our employees.
It's clear there are teething issues with hybrid structures being trialed. For instance, there is so much flexibility around which days to go to the office, that those who do often find themselves on their own, which create disappointment. But others feel set days are too restrictive. What advice would you give these companies?
Our research tells us employees want the best of both worlds – the flexibility of remote work paired with more in-person time with coworkers. We call that the Hybrid Paradox. But returning to offices today doesn't always give employees the experience they're looking for – coworkers aren't always in the office at the same time, technology hasn't been updated yet, and they may simply find themselves doing virtual meetings from the office instead of from the comfort of home. Making hybrid a positive and productive experience for everyone will require some new norms. While we aren't dictating which days employees need to come into the office, we're arming managers with the tools and skills they need to successfully manage a hybrid team. That includes tips on creating a team culture that enables flexibility, face time and inclusivity for everyone – no matter where they're sitting.
We also think technology has a big role to play, and this is an area ripe for innovation. We've recently introduced new capabilities within Microsoft Teams and Viva that help employees stay connected and engaged to each other and to the broader organization. Hybrid work will completely change how we think about and manage physical and digital spaces. Our team is developing tools that will enable organizations to make more strategic decisions about how they create and use space, so they can ultimately provide workspaces that meet the needs of their employees.
If this year has been the acceptance that hybrid models are here to stay and the start of experimentation on that front, what will 2022 become known for? And what challenges should employers be prepared for?
2022 will be a year of implementing solutions that make hybrid work, actually work. Organizations will need to tackle challenges across space and time, while also ensuring the well-being of their employees. The role of space will fundamentally change. How can we reconfigure physical spaces to ensure employees can be productive and collaborate? How can digital spaces be accessible, functional and welcoming for all?
As organizations increasingly diversify their talent, how do we coordinate the times in which work gets done and what tools best enable asynchronous work? How do we ensure everyone can contribute their best ideas and do their best work? What can employers do to reduce burnout, maintain culture and foster the social ties that are key to unlocking innovation across the organization? The year ahead is likely to throw us some curveballs as well, but these are the questions that will certainly be on the minds of leaders the world over.
By the numbers
U.K. office workers took more than 9 million sick days due to workplace misconduct in the last year, causing a £1.2 billion ($1.6 billion) hit to the economy, according to a survey with 2,000 respondents.
[Source of data: Vault Platform's Trust Gap report.]

55% of office space and desks are expected to be in use over the next year in the U.K., according to
[Source of data:

Nearly 1 in 5 of 1,000 Gen Zers polled have never worked an in-person job, but 47% plan to look for an in-person job.
[Source of data: Skynova's Remote is all I know report.]

What else we've covered