Spaces
// March 22, 2021 ■ 9 min read
'Location-based identity is no longer valid': Firms say remote working has eroded geographical barriers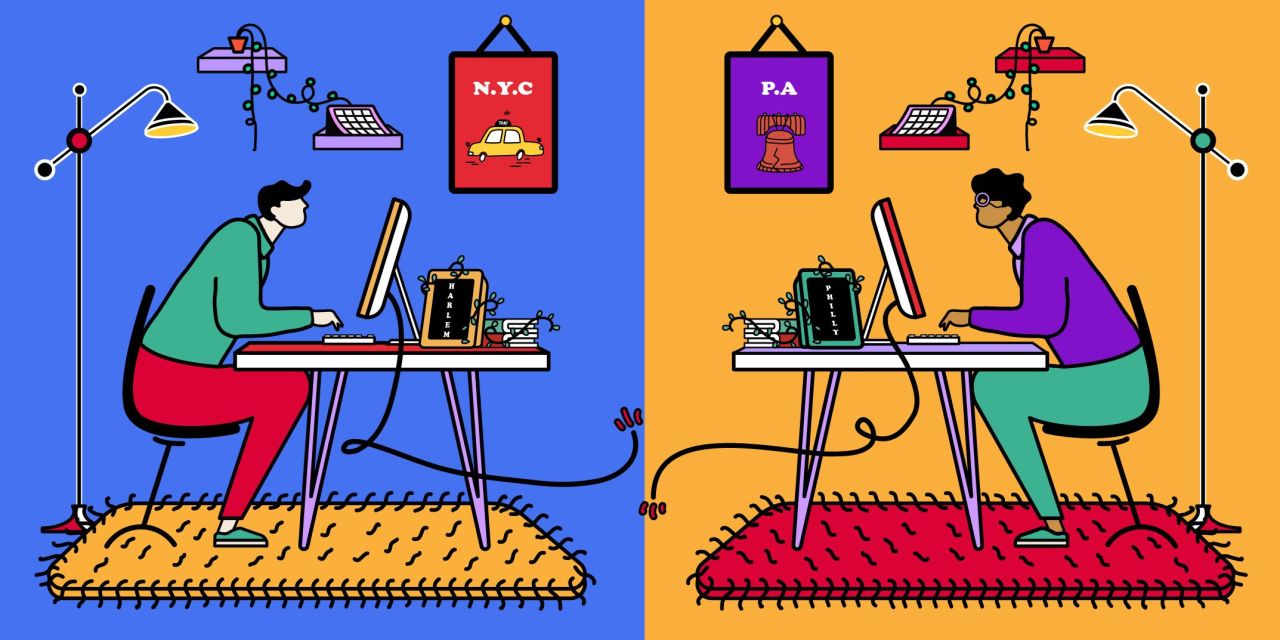 The rise of working from home has meant that people are working from anywhere and everywhere. As long as deadlines get met, invoices get paid and Zoom backgrounds are sufficiently professional looking, geography has come to mean very little to some bosses — which is why places like 80-degrees-and-sunny Miami have become such hot destinations in the pandemic.
As a result, companies once inextricably linked — in identity and in spirit — to centers of industry like New York and San Francisco have essentially become firms from nowhere.
"I don't think it matters where our team members are working from," said Jonathan Hanson, co-founder and chief creative officer of the agency Unconquered, which has done work for brands like Nike and Lululemon. While the agency's home base is in New York, where Hanson lives, his people are scattered across the country. Living in the city "has an effect on my personal identity, but not the business," he said, adding that his company was created "around a clear set of brand values, not a physical city. This has given us a genuine understanding of who we are and what we are about while opening up a larger talent pool."
"The pandemic has brought with it a renewed sense of globalization," noted Thomas Hogebol, founder and executive chairman of The North Alliance, a group of marketing agencies based in Copenhagen which has done work for Scandinavian Airlines and the Stockholm subway system. "Everything is now just a video conference away," he said. "International brands need no longer limit themselves to local talent alone."
While being dispersed has been challenging at times for his teams, they ultimately have embraced versatility, he observed, finding that "location needn't be a barrier to turning the new normal into the new remarkable."
While still maintaining its home office across the Hudson River from Manhattan in Edgewater, New Jersey, Daniel Snow, co-founder and CEO of The Snow Agency, illustrates just how little location matters — he relocated to Miami during the pandemic and is opening an office there. "Like many, we were scattered, working from home and feeling disconnected and unsure of how things would pan out for us, but we turned that into a positive," said Snow, whose company has worked with brands like the athletic-wear maker Alpha.
"The honest answer is that tech companies, unlike many others, can work with a remote workforce and work well. This has been the case many have been making for the past several years — it's just that the pandemic expedited the shift," said Deepu Prakash, senior VP, process and technology innovation at software developer Fingent.
But the story is very different for those companies just starting out. "Startups very much need a headquarters in one of the tech meccas, as they have more venture capitalists [to meet] and it does make securing funding easier, even in this day of online meetings," he explained. Startups also benefit from their proximity to the tech giants – companies like Google that can invest seed funding and provide talent, helping "startups take off in a major way."
That said, Zoom meetings can never replace the "ever so satisfying" watercooler chat, Prakash lamented.
Like most companies, Power Digital Marketing, a San Diego-based digital marketing firm with offices in New York and Los Angeles whose clients include Beyond Meat and Peloton, has its people spread all over at the moment. But chief brand officer Sara Brooks thinks that, despite its people being cut off from their offices and colleagues, geographical diversity will be a strength moving forward.
"When we return to 'normalcy,' we will, of course, be open to remote employees, which gives agencies that historically were based in big cities a leg-up on talent, allowing us to work with professionals across the country," she explained. While industry centers like New York and L.A. will always be feeders of talent, she added, the idea that you have to be based in a big city has pretty much gone out the window the past year.
"Covid-19 has taught us some valuable lessons, and companies have realized that location is no longer a flag bearer of identity," seconds Dave Nilsson, founder and director of the SEO firm ConvertedClick, based on the outskirts of London in the town of High Wycombe. Nilsson notes that the financial pressures having been put on many companies over the past year has necessitated their relocation from expensive bases like metro London. And ultimately, it doesn't matter, he thinks.
"Location-based identity is no longer valid now," said Nilsson, whose shop has worked with brands like Jaguar. "It's the work and values that create your identity. Build meaningful relationships with customers, offer great services, and you can naturally create an influential presence no matter where you are. "
3Qs with Brian Nienhaus & Juan Carlos Suarez, EVP & SVP member engagement and development, 4As.
You've released a report today that takes a deep dive into what the future is for agency office spaces, what are the main takeaways?
Nienhaus: We see meaningful opportunity to reduce operating costs and increase operating margins for agencies. That could be material in an industry where we're fighting for double-digit margins. There's also a real reimagining of space going on that focuses fundamentally around collaboration, creation and community. And we are moving toward a hybrid operating model for agencies — we'll expect many different versions of that to be rolled out.
Suarez: We've seen a shift in [CEO] mentality from around last December when we didn't have clarity around vaccines, and didn't know what the world would look like from a balance sheet perspective. Since inauguration day in January we've noticed a big change with perspectives having changed from being fearful to feeling energized about what 2021 holds.
There are already clashes between some business leaders and their employees' expectations of when people should return to the office, how should business leaders navigate that?
Nienhaus: I've spoken with agency leaders that have felt that way, and then completely changed their minds. Some have predicted that as soon as people are allowed to come back full time, they will choose to come into the office not because they've been asked to, but because they're hungry for that interaction and culture that they've missed. But that a few months down the line, we may naturally start to siphon back to a hybrid model because people will remember that they're really productive when they have to do a specific piece of work which they can do from home without being interrupted every 15 minutes.  
Suarez: We've seen two ends of the spectrum: Folks that have set return dates, those seriously considering a significant reduction of real estate space or a fully virtual model. The idea of what the agency office space should do for employees has changed from being a place we all go together on a 9-5 basis, to a place you go to get energized and feed from the creative people around you, and feel better than if you weren't there. Some are also looking at new ways their space can be revenue generators.
Flexibility is being requested more by staff and employers seem more open to that, is it sustainable long term?
Nienhaus: We're seeing employee empowerment in a way we haven't before. There are a lot more empowered people within organizations at a junior level stating their case: in areas like diversity, mental health, and work-life balance. Specifically when it comes to diversity, there is a real expectation and desire to change what are some not great numbers — in terms of diverse staff and leadership and equity inclusion.
Suarez: Agency CEOs are taking this as a personal priority. In the past, culture wasn't something CEOs would dive into directly — they'd appoint a committee, head of HR or talent. It was an item on their list, but not up there with the business financials. All the agency leaders we spoke to joked about how their job description has changed — they're now chief health officer, chief mental health officer, chief energy officer. And when you see these CEOs take on those multiple responsibilities that have come with the job this last year, it's clear that culture is a responsibility that's become a lot more personal than it was before.
Numbers don't lie
What else we've covered
In need of a place to set up shop and rub elbows with likeminded refugees from places like New York, Los Angeles and San Francisco, many Miamians have headed to Soho House, the international chain of private clubs with locations from Mayfair to Mumbai.

What is the correct meeting etiquette in the remote world of work? Do people think less of you if they cannot see your eyes or body language? Or should we accept that with Zoom fatigue setting in it is a relief not to always make a physical appearance?

The move toward a portfolio career has been a popular trend for several years. However, the pandemic is set to accelerate interest in this career path due to increasingly fragile incomes and a renewed interest in diversifying and broadening skillsets. The Organization for Economic Co-Operation and Development even predicted that 50% of professionals will be in a portfolio career by 2030.
In case you missed it
Companies and industries will need to focus on finding the right balance between remote and in-person as lockdowns ease. But it's clear that distributed work is rapidly creating fresh opportunities to collaborate across borders, timezones, and cultures. If 2020 was the year of work from home, it seems 2021 will be the year of work from anywhere.