Spaces
// July 13, 2022 ■ 5 min read
Biophilic offices: How nature in the workplace can benefit well-being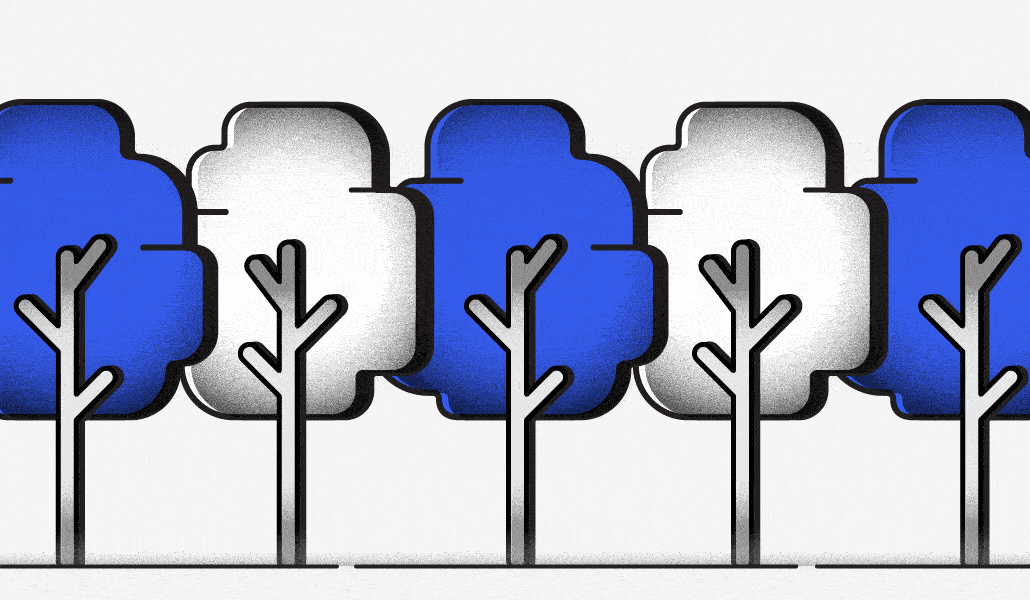 Designers are making a day at the office like a walk in the park.
Big tech companies like Amazon and Google continue to embrace the trend – called biophilic design – and now other businesses are making it central to their workplace designs. Partly, to encourage people to want to be in the office.
Biophilic design is a concept that increases connectivity to the natural environment through the use of direct or indirect nature. That could mean having more windows and ways to view simple natural occurrences like grass swaying in the wind, birds flying, clouds passing; having plants or a green wall inside the office, or using natural materials for flooring and desks.
"Nature is not just something that you travel to visit on a holiday," said Timothy Beatley, professor of sustainable communities at the University of Virginia and founder of Biophilic Cities. "It has to be integrated into the living and workspaces around you where you spend most of your time."
In a workspace, it might be hard to feel a connection with nature daily, but designers and architects are increasingly changing that for companies which are interested in leaving behind the days of windowless, cubicle-only workspaces.
In Seattle, Amazon created "The Spheres," which is home to more than 40,000 plants from the cloud forest regions of over 30 countries and what executives call an "alternative workspace." It's now building a helix-shaped tower in Arlington, Virginia, which features a walkable ramp wrapping around the building with trees and greenery planted to resemble a mountain hike.
This May, Google unveiled its latest Bay View campus in Silicon Valley, which also has biophilic design at its core.
"When your mind [sees] natural rhythms, you actually become more creative and better at problem solving," said Elizabeth Calabrese, an architect and educator of biophilic design, who worked alongside Stephen Kellert, one of the pioneers of biophilic design. "These are the types of things that are supporting bringing nature into built environments."
Although popular with big tech firms, the concept is now spilling into other industries. Design firms like Ted Moudis Associates and global architecture firm CallisonRTKL are seeing increased demand and interest from a range of other businesses.
CallisonRTKL recently worked with AMS Trade LLP, a Washington D.C.-based boutique trade law firm, to incorporate biophilic design. One of the top priorities was to provide more natural light by incorporating glass walls and a large skylight. A border of live plants was also added along the large conference room, which acts as a natural air filter. The goal was to make employees feel more connected with nature despite being indoors.
"Our evolutionary core still is looking for those connections to nature and connections to circadian lighting to know what time of day it is and what the weather is like," said Calabrese.
"[Nature] has to be integrated into the living and workspaces around you where you spend most of your time."
The last two-plus years of working remotely have meant many companies have struggled to entice workers back to the office. Some of that is down to the fact that many people feel they've established a far healthier work-life balance and aren't ready to relinquish it. Some employers are hoping that making the office more enjoyable for employees, will not only encourage them to come into the office, but also help with talent retention.
"Now that people have the choice to work at home or the offices, if businesses want people to come back to the office, they need to raise the bar a bit and create comfortable spaces for people, while also realizing people work better when they're in a more comfortable environment," said Calabrese.
Michelle Beganskas​, senior manager of workplace strategy at New York City-based Ted Moudis Associates, a company that designs workplaces that provide sustainable environments, says that the benefits of biophilic design are rooted in our well-being.
"As humans, we have this innate need to connect with nature, and it directly impacts our physical, mental, emotional well being," said Beganskas. "It also has an impact on our productivity and things that can really help to make a business case for biophilic design."
Biophilic design can be implemented more directly with the use of plants and natural materials. However, Beganskas explains there are indirect ways to incorporate the connection to nature as well.
"As humans, we have this innate need to connect with nature, and it directly impacts our physical, mental, emotional well being."
"There's also the experiential aspect of nature that we can recreate through design that has nothing to do with the aesthetics, but creates a sense of prospect and refuge, discovery and exploration," said Beganskas. "You can leave these strategies that are a bit less literal into design, and it brings about the same positive feelings that an experience in nature can bring us."
That might mean choosing color palettes that mimic the nature of the region. Beganskas says in New York that might mean sky blues and forest greens, but in Arizona it's warm blushes, pinks and tans. Even just having pictures of nature or sculptures is a step in the right direction to help employees connect with nature, as is having wooden floors or chairs or a stone table.
"There are certain elements of biophilic design that are just good design," said Beganskas. "It's good to consider the human experience when you're designing things. We try to weave it into every project and what we consider a best practice that everyone should consider when designing a space."
On the other hand, Beatley does encourage the use of actual nature when designing a workplace because of the benefits of better air quality from plants, helping cool urban environments with more trees, and having an overall impact on public health.
"We want to think about having nature all around us, all the time," said Beatley. "It means not just employees are more productive, but they're more likely to be committed to working at that company if the spaces are green and natureful."
Calabrese suggests also allowing employees to nurture plants themselves and having them create a true connection with nature.
"It's not just about having potted plants for show, but it's about the connection to it as well," said Calabrese. "It would offer softness, variety, texture and patterns."