Spaces
// May 26, 2022 ■ 5 min read
5 things to know about how Google's new Bay View campus reflects the evolution of workspaces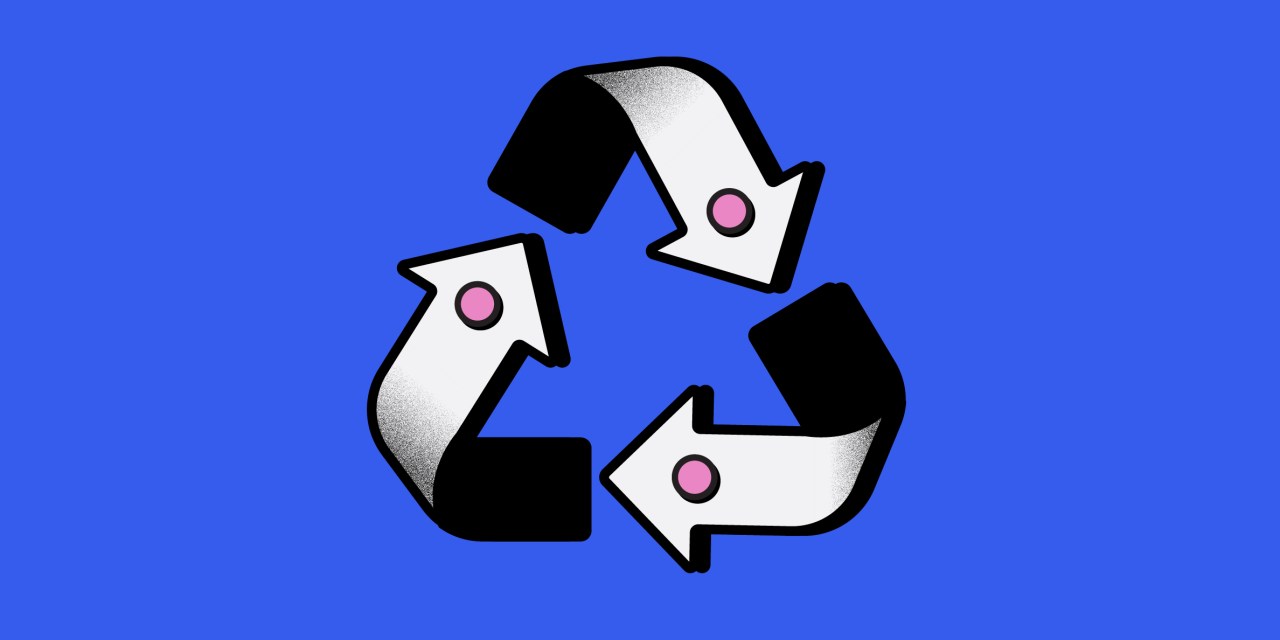 Ivy Liu
Google this month opened the doors of Bay View in Silicon Valley, marking the first time the company has developed its own major campus — and the massive complex is representative of what the big tech players and other businesses are doing to remake their spaces with the evolution of work life, as well as sustainability, top of mind.
The interior of the buildings — which encompass 42 acres and 1.1 million square feet — emphasize Google's vision for the future of work, the company said, as they are designed for "why employees come to the office, what they need from their teammates and what they need from the company."
"The idea of the office has been stuck for a long time," said Thomas Heatherwick, founder and design director of the U.K. architecture and design firm Heatherwick Studio, which worked on the project. "Yes, people have done different aesthetic treatments. But there hasn't been a fundamental questioning of the workplace at this scale. Our approach has centered on the emotions of individuals and the imaginations of teams and how you create a whole different atmosphere of work."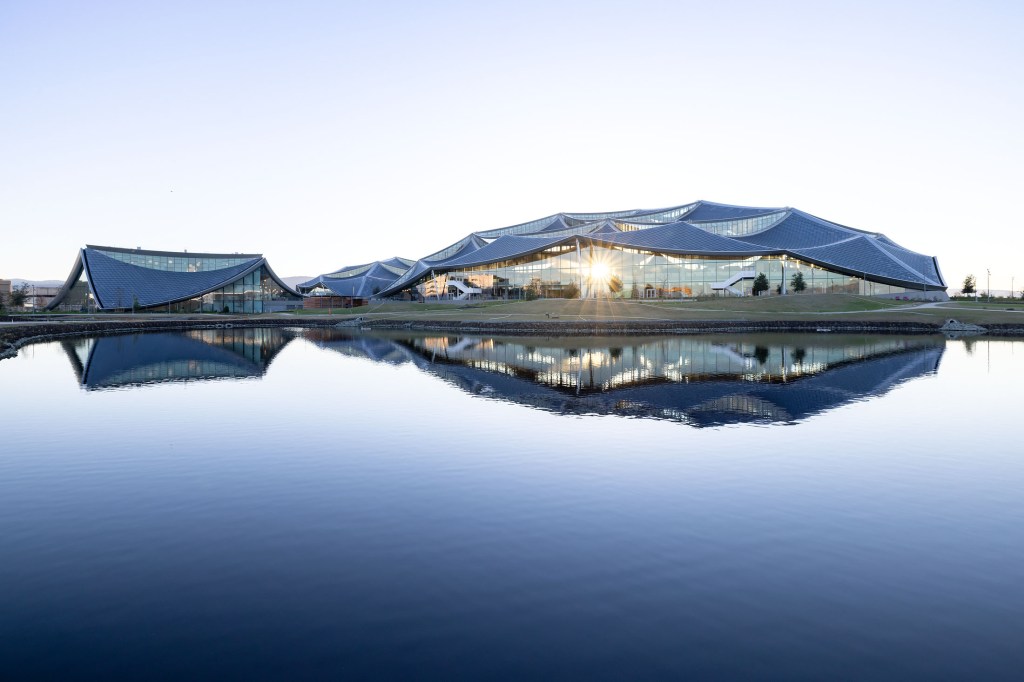 Here are five things to know about Google's new space:
Work spaces for teams are located on the upper level while larger gathering spaces are below. The second-floor design has variation in floorplates to give teams a designated "neighborhood" area that is highly flexible to change with their needs, according to Google.

The campus incorporates "biophilic" design principles, including greenery, natural light and views from every workspace, with the aim to maximize the health and well-being of workers. Clerestory windows modulate direct light onto desks while automated shades open and close throughout the day.
Sustainability is central to the design of the Bay View campus. An integrated geothermal pile system, the largest in North America, aims to reduce carbon emissions by some 50% while a massive geoexchange field reduces the amount of water typically used for cooling by 90%, amounting to 5 million gallons of water per year. To help deliver on its promise to operate on totally carbon-free energy by 2030, a unique "dragonscale" solar skin and local wind farms will power the facility on carbon-free energy 90% of the time. Meanwhile, Bay View is 100% electric.
To deliver on its commitment to replenish 120% of the water it consumes by 2030, the site is also net water-positive, with all non-potable water demands being met using recycled water generated on site. A series of above-ground ponds gather rainwater, combined with a building wastewater treatment system, serve as the water source for cooling towers, flushing toilets and natural irrigation. Speaking of nature, the campus features 7.3 acres of wet meadows, woodlands, and marsh. The public has access to an expanded trail system featuring Bay views, expanded car lanes and new bike lanes.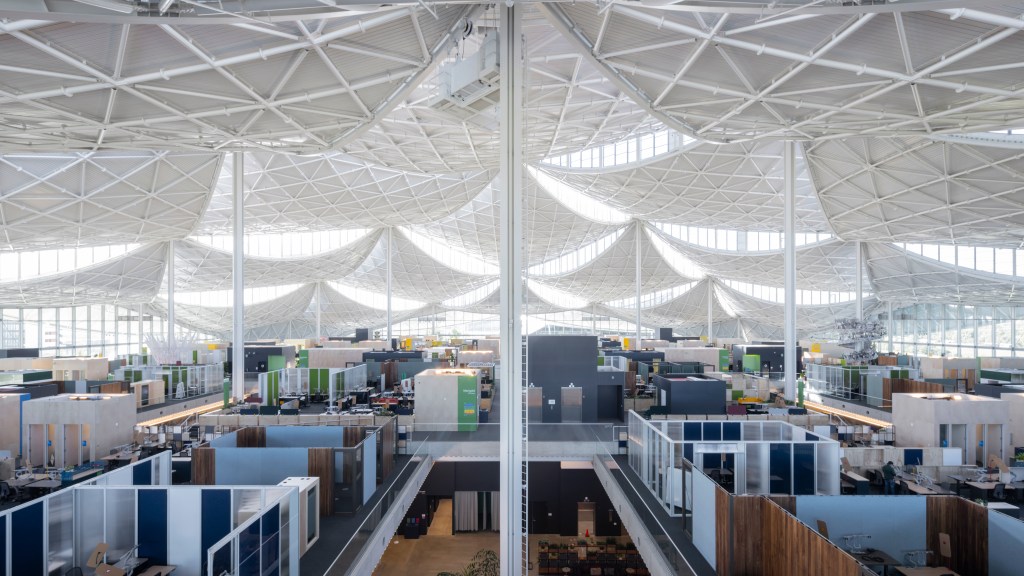 As this is Google, data, naturally, informed every element of the Bay View project.
As Bjarke Ingels, founder and creative director of the Copenhagen-based architecture and design firm Bjarke Ingels Group, which also worked on the campus, put it: "Working with a client as data-driven as Google has led to an architecture where every single decision is informed by hard information and empirical analysis. The result is a campus where the striking dragonscale solar canopies harvest every photon that hits the buildings. The energy piles store and extract heating and cooling from the ground, and even the naturally beautiful floras are, in fact, hardworking rootzone gardens that filter and clean the water from the buildings.
"All in all, a campus where front of house and back of house, technology and architecture, and form and function have been fused into a new and striking hybrid."
Nina Kreuter, associate director, brand experience and marketing at advertising agency Argonaut, which has done work for brands like Volkswagen and Ubisoft, admires what Google has achieved with its new campus, from the use of outdoor space to dedicated spaces designed for focused work. With such simple solutions, companies of any size can take a lead from the tech giant when it comes to fashioning their own workspaces of the future, as she sees it.
"As excited as we are to be in spaces with our coworkers to collaborate, many of us have become accustomed to quiet, solo workspaces where we can focus and keep our heads down on our work — coming back to an office filled with buzz can be very distracting for some," she commented. "The way Google has created clear boundaries between collaboration spaces and focus spaces is bound to be appreciated by virtually all employees, and this same practice can be employed in an office of any size."
Paul Woolmington, CEO of media agency Canvas Worldwide, which does business with brands like Heineken and McDonald's, observed that with Bay View, Google has "surpassed themselves in the sustainable, utopian design" — one that not only serves to accommodate the future of work but, crucially, that of the people who do it. "Work and work culture are forever changed," he said. "How does one bring the soul back into the physical human experience? The ultimate 21st century challenge."