Spaces
// August 21, 2023 ■ 4 min read
Remote and hybrid workers double down with impressive WFH setups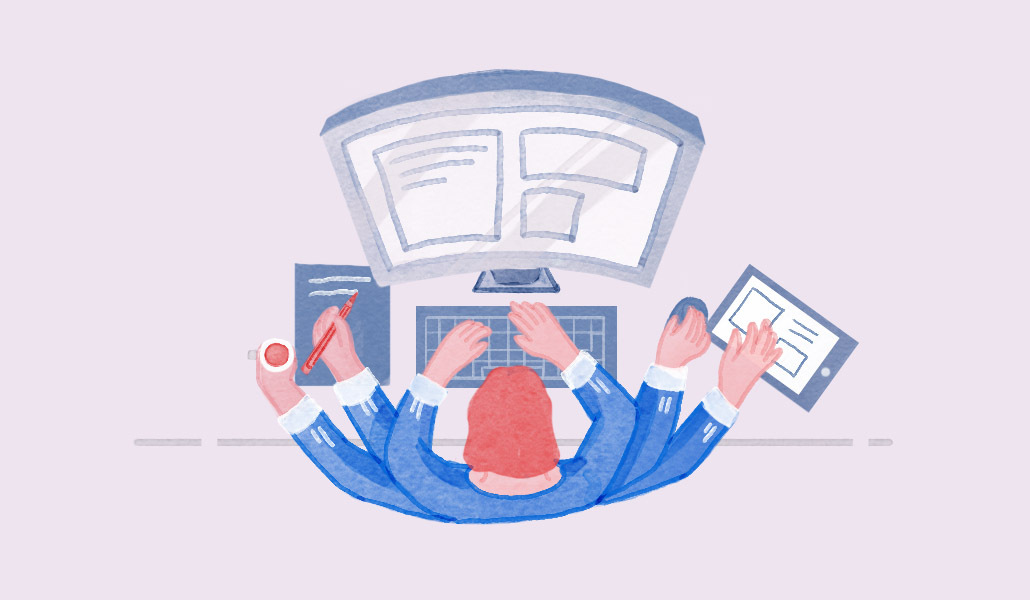 Many remote offices may soon begin to collect dust from lack of use or be converted back into spare bedrooms, as return-to-office mandates continue to flow. But in the midst of that, some remote workers are doubling down on their setups, recommitting to working from home after their companies have signaled that flexible work is here to stay.
One-third of Americans still work permanently from home, which means a home office has moved from a nice-to-have to a necessity. With remote work though, personal and professional lives can blend really quickly.
That's why there's been a growing interest in accessory dwelling units (ADU) as detached office spaces. ADUs blend the convenience of remote-friendly spaces on your property with the ability to physically "leave the office" at the end of the workday – except now the commute is only a few steps across your backyard. It's especially attractive to those who are balancing kids at home and need to physically isolate themselves for calls or to catch up on emails.
Matthew is the vp of engineering at a large tech company that closed its offices last year because employees were continuing to work remotely. He built a detached home office in his side yard originally for a place for his parents to stay when they were visiting, but at the end of last year expanded it to include an office and he started working out of it in 2023. 
"My wife and I realized it would be good to have this, because we were both curled up in the same bedroom working, or we could always hear each other working," said Matthew, who requested anonymity as he wasn't cleared by his company to talk to WorkLife.
The best part is being so close to his kids. "They don't get to disturb me, but I can go and disturb them," he said. "It's nice to have that separation."
It's a 100-square-foot space that is filled with light pouring in from the windows on each wall, giving him his own space, while still being close to home. He believes it's important psychologically to work in a different area to the main house, otherwise work can bleed over more into his personal time than it should. But to turn the lights off in the ADU and head back to the main house signals that his work day is over.
He's not so concerned about being mandated to return to the office either. Even if the company does switch to a hybrid model, he knows that he will always need a space to work at home for certain days.
Marc Bjerring, co-founder of Spivo, a video editing service that caters to adventure and travel enthusiasts, turned his garage into a dedicated remote work area for the same reasons as Matthew.
"The natural light that filters through gives us a refreshing connection to the outdoors, which is something my co-founder and I both treasure."
"We've converted a cozy yet functional space in our garage into a dedicated remote work area," said Bjerring. "The natural light that filters through gives us a refreshing connection to the outdoors, which is something my co-founder and I both treasure."
It's equipped with ergonomic workstations and the latest technology, but then also is plastered with inspiration boards featuring product designs and travel destinations. Having it right at home, but not actually in the main home, has also provided that necessary separation.
Simon West, based in the U.K., works in a garden studio with his wife. Because they are both self-employed, they don't have to worry about RTO mandates, but they also intend to work remotely long-term so wanted to make their workspaces as appealing as possible.
West is a freelance graphic designer who used to have a four-hour daily commute to London. When he switched to remote work just before the pandemic, he was working for two years out of a spare room in the house. It was small, and he has two little boys who would often pop in and interrupt calls. At the same time, his wife was spending money to rent out studio space for her job as a masseuse. That's when they decided to spend their money to build an ADU instead – a win-win for them both. It's been a "gamechanger," said West.
"The kids come in and say hello, but you can also close the door and distance yourself when you need to," said West, who has his own graphic design company now too. "The house is only 10 meters away. We use it everyday."
James Connolly, founder of Villa, the largest ADU builder in California, said the company has seen a huge uptick in interest since the pandemic. Has it slowed amid RTO mandates? Not so much. He says about 50% of Villa's customers today are using ADUs for personal reasons like building offices.
"It's really nice to be able to have a room that is just your personal space and then walk into a completely different building that is dedicated as an office."
"Most people are in a hybrid situation where they are going in two to three days and need an office space for the remainder of their week," said Connolly.
That's exactly the situation that he's in himself. Villa is a remote-first company, but he does go into the office two days a week to collaborate with other colleagues. He knew while he was at home, he wouldn't be able to have his office in the same space.
"People end up being in one room for 80% of their day," said Connolly. "It's really nice to be able to have a room that is just your personal space and then walk into a completely different building that is dedicated as an office."