Why more businesses are changing their minds about the value of remote work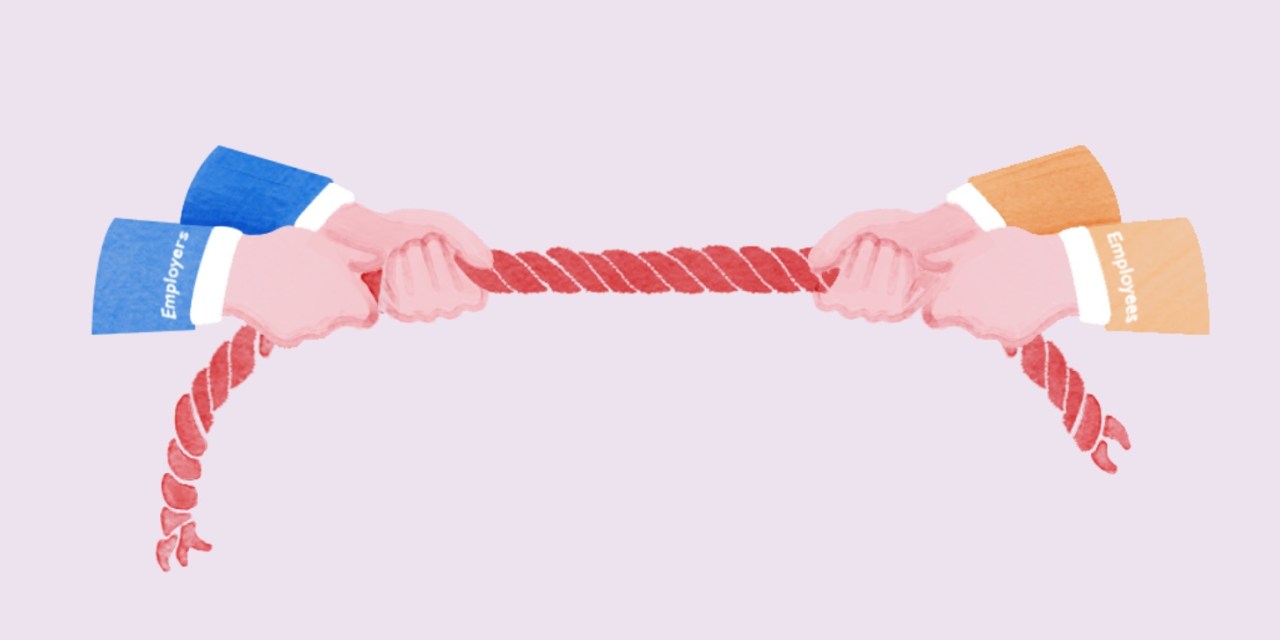 Like so many other employers, Irene Graham, cofounder of the parental control app Spylix, embraced remote working because of the pandemic. But like a growing number of business leaders, she recently had a change of heart and gave the order for employees to return to the office.
"Working from home wasn't working out for me," she explained. "I was having trouble with teamwork, communication and other technical problems [and] they were all posing difficulties for me at work. Our productivity was being hampered by it."
Despite workers' continued demands for flexibility, many bosses have flipped their thinking on remote and hybrid arrangements, according to the job search site Monster's 2023 Work Watch Report, which is based on surveys last fall with more than 22,000 workers and HR professionals in the U.S. It revealed that while nearly half of employees continue to demand control over where and when they work, just half of employers believe flexible schedules work well and one-third of companies that had mulled adopting a virtual or hybrid model a year ago have since decided to stick with in-office.
The site ResumeBuilder, meanwhile, found in its study that about three-quarters of companies whose employees are remote plan to return to the office this year.
Small and midsize businesses are following the lead of larger companies adopting a hardline view on employees returning. Starbucks recently announced that its U.S. support center employees would have to work in the office three days a week, vs. a previous commitment of only one day in person, while Disney boss Bob Iger told remote workers they'd have to return four days a week beginning March 1. "As you've heard me say many times, creativity is the heart and soul of who we are and what we do at Disney," Iger relayed in a company memo. "And in a creative business like ours, nothing can replace the ability to connect, observe and create with peers that comes from being physically together."
For her part, Spylix's Graham strived to make the transition as easy as possible, holding company meetings that brought employees together after having been physically separated for so long. For returning staff, interactive sessions and team-building exercises proved essential.
"Our staff has been accustomed to working from the convenience of their homes for more than a year," she said. "There are numerous benefits to going back to work, but they need some time to get used to the routine. I allowed them the time they required to become accustomed to this schedule so that they could work effectively."
Meanwhile, many other companies have opted for managing RTO on a gradual basis, making it mandatory for employees to appear in the office only some of the time.
For example, Leap Digital, a digital marketing startup based in Ireland, wants its people back in the office once or twice a week for scrum meetings with a focus on weekly tasks and brainstorming sessions, said general manager Muneeb Fazal. As he explained, "This encourages synergy between team members and remote employees [so they] are always aligned with the weekly objectives."
Not everyone sees the rush to RTO as the way to go.
Jen L'Estrange, managing director of the HR consultancy Red Clover, said businesses that have reverted to in-office arrangements fall into one of two categories. There are those that established remote work policies only because they were forced to by the pandemic, fully realizing it wasn't sustainable because of the nature of the work they do (automotive sales, for example). Then, there are the companies that "shifted to hybrid or remote during the pandemic and it worked for a while but "now there is a growing lack of confidence in the model, not because of the hybrid work itself but rather due to a fear that people are 'slacking off' in some way," as she put it.
While remote and hybrid setups increasingly are getting a bad rap, L'Estrange believes the root cause of any perceived failure on their part is a lack of accountability and good metrics.
"Any change in ways of working requires change-management work, and not just communication plans and such," she said. Rather, revisions are required to areas such as job descriptions, org structures, performance management, development planning, compensation structures and, critically, KPIs for the business and the individuals in it, as she sees it.
"We've been talking about KPIs for over 20 years, and it still boggles my mind that we fall back on a 5-scale rating model that's based on a subjective, in-person appreciation of sorts to evaluate, recognize and reward employees," she said. "Clearly, our employees want hybrid to work because they're taking jobs for less money in exchange for flexibility. In addition, the data is beginning to show that organizations that work with a hybrid model save money [and] are more cost effective.
"So, if we want to be an employer of choice, run our businesses as cost effectively as possible, and hybrid is an option for our job roles, then we have an obligation to define the metrics upon which we can measure success," she said. "For the model itself, and more importantly, for our employee engagement and the success of the business."