Here are the winners and losers of RTO mandates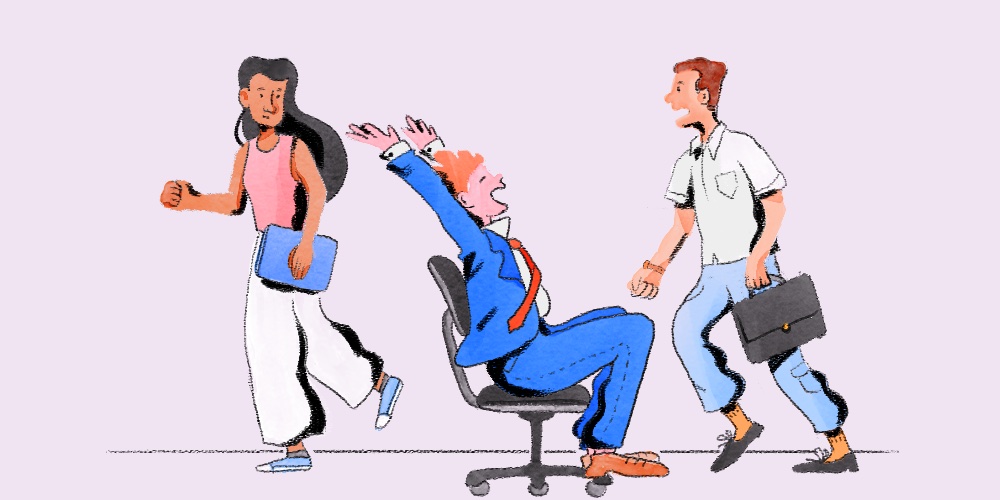 Not a day goes by without some headline or other touting the latest return-to-office mandate blend. Goldman Sachs continues to play bad cop when it comes to which company is setting the most unappealing RTO plan, pushing employees to return to the full five-day week in-office.
Naturally, that may stir other employers to follow suit. But too much has changed for it to be the blanket blueprint for the entire working world. It will likely be a mixed bag of working models that begin to flourish, as employers hit on the best cocktail of in-person and at-home work that delivers the best outcome for their culture, people and business.
As with all major pivots, some stand to benefit more than others, at least in the short term. We've outlined some of the winners and losers.
WINNERS:
Real estate companies

The work-from-home movement has been tough on commercial real estate owners. At the end of March, almost 1 in 5 offices in the U.S. were vacant and unleased, based on a review of 90 markets by global real estate firm Cushman and Wakefield. Employers downsized or ceased their leases altogether during the darkest days of the pandemic, and since then office occupancy has only slowly risen from rock-bottom levels – in New York City alone, office occupancy stands at 50% of prepandemic levels, according to the New York Times. And roughly half (53%) of companies expect their office portfolios to shrink over the next three years, to match occupancy needs, according to a report from commercial real estate firm CBRE, published in May. Having more butts in seats is not only good for employers who need to justify costly real estate investments, but for the real estate owners who need their lease revenue.
Nostalgic bosses

Nostalgia isn't the most reliable of lenses. Rarely were things ever really as perfect as we remember. The same can be said for spending five days in an office. While in-person collaboration and meet-ups were prolific albeit taken for granted, efficiency levels weren't necessarily in line with that. But many bosses have simply missed the simplicity of the "before times," when everyone was in the office at the same time, all of the time. Psychologists have a theory for this: When we are stressed and faced with uncertainty but still have to make big decisions involving complex variables, we often unconsciously cling to what we know works. Or used to work, at least. They call it "threat rigidity." Certainly those bosses that aren't willing to adapt to new working models, will benefit from mandates in the short term.
Recruiters for competitors

Some employers have reported an uptick in staff attrition as a direct result of RTO mandates. And with many companies now clamping down (Amazon, AT&T, Goldman Sachs Meta, Google, to name a few) it could well be that we're in for another period of mass talent movement, as people move around to find companies that better suit their own values.
"On one end of the spectrum, the mandates in financial services are going to backfire. There are going to be a high volume of people that leave because the labour market is so incredibly strong," said John Morgan, president of career mobility and leadership development at global talent solutions provider LHH. "On the other end of the spectrum, if you have a return-to-work strategy, which is basically come in once a month for a team meeting, that doesn't work either because no relationships are being built in that kind of environment. So the companies that have a creative hybrid approach are going to be the ones that can scoop up top talent."
Commute-worthy offices
Some of the RTO backlash has not wanting to return to carving out time for sweaty, uncomfortable commutes. Sure, some may have missed the quiet time a train journey may provide, to read a book or decompress in other ways. But ultimately, halting the daily commute ended years of miserable journeys spent standing up, squished uncomfortably close to others, on a hot subway for many. But companies have put real thought and intention into how to redesign their offices to make the commute trade-off worth it, and guarantee in-office productivity.
"We're seeing a flight to quality in that organizations are choosing well-designed, sustainable buildings that offer convenient amenities, along with optimized operational efficiency," said Carissa Kilgour, principal in Deloitte Consulting's Workforce Transformation practice. "These buildings cater to lifestyle needs, such as gyms, doctors, and more, and uphold high sustainability standards in both materials and operations. A client of mine recently asked about 'the return on commute.' This is emphasizing the importance of the office experience," she added.
Companies that address workforce pain points
The real winners won't be the companies that offer free lunches and great snacks, they'll be the ones that figure out how to make in-person work best. "As we've learned since Covid, the way we measure employees' productivity is outdated," said Frank Weishaupt, CEO of Owl Labs. While 51% of 2,500 desk workers said that team meetings and collaboration (48%) are better at the office, 57% feel that independent work, creative thinking (51%), and meeting deadlines (31%), are all better suited for remote work versus in office, per a recent Owl Labs report. "Collaboration may work best in person but it depends on the goals. Goals should be set ahead of time so you're making the most of people's time," added Weishaupt.
Leaders also shouldn't underestimate the significant whiplash workers are feeling, stressed Kilgour. "It was only three years ago that we moved entirely to remote and workers had to redesign their entire lives," she said. "With shifting infrastructures like childcare services, organizations need to recognize the barriers hindering a smooth return. It's not just about commute-worthy offices, but workplaces that address workforce pain points, which extend beyond mere logistics and amenities."
LOSERS:
Amazon
Whatever its senior leadership claims, having mass walkouts among its corporate employees isn't a good look. Lately, the leadership team's aggressive return-to-office policies and rhetoric have been mocked internally by employees who have created a parody list of satirical "Leadership Principles," as reported by Insider.
AT&T, Meta and Google employees
Apparently the game is up at Meta, where employees have been told that they'll start getting serious reprisals for not showing up for their three mandated days. The company has reportedly stated that employees will have to swipe their badges to log employee attendance and require them to display their physical locations at all times. Meanwhile Google is also tracking attendance via ID badges at offices, and has said that staff that any inattendance will be addressed in performance reviews.
"Having RTO mandates just because that is the way traditional work has always been will not work out well for any company in the long run," said Weishaupt. It's important for employers to think about the real reasons they want their employees back in office and build out a strategy based on those specific needs."
Chief people and HR officers
Let's face it, no one wants to have to tell people that they have to come back or risk being ducked points or even terminated. That's what Meta's head of people Lori Goler has had to do lately. And she won't be alone in having such an unpopular task. "Most CHROs likely know, and the data is emerging more to show, mandates don't work," said Cali Yost, CEO of workplace consultancy Flex+ Strategy Group. They know they have to deliver the bad news, while also knowing there is probably a better way to do it. "They [CHROs] have to have a senior leadership team that is aware and willing to fundamentally rethink the way work is being done and not just think it's going to be a policy. They're going to have to experiment, innovate, train people, and that's a much more resource-intensive, time-intensive, focus-intensive endeavor, that to date, a lot of leaders are resisting," she added.
Working mothers
While the pandemic caused a so-called "Shecession" has millions of mothers had to quit their jobs to take care of kids who had been sent home from school during Covid-19, for desk-based workers, the RTO mandate phase may prove equally difficult for those who have adjusted their schedules to better blend their jobs with parenting needs. "Companies have as much to lose as employees. Companies that demand return to office will lose on talent who are seeking more flexibility and work-life balance, especially among women and younger workers," added Weishaupt.
RTO mandates
"We've now gone through what probably is our fifth cycle of RTO mandates that don't result in good things," said Yost. "At best there's compliance but there's no purpose behind it and people don't know why they're there." By mandating three days in an office, employers are inadvertently signalling that work only happens within that time, she added. "We're not optimising time in an office, and prioritising those activities that benefit from being in person. And you have to define what's happening when you're not together," said Yost. She is optimistic however, that the conversation will start to turn from RTO language to defining in-person interactions at work.