Culture
// August 2, 2022 ■ 6 min read
Why out-of-office messages don't have to be an afterthought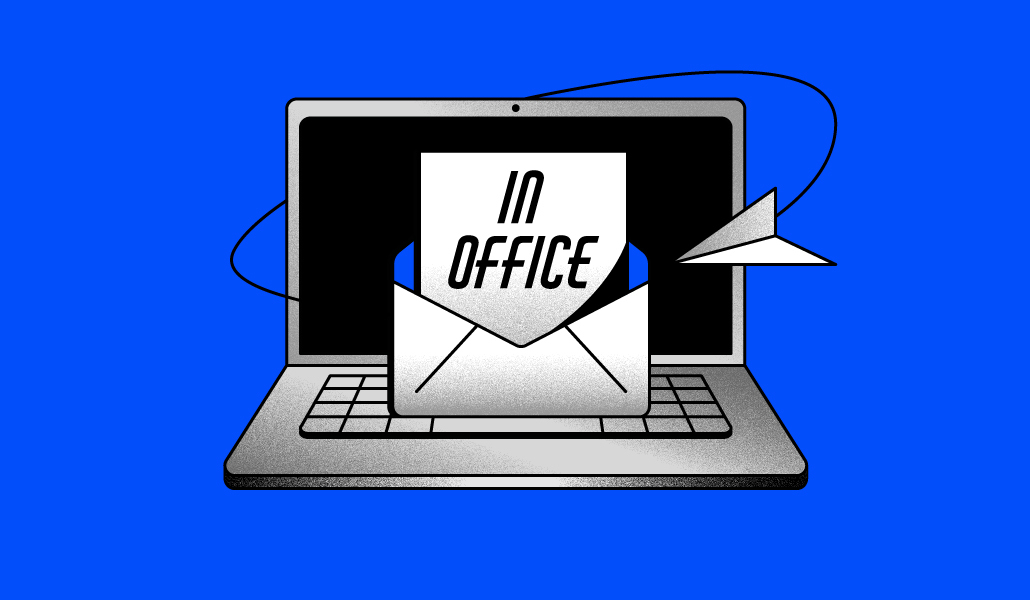 With summer vacations in full swing, 'tis the season for the out-of-office message.
But while it may seem arbitrary, how employees communicate and treat their time away from work can be a telling sign of a company's culture. Are employees making themselves fully accessible while away, or have they created work-life boundaries? Are they upfront about taking mental health days or unlimited PTO? Do they inspire others to live life to its fullest outside work?
At Blueboard, an experiential rewards and recognition platform, the away message has been raised to something of an artform — one that telegraphs the company's values and the spirit of its people.
For example, here is the latest OOO from Natasha Wahid, Blueboard's director of content:
I am currently out of the office (otherwise known as the nook in my Vancouver apartment) enjoying some much-needed rest and adventuring in the south of France. It's very likely that, at this moment, I'm elbows deep in pain au chocolat or bicycling down a country road — slowly — or laughing over a bottle of delicious wine with good friends or lost in Octavia Butler's Parable of the Sower. Because I'm part of a truly incredible team, I'm able to fully unplug, which means I won't see your message until I'm back on Monday, June 27th. But rest assured, I'll respond as soon as I can when I'm back online. Be well and remember to play!
"As leaders, we have this opportunity to normalize the idea of doing things outside of work," said Taylor Smith, Blueboard's CEO and cofounder. "Out-of-office messages are a unique medium that anyone who reaches out to you is going to receive back, so it's just a cool thing, I think, to insert into the workplace … It really gives you the opportunity to cement your culture in an authentic way."
Email communications are just one small example of Blueboard encouraging its people to bring their whole selves to work, as they underscore there's more to an employee's life than just work, as Smith sees it.
Not every company would encourage employees to express themselves so freely, Smith admits. "I understand and recognize that cultures are different, and at some companies there are different paths to being successful … like, the idea of being always online," he said. "I think we just have a different view of what success is."
Smith and his partner, COO and cofounder Kevin Yip, have used creative OOO messages since their earliest days in business. "We think it is important to truly unplug and to refresh," Smith added. "It's a personal set of values that I carry and that we've sort of broadcast to the company … I think it's kind of refreshing to see people saying, our company is urging us to take this week off for our collective mental health. I think that's pretty awesome."
"We've seen, over the years, the people who get the most stressed are often the most valuable people who work the hardest, and they never play because there's always that next thing to work on. It's important to remind people to make time. Because there's never a right time."
As a leader, he believes it sets a certain tone how he communicates with his team via email and underscores the company's policies when it comes to employees taking care of themselves. "We've seen, over the years, the people who get the most stressed are often the most valuable people who work the hardest, and they never play because there's always that next thing to work on," he said. "It's important to remind people to make time. Because there's never a right time."
The leaders of marketing tech company HubSpot have also reimagined the OOO message. The company, which gave its entire staff a week off after July 4 to rest, thought they shouldn't have to catch up on hundreds of emails after they return. So, it created a fun away message generator for employees to use and partners to reference for their own PTO.
As the company puts it in the OOO form, "Whether you're going on a tropical trip or taking a personal day to unplug, you'll have to write an out-of-office email responder. So why not write a good one? Let's retire phrases like 'Sorry, I have unlimited access to Wifi.' You shouldn't be sorry — we all need to take a break sometimes. (And you're not fooling anyone about the Wifi.)"
Vinny Frazzetto, account supervisor at the PR firm Haymaker, which reps HubSpot, said, "Increasingly, there's a growing understanding for folks that take time off, and the lighter, more whimsical way we approach OOO messages reflects that."
However, sharing too much personal information in an away message can be dangerous.
Many people reveal details about their personal lives in an OOO — like where and when they're traveling. Whether done on social media or in an auto-reply message on email, this arms hackers with the information they need to either craft a convincing email targeted at the OOO employee or impersonate the person who is on vacation and target one of their colleagues, according to Josh Yavor, chief information security officer at Tessian, an email security firm. Including personal information in your OOO response such as a nickname, a sick pet or even that you're traveling to your hometown can give hackers just what they need to guess your passwords.
"While the information shared in OOO messages may seem harmless in isolation, hackers will stitch them together with other pieces of information to create a complete picture of their targets and make scams as believable as possible," he said.
According to Tessian, 93% of people enable out-of-office messages when they're away, and around half share how long they'll be out, provide their personal contact information and announce where they're going.
Rachel Hadley, COO at the PR firm Kite Hill, said her company encourages employees to take time away from work and has issued the staff guidelines for OOO messages to ensure everyone on the team knows who is covering for different activities when the time comes.
Its best practices for away messages include:
Select one person to be in your OOO message and inform them. Include their full name and email address. Funnel everything through them. It is confusing to have multiple points of contact.
State whether you will be responding to email. Are you on vacation and not checking email? Is it work-related travel, where you will just be slower in response? It is important to also include when they should expect to hear back from you.
Add your personality! Don't be afraid to use a human voice.
Short and sweet is best.
Business leaders can best lead by example by encouraging everyone in the office to fully disconnect when on vacation, according to Hadley.
"If a senior lead on an account is constantly emailing or checking in while they are on vacation, then more junior employees are going to think they need to do that as well," added Hadley. "Everyone in the organization benefits by planning ahead and creating OOO documents so they know everything is covered and can rest assured they can enjoy their personal time while others have things handled in the office."