Culture
// May 18, 2021 ■ 5 min read
Veganism in the workplace: How businesses are embracing eco-conscious workers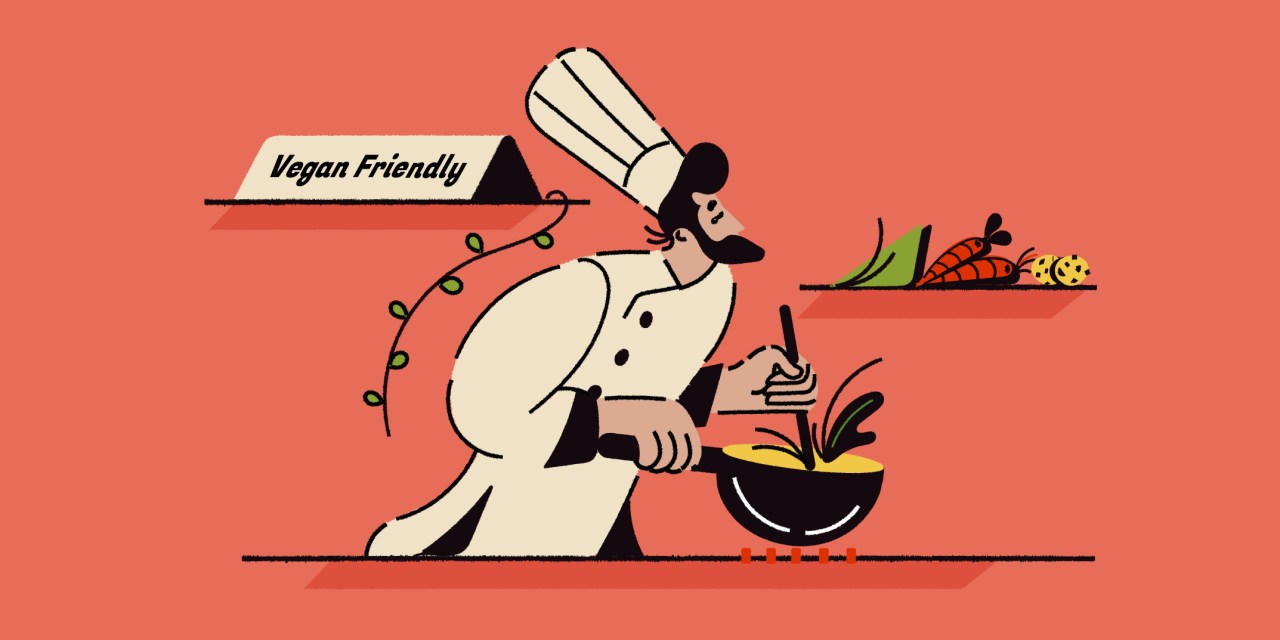 Two years ago, Manick Bhan decided to introduce a vegan food policy at his SEO and digital agency LinkGraph. Company-catered events became fully vegan while employees could only expense plant-based food when traveling with work.
Bhan said he introduced the policy shortly after watching Dominion, a movie about animal food production, which pushed him from a pescatarian lifestyle to veganism. "I felt the importance of removing support for factory farming from all aspects of my life, including the business I was building," he said.
LinkGraph also provides free vegan snacks across its offices in New York, Las Vegas, and Bogotá, which, according to Bhan is "just one more way we can gently encourage people to choose plant-based." Next year, to celebrate Veganuary, a U.K.-based mission to encourage veganism, employees who commit for at least a month to the lifestyle will be reimbursed $200 for their groceries.
Meanwhile, all new clients receive a gift box featuring 15 different vegan snacks. "We've had new clients tell us that they had also just gone plant-based or were thinking about doing so and were so excited to try some new products," says Bhan.
LinkGraph is one of a growing number of companies implementing plant-based initiatives as veganism continues to grow amid grave environmental concerns. Eating a plant-based diet could be the "single biggest way" to reduce an individual's environmental impact, according to a study by the University of Oxford which suggested that cutting out meat and dairy products could reduce an individual's carbon footprint from food by up to 73%.
"The biggest impact a company is likely to have is by changing what foods they're promoting to their team, their clients and their peers on a daily basis," said Bhan. "For most companies, the biggest impact they could have on sustainability would be to adopt veg policies in the workplace and get buy-in from their team."
Education marketplace CoursesOnline plans to increase its vegan food and drink options within the office and has also set a challenge of at least one meat-free day per week for the entire team. Meanwhile, the non-profit behind Veganuary said 50 businesses were involved in its initiative this year, including first-timers like Bloomberg, and Aveda, which saw 1,500 staff take part.
Sabine Zetteler, founder and director of communications agency Zetteler, is in the midst of designing an office around veganism, with all furniture and interiors in its east London space set to be animal-free — which will epitomize the businesses' goals, ideals and ambitions.
Zetteler, a vegetarian of 15 years and a recent vegan, has worked with the interior designer Rhonda Drakeford of Studio Rhonda to help build the space. But she admits it's been more time-consuming to plan since many goods include animal products, including paint and glue.
While "there's no authoritarian vegan dogma," Zetteler is committed to only provide vegan food in the office and when catering for events.
"As an employer who didn't state upon their initial employment that 'Zetteler is a vegan space,' my team will of course be able to eat and drink whatever they please," she said. However, those standards could change as veganism becomes more popular.
"Travel is off the cards for a moment and vegan hotels are very thin on the ground, but the more we ask as consumers, the more shall be provided for. Basic economic change is often seen as a form of magic, but it's simply led by what we spend our money on, and from now on, my money is vegan," said Zettler.
Last year The Vegan Society published an employer handbook providing guidance on how to make an office space and canteen more vegan-friendly — including offering vegans their own shelf in the fridge.
"For the first time ever it feels like employees are turning to their employers and asking them 'what are you doing about it?'" says Francine Jordan, spokesperson at The Vegan Society. "There's also more vegans than ever before which means that employers have to be more aware of what they're providing for their vegan members of staff but also those vegan members of staff can educate others on the impact they're having on the environment."
Vegans are demanding that their employers listen and roll out vegan-inspired initiatives. One resource they're turning to is Vegan Leaders in Corporate Management, which connects corporate vegans and provides resources to initiate plant-based projects in the office.
"Five to 10 years ago vegan ideas would be a non-starter in most places," says Darina Bockman, founder of VLCM, which has 5,200 members in 77 countries across companies including Coca-Cola, Amazon and Nike. "Now, we're seeing very encouraging trends. As societal tone shifts further and the vegan industry keeps growing and attracting corporate talent, traditional companies will be under more and more pressure to offer a vegan-friendly workplace."
So how can employees look to kickstart vegan initiatives in the workplace? "Focus on the social angle such as what other companies like ours are now doing this and what's in it for the company, rather than focusing on the ethics," said Bockman, global finance programs director at real estate services firm Coldwell Banker Richard Ellis.
Secondly, she said, it's often easier to partner with an already existing department or group such as health and wellness and sustainability. "They often already have the budget and infrastructure and may look for fresh ideas," Bockman said.
Workers could also create their own vegan or plant-based employee resource group, such as Johnson & Johnson, Caterpillar, Ericsson, Lego, BMW, and Allianz, Bockman said.
"These groups can become the beating heart of workplace vegan initiatives," said Bockman. "These groups often work on multiple fronts, helping create better vegan options in cafeterias, animal-free interior design or cleaning products, and lunch and learn events."
However, rolling out initiatives can be met with hesitancy. But for LinkGraph's Bhan, it's proven a great way to let candidates get a feel for the company's culture and values during the interview process and helped it stand out.
"At the end of the day, no one is going to be too upset about getting delicious free food and everyone will remember your commitment to a better planet for everyone. It's a great privilege and responsibility to be able to influence policies like this," said Bhan.