Culture
// August 24, 2022 ■ 6 min read
Apple faces return-to-office backlash, but it isn't alone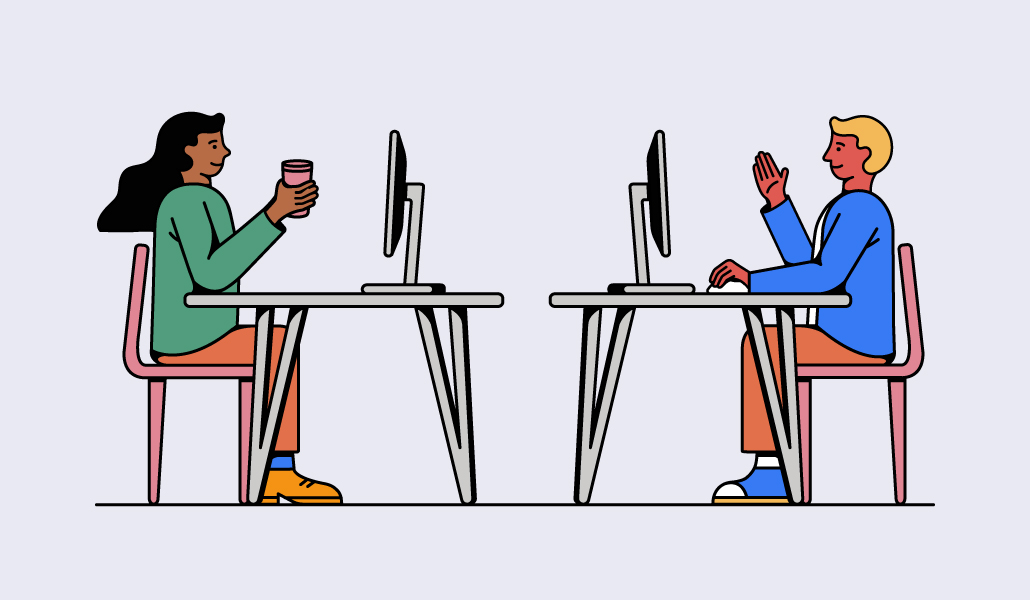 Ivy Liu
When Apple CEO Tim Cook announced that workers in the Bay Area will be expected in-office at least three days a week starting Sept. 5, a coalition of employees — called Apple Together — launched a petition less than a week later demanding "location flexible work."
It isn't the first time a company has had backlash for demanding employees return to the office.
Earlier this month, AT&T faced stiff opposition to its return-to-office plans, with employees citing commute times, childcare costs and Covid-related concerns. A Change.org petition called to make work-from-home a permanent option for employees. Over 7,000 people signed. And in June, Elon Musk mandated that employees return to the office 40 hours a week or they'd be let go.
"After proving they can work from anywhere, knowledge workers do not want to be told where they can work," said ​​Erin Grau, co-founder of Charter, a media and services company focused on the future of work.
Apple employees are expected to report to the office on Tuesdays and Thursdays as well as a third day to be determined by individual teams. Apple's memo, published on Aug. 15, also stated that other offices would "hear more details shortly." Apple has made attempts to return to the office since last summer, but new waves of Covid cases often delayed it.
Apple Together, which identifies itself as a global solidarity union of workers from across the company, stated in its petition that "for the past two+ years, Apple's formerly office-based employees have performed exceptional work, flexibly, both outside and inside traditional office environments."
"This uniform mandate from senior leadership does not consider the unique demands of each job role nor the diversity of individuals," the petition, which has been signed over 700 times, argued. "Those asking for more flexible arrangements have many compelling reasons and circumstances: from disabilities (visible or not); family care; safety, health, and environmental concerns; financial considerations; to just plain being happier and more productive."
"CEOs have said to me that they want people to come into the office for culture, mentorship, collaboration – but they aren't doing any of the foundational work to support that, in the office or outside."
The petition demands that Apple allows each employee to work directly with an immediate manager to determine what kind of flexible work arrangements are best for individuals and that those work arrangements should not require higher level approvals, complex procedures or providing private information. Apple did not respond to WorkLife's request for comment by the time of publication.
It isn't the first time that Apple employees have spoken against the return-to-office mandate. Janneke Parrish, a former Apple employee of five years who worked at the Austin, Texas location as an Apple Maps program manager, led an employee group inside the company that addressed remote work before she was fired last fall.
"One of the things I was pushing for internally was for the return to office to be more cognizant of employee needs and where people were coming from," said Parrish, who documented employee stories of what it meant to work from home and how they were able to be successful at their home offices, and spearheaded the first internal petition last summer. "They've ignored workers and continued to push forward on an outdated way of working," she told WorkLife.
Parrish described that while most Apple employees do love working for the company and making a difference, they are presented with "an impossible choice" when it comes to returning to the office.
"I hope Apple looks at the fact its workers haven't dropped this and it hasn't ceased at any level of the company," said Parrish. "The number of signatures the recent petition has garnered… is a big, bold statement."
On the other hand, employers say returning to the office at least in a hybrid format could boost collaboration and company culture. A survey by Cleaning Coalition of America, which canvassed over 200 New York-based C-Suite executives, found that a whopping 76% think in-person work is essential to the bottom line.
"A lot of companies aren't delivering on the why, but they're talking about the what," said Grau. "So they want you to come in these numbers of days, but don't say why."
She's found that some people have returned to the office, but nothing changed for them there. They sat at a desk, worked 9 a.m. to 5 p.m., and had meetings on Zoom. She believes returning to the office can be an opportunity to reimagine the way we work, for example, by allowing for more flexible schedules when in the office.
"Over the last few years, the impact of the pandemic has proven that there is no one-size-fits-all workday and the traditional 9-to-5 doesn't suit every worker," said Zoë Harte, chief people officer at Upwork.
Instead, there needs to be an intentional approach if employers are considering a return-to-office protocol.
"CEOs have said to me that they want people to come into the office for culture, mentorship, collaboration — but they aren't doing any of the foundational work to support that, in the office or outside," said Grau. "They want junior employees to come in for mentorship, and they didn't have a mentorship program before the pandemic, didn't have it during, and don't have it now. The intentionality isn't there, and employees are expecting that."
Some employees have even moved and are no longer within commuting distance to an office, yet employers aren't always taking that into consideration when rolling out a return-to-office mandate.
"When workers are told they have to go into the office, they're like 'well I have a lot more choice now.'"
Apple and AT&T being met with backlash from employees isn't necessarily a surprise, especially in a tight labor market and at a time when employees are more empowered now than ever before.
"A big part of this is there has been so much employee activism over the past few years about a lot of things and their expectations and holding companies accountable," said Grau. "If I have what I need to thrive, I'm going to be a happier, more engaged, more productive employee and companies should want that."
According to Future Forum's summer 2022 pulse survey, 94% of employees want flexibility in where they work. Some companies are listening to that data and allowing employees to work remotely for good. Spotify, for example, introduced a "Work from Anywhere" (WFA) policy, in an effort to support work-life balance by giving its 8,600 employees the freedom to choose where they want to work. Six percent of its employees moved countries after this policy was introduced; another sizable chunk moved within the U.S.
"Roughly half of all new hires in 2021 were hired in a location outside our main hubs and we've continued to explore entries in new locations," said Anna Lundström, Spotify's vp of human resources. "We wouldn't have been able to grow at the pace we are without the WFA program allowing us to hire in new markets."
According to an analysis of Google searches by organic marketing platform Conductor, the term "entry-level remote jobs" increased by 309% in the past year. "Best remote companies to work for" increased by 125%, "apple remote jobs" increased by 516% and "verizon remote jobs" increased by 400%.
"When workers are told they have to go into the office, they're like 'well I have a lot more choice now,'" said Pat Petitti, economist, co-founder and CEO at freelance platform Catalant. "Even if the company they work at today requires them to be in the office, they can find 100 companies tomorrow that can be anywhere in the world and they don't have to be in the same city as that company. There's so much more fluidity."
Petitti found that workers that are foregoing companies who are mandating a return to the office are not just looking at remote companies, but are considering becoming entrepreneurs or freelancers.
"It comes down to what are you doing, what's your job, and how important is in-person versus not," said Petitti. "People who are great at what they do should have more say over what they want to do. Companies that require in-person are making a deliberate choice, and that's going to have an impact on the type of people who want to work for them."