Why employees are feeling more comfortable with AI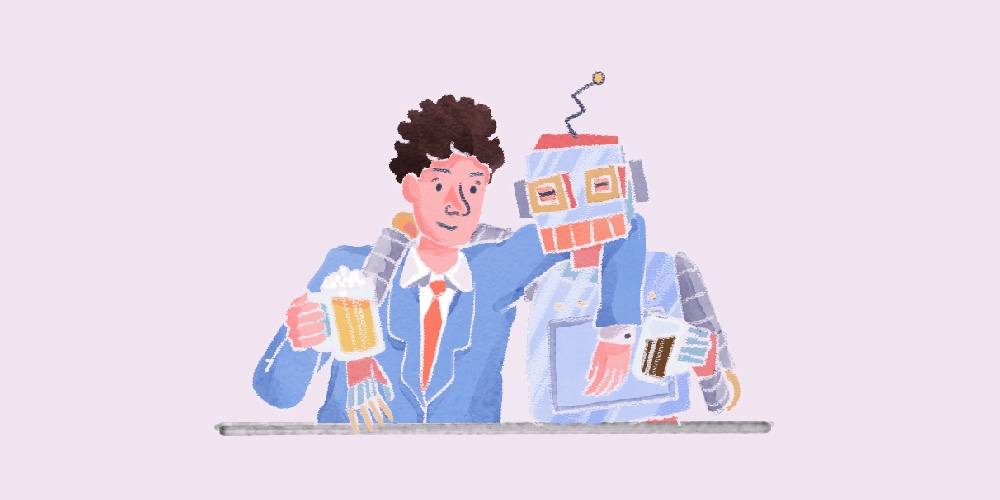 As we learn more about the technology, we are growing more comfortable with generative AI and its role in the workplace, even warming to the concept of automation as a helpmate rather than an enemy.
The HR technology firm Workhuman's Human Workplace Index revealed that more than half of 1,000 full-time workers in the U.S. surveyed (58%) do not feel AI puts their jobs at risk. More than one-third (34%) believe AI is no threat to their jobs because only a human can do them.
Meanwhile, employees expressed excitement about the many ways generative AI can serve them. While 4 in 10 are still not using the technology at work, the areas where they see such platforms ultimately becoming beneficial include time management and scheduling (36%); drafting and sending emails (33%); quick communication with colleagues, via Slack, Teams or other messaging services (29%); and accounting (22%).
Unsurprisingly, the activities they least want to see automated are work that is human-centric, challenging and creatively fulfilling, the survey found. As the data indicates, people know their worth in the workplace, and when employed properly and ethically, generative AI tools can help them maximize their human potential, not hold them back.
The prevailing narrative around generative AI is one rooted in fear, but as Workhuman vp of product Jim Drewry said, "People know it's going to be a part of their working lives moving forward, and I think they want answers more than they want more fearmongering."
Noting the survey finding that more than half of workers (53%) are experimenting with generative AI in some way, while 4 in 10 anticipate that their companies will come to provide training, Drewry called it an opportunity for business leaders to step in and provide clarity. "This is digital transformation at work," he said. "Tech and HR leaders need to collaborate closely to ensure they're implementing AI in a way that keeps humanity at the core of their business."
While generative AI has the potential to revolutionize productivity and fundamentally change the foundation of business, employers must remain vigilant about earning the trust of their people, according to Drewry. "Exercising discretion, encouraging all departments to work together and being responsive to employees' concerns will make a world of difference," he said.
Despite the hype and employees' growing comfort with the technology, companies are largely proceeding with caution when it comes to fully embracing generative AI, according to Clare Hart, CEO of the global business services firm Williams Lea. "There are already stories about generative AI that have caused concern, so there's this risk aversion with [business leaders] making sure they're managing that risk," she said. 
"Tech and HR leaders need to collaborate closely to ensure they're implementing AI in a way that keeps humanity at the core of their business." 
In the U.S., the Equal Employment Opportunity Commission (EEOC) this summer warned employers that they will be held responsible should their use of generative AI in hiring lead to demonstrable bias.
Examples of the shortcomings of the technology abound.
Hart recently attended a presentation where a generative AI platform was tested with several challenges — and failed miserably. When asked to produce images from the internet of a schoolteacher, all the images were of women. On the other hand, when asked to produce pictures of a lawyer, all were men. It suggests a strong bias on the part of generative AI and presents potential problems for employers, particularly having to do with government regulations, Hart observes.
Meanwhile, the CEO is not surprised people are feeling less threatened by generative AI in the workplace. "This January, we were saying we have got to really understand that this is going to change our world — and then reality set in," she said, citing Amara's Law, the proposition, named for futurist and scientist Roy Charles Amara, that we tend to overestimate the effect of technology in the short term but underestimate it in the long run.
The benefits and drawbacks of generative AI are clearly on the minds of employers. In fact, it is the top topic clients want to talk about now, according to Nicola Hancock, regional managing director, Americas and investment banking at the global talent acquisition support firm AMS.
HR professionals have already come to rely more on automation for hiring, as Hancock points out, while generative AI is only the latest innovation poised to drive efficiencies and transform the business of managing talent. "If you think about in the hiring process, there are lots of things related to the recruitment function that are quite manual," where generative AI could be of help, she said.
"Everyone's excited by it; everyone's nervous about it. That's the journey employers are on. The lesson is, let's understand what the opportunities are, but let's be thoughtful about it."
Still, bosses remain worried about the rise of generative AI, which is why this year, AMS entered an exclusive partnership with the AI governance, risk and compliance platform Holistic AI to bring to market a service called AMS Responsible AI. Aimed at ensuring organizations understand how their AI technology is being used and brought to bear on decision making across their talent technology stack and in sourcing and hiring activities, the service features an audit that assigns a score to such functions, indicating each tool's level of AI sophistication and risk.
Government regulation around AI is on the rise. Two years ago, New York passed the NYC Bias Audit Law, prohibiting employers from using automated tools in hiring and promotion decisions unless such tools had been independently audited for bias. Further legislation is expected in the U.S. and across Europe.
"Everyone's excited by it; everyone's nervous about it. That's the journey employers are on," added Hancock. "The lesson is, let's understand what the opportunities are, but let's be thoughtful about it."