Talent
// July 13, 2022 ■ 6 min read
Employer attitudes toward staff sick days have shifted, but presenteeism is still rife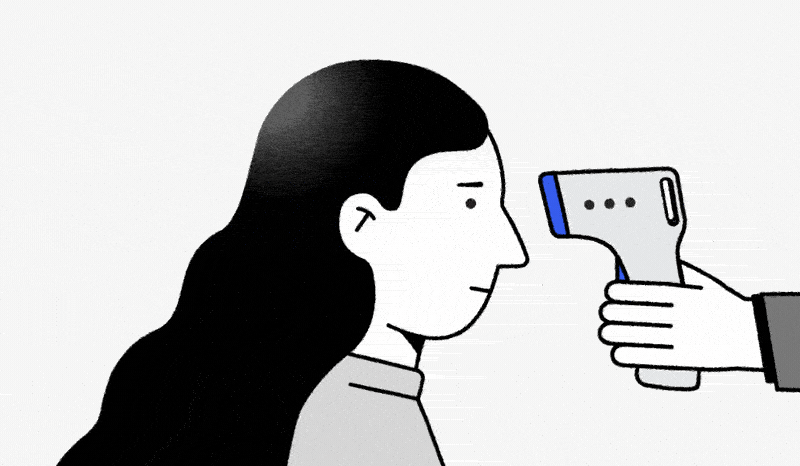 For many working in fast-paced industries, the work never stops. And for some, that even means when they're ill.
Sarah (a pseudonym WorkLife agreed to), who works at a PR company in London, recently told her boss she had Covid. Some might expect sympathy, an email to tell her to power down, a call to check in on her. Instead there was no response from her manager. To Sarah, that very much implied: keep working as usual. 
"I probably should have taken time off to rest but the reality is you can't as you'll end up paying for it later," she said. "I'm well enough to get on with work but I do feel unwell — feverish, cough, tired. I kept telling myself 'tomorrow I will take the afternoon off' but every day I log back on and power through because there is just too much to do and if we miss a day it will have a huge knock-on effect."
She says it feels impossible to take time off when you're sick. "If people are off, everyone feels the brunt. I've not seen one person take a sick day since I have been at the company. People have been on calls with breaking voices when they're ill or with Covid. It sets a standard that we work through it. You also don't want to take time off because you know you will end up having to catch up on it or your colleagues will be under more pressure."
While the pandemic has encouraged some companies to establish stronger well-being policies, like encouraging staff to stay at home if they're ill, technology is still available for people to work and attend meetings from home, even if they're ill.
A survey by HR software company Breathe, published last month, found that 65% of U.K. respondents said they are less likely to take sick leave when working remotely. Among those who felt unwell but didn't take sick leave, 32% could not financially afford to take time off work, 25% were too busy to take time off, 21% didn't want to let their colleagues down, while 20% felt pressured to work through it.
This echoes the thoughts of one fashion agent in New York who had Covid (and was still working) when she spoke to WorkLife. "My company says I can take time off but I have responsibilities so it's easier sometimes to power through and do it. The pressure is kind of coming from me, as they are understanding."
Tarryn Gorre, CEO and founder of food technology company Kafoodle based in London, says — as a boss — she regularly sees some of her 12-strong team go into work even if they're sick, despite its formal policy to stay home if you are ill and take a sick day, which is fully paid.
"I'm not sure where it came from and even as CEO I think I went in once or twice when I shouldn't have but there was a mindset of needing to be in an office to get work done and the team seeing you," said Gorre. "I think as a startup this was probably something we brought with us from our previous companies and their cultures. Many of us also come from a hospitality background where if you aren't in the building you aren't working or getting paid."
But she says the company offers full pay when staff are off sick and has become more active in discouraging anyone with the sniffles, for instance, to come into an office environment as the likelihood is they would make others sick.
"We're a small company so whilst we have formal policies it is also often a conversation about why you feel you need to be in the office today, who can pick up any meetings for you and what can be pushed back until you feel better," added Gorre. "We know that at some point people are going to be sick so we really do encourage people to log off when they're not feeling well as they'll recover quicker."
Katrin Schwarzenberg, senior PR manager at Berlin-based Comatch, a marketplace for independent management consultants and industry experts, had an unenviable situation when she was about to start her new job — she needed to call in sick on her first day when her husband and son were ill with a gastrointestinal infection. 
"In the past, we have all been guilty of coming into the office. We are now all too aware that in doing this with Covid, we could be responsible for making fellow colleagues sick. However, on the flip side, presenteeism is set to become a bigger issue."
"I was so ashamed and was hoping that they would understand but I didn't know how my new employer would react. I suggested that I would virtually take part in all onboarding sessions that were held in the very first week. I thought that it would shed a bad light on me if I didn't take part in those sessions," she said.
But she found the opposite to be true — her team instead told her to take care of her family. "Everyone wants you to be as healthy as possible and recover as best as you can. No pressure on reading emails, answering the phone or being in remote meetings if you're ill," she added.
She says pressure to go to work even if she was sick was something that accompanied her for a long time in her previous job.
"Especially in times when there was too much work to do and I knew no one else would cover me if I became sick. It was certainly a problem because the company was understaffed. I worked even though I was feeling ill and didn't take a rest."
Alison King, managing director at Bespoke HR, says there's no doubt that the pandemic has encouraged a shift in employer attitudes toward sickness. 
"In the past, we have all been guilty of coming into the office. We are now all too aware that in doing this with Covid, we could be responsible for making fellow colleagues sick. However, on the flip side, presenteeism is set to become a bigger issue. Staff don't want to take time off sick — particularly if this is unpaid — whilst grappling with the rising cost of living," said King.
She believes employers will have to take a different approach to protect their wider workforce. "There is no longer a broad-brush approach when it comes to sickness absence. This is where employers have to make judgment calls and re-examine their sickness policies. If it's a Covid absence, then make sure everyone's aware of the company policy," she added.
For many, the lines between home and work blurred during the Covid lockdowns. "Many people have got so used to working at home that the boundaries have now gone and somehow it has become acceptable to work when at home, even if you're sick. Some of this is driven by workloads too, particularly in small businesses where employees typically have multiple roles and may feel stressed about mounting pressure."
Her advice for employers is to make early interventions including monitoring and understanding sickness statistics to help understand if there are patterns and the causes of absence.
"It's only when you understand this data that you can intervene and tackle the root causes."
For employees, she suggests speaking to your employer if your absence is related to stress or anxiety, and see if they can offer assistance or suggest someone to give advice. "Many employers are now so much more equipped to support staff who are struggling. If you are ill, and are feeling unable to do your job, then take the time off to avoid a longer recovery process and more time off down the line. Understand your employer's sickness policy and whether this has changed since Covid," she added.