Spaces
// July 30, 2020 ■ 6 min read
'Being intentional with how you are coming in': A running list of when, how —and if — publishers return to the office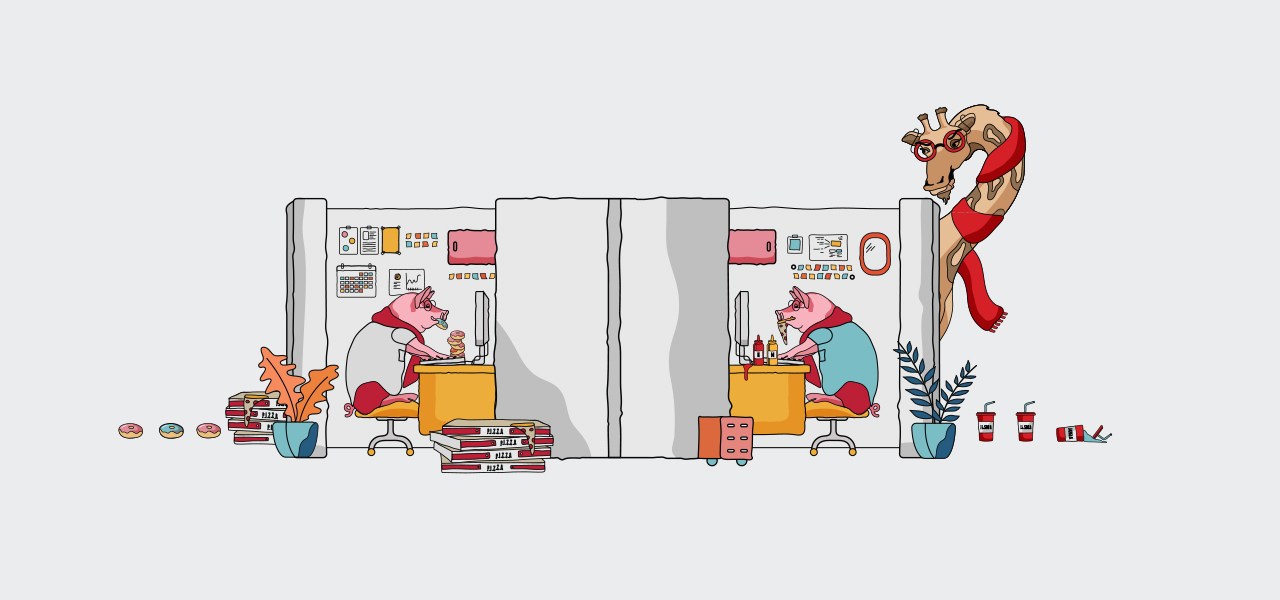 This article is part of the Future of Work briefing, a weekly email with stories, interviews, trends and links about how work, workplaces and workforces are changing. Sign up here.
This list will be updated and expanded periodically.
Five months into the coronavirus crisis, the media industry has figured out that it can operate its key functions remotely almost entirely. But being a creative and collaborative industry, there are some jobs and projects that must take place in a studio or collaborative environment and those necessary in-person functions have media companies contemplating when and how its safest to do reintroduce those environments.
A lot is still up in the air. Depending on a company's location, governmental restrictions are still in effect for nonessential business and whether or not they are allowed to have employees come into an office.
In a Digiday survey of media companies, BuzzFeed and Reuters had the earliest return estimates of October 2020 for when they will start bringing nonessential workers back into its global offices, if legal and safe to do so. Meanwhile, many other companies said they would not require employees to be back in office until at least January 2021, or they said they didn't have a solid timeline at all.
Regardless of when companies are able to reopen their offices, the way shared workspaces will look and operate is likely going to be very different.
According to Natalie De Paz, manager of culture and engagement at agency Landor & Fitch, the expectations that employees have for their workplaces has changed.
"It's not as simple as working X more days at home, but being more intentional in the office space," said De Paz. "It's not just for the sake of coming in, but being intentional with how you're coming in."
Therefore, companies need to "define the activities that would make the most sense in a workspace," meaning the office spaces should be seen as collaboration environment versus a place where individual workers filter in and out on a daily basis to sit at a desk.
However, De Paz notes that some employees will still require that option if their home set up is not conducive to productivity and interacting with external clients or sources.
"There's a lot of positives that have come out of working from home and hopefully they can be retained," said De Paz, pointing to productivity and technology advancements.
There was an initial dip in productivity, De Paz said, that came from employees learning how to use technology that they were initially reluctant to learn. "A lot of people didn't see the need to adopt new tech," she said but not having access to whiteboards or manual materials forced them to learn.
Tech will also be playing a large role in the transition period where some staffers remain at home while others are back in the office, De Paz said. Conference rooms, for example, will need to be equipped with cameras and microphones that cover the entire room to keep people who remain remote connected to the in-person staffers.
Publishers have a lot to consider as they move staffers back into the office and it's going to take time to make the proper adjustments from a safety capacity and a productivity capacity.
Here are the tentative timelines for some of the major media companies.
Bonnier Corp. (U.S.)
The earliest the company would return to its office in New York City is early 2021, according to a company spokesperson. Offices outside of New York are open for employees to access on an as-needed basis, but staffers are not required to be there and can continue working from home for the foreseeable future.
Bustle Digital Group
From early September through the end of 2020, BDG employees will have the option of working from the company's New York City offices two days per week, if they would like. Employees have fill out a mandatory health questionnaire before each visit and sign-up beforehand to make sure that the company is compliant with building capacity limits. Additionally, they will have to take training ahead of time as well to learn new office policies.
BuzzFeed
The vast majority of employees will be able to work from home until at least August 31st, 2021, according to a company spokesperson. (Updated July 30)
Currently, "position 1 employees" are allowed in its offices. This includes office services, facilities, security, IT and studio operations, as well as specific production team members, the spokesperson said. Some employees who need to be in the office for their specific job may be required to come in prior to that August 2021 date, however.
Offices may reopen starting October 1, 2020 at the earliest when legally and safely allowed to do so.
CNN
The majority of CNN's staff will not be back in its offices until 2021. Has of June, approximately 15% of the staff was working in an office, according to an internal memo from CNN president Jeff Zucker at the end of May.
Fox News
Fox News has had essential staffers in their offices since March, but the plan to move the rest of its staff back into its offices is still fluid, according to a company spokesperson and there is not an exact date for that return.
Group Nine
Group Nine extended its work from home status for the majority of employees through early 2021, according to a company spokesperson.
Essential news staffers and business-critical production employees should be available to return to the company's office or remote field assignment with seven days notice, if they have not already returned to work. Employees who are considered to be a part of "essential revenue support" might be asked to return to work sooner than early 2021, but will be given 30 days notice, the spokesperson said.
Meredith Corp.
Nineteen of Meredith's U.S.-based offices — 16 of which are television stations — are currently open to certain degree. The other three offices are its headquarters in Des Moines, Iowa and its offices in Shelburne, Vermont and Stamford, Connecticut. The open offices are operating at a 10-20% capacity, according to a company spokesperson.
The majority of Meredith's workforce continues to work from home and there are no immediate plans to open any additional offices at this time.
Reuters
Reuters has extended its voluntary working from home period for nonessential employees through January 11, 2021, according to a company spokesperson. (Updated July 30).
The reopening process will take place on a local business rather than a global basis. Certain global offices, like Hong Kong and the Philippines, have reopened their offices only to have to close them again according to government mandates on coronavirus.
The Atlantic
The Atlantic won't require any employees to return to the office in 2020.
The Guardian
The Guardian does not have a definitive timeline for returning to its U.S. offices, but according to a company spokesperson, staffers will be working remotely until at least the end of this year or the beginning of next year.
The New York Times
Staffers will not be asked to return to the office before January 2021, according to a company spokesperson.
Time
Time's offices will remain closed and staff members will continue to work from home for the rest of 2020, according to a company spokesperson.
Trusted Media Brands
Work from home continues to be Trusted Media Brands' standard operating procedure until there is a consistent decline in coronavirus cases, according to chief people officer Jen Tyrrell. Therefore, there are no immediate plans for a return.
Certain "office-critical" employees in the company's Milwaukee, Wisconsin and Eagan, Minnesota offices have returned to their respective workspaces this month, said Tyrrell.