With many employees wary, company leaders prepare their return-to-office coronavirus vaccine policies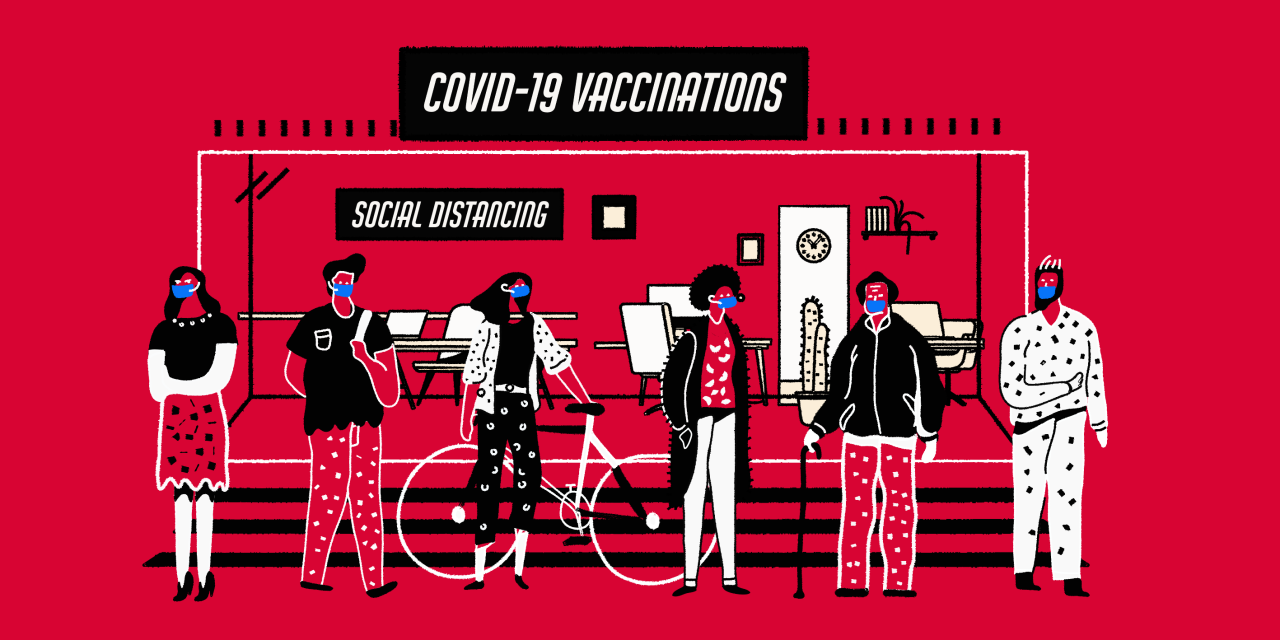 This article is part of the Future of Work briefing, a weekly email with stories, interviews, trends and links about how work, workplaces and workforces are changing. Sign up here.
If there is a CEO with his finger on the pulse of the workforce and how it views the coronavirus vaccine rollout, it is David Niu.
Niu runs Seattle-based TINYpulse, a platform that queries staff on issues in the workplace on behalf of clients like Deloitte and Unilever. For him, employee buy-in will be essential as employers formulate plans for the vaccines and the subsequent return to the office.
Bosses "have to make sure employees have felt the chance to be heard," he said.
Currently, much employee skepticism remains, despite reassurances by company leaders that they are working to ensure a safe workplace. In a recent global poll of 2,500 workers by Wakefield Research for Honeywell, 70% of respondents said they did not feel it was completely safe at their offices. Further, 24% threatened to look for a new job before returning to the office if necessary safety measures were not implemented.
Alan Spurgeon, founder and director at U.K.-based marketing agency Hedgehog Digital, stressed that vaccinations will not be required at his workplace. His argument: doing so could pose a number of legal issues such as potential injury claims if the vaccines were to end up having side effects. Others may object to getting inoculated because of religious beliefs, dietary considerations or health conditions, he added.
Likewise, in the U.S., large employers like Facebook, Marriott and Discover Financial Services have said they will encourage, but not require, vaccinations, as The Wall Street Journal reported. The Equal Employment Opportunity Commission has issued guidance suggesting that employers may require workers to be vaccinated, with certain accommodations around health concerns or religious beliefs.
Meanwhile, employers are redoubling their efforts to persuade staff that the vaccines are safe while offering them incentives to get the shots.
For example, New York commercial real-estate company SquareFoot, which reopened its headquarters mid-July after making certain changes, plans to give employees paid time off for inoculations and will cover the costs associated with them. Corporate medical advisers have said employers should plan for some workers to require sick days after receiving their doses in the case of fever or other side effects.
"We've been patient and understanding throughout the pandemic with everyone, recognizing that we all have different needs, concerns and responsibilities," said SquareFoot president Michael Colacino. "If someone is fearful of getting a vaccine, we will speak to them privately about how we can best support them. It's a challenging time for our country. We must lead with empathy and come up with solutions that satisfy all."
Bradley Stevens, CEO of LLC Formations, a business consulting firm based in Miami, is setting up a temporary clinic at its office to administer vaccines for those who have not already been inoculated. He understands that there are those who may not want to be vaccinated for various reasons, and that those cases will be addressed accordingly. One way is to try to persuade all employees to get the vaccine. If they haven't, he said, "employers should tell these people that they will only be allowed to return to the office after getting the vaccine, and will be considered absent from work 'till then."
Likewise, Cale Loken, CEO of 301 Madison Consulting, a digital marketing agency based in Minneapolis, said it is "vital" that all employees get vaccinated, to maintain a safe work environment and ensure that employees feel secure returning to work. It plans to cover the costs of the vaccinations and give employees paid time off to get them. The company will request that everyone submit proof of their vaccinations before returning to the office. Those not yet vaccinated will simply not be allowed to return.
The CEO takes an especially hard line against anti-vaxxers. "The people who are anti-vaccine are a danger to every other employee and staff member at the workplace," he said. "After the kind of year we have had, they are not worth the risk." Such employees will be able to continue working remotely, he added.
Holly Helstrom, an associate at the New York-based communications firm Logos Consulting Group and an adjunct professor at Columbia University specializing in First Amendment rights for employees, said employers are legally permitted to require workers to be vaccinated — if they are in the private sector, that is.
"Employers can and have fired employees based on lifestyle choices related to their health, including if they smoke cigarettes or drink alcohol," she said. "Refusal to get a Covid vaccine if your employer is requiring one could get you fired, and your employer would be within their legal rights to do so."
3 Questions with Steve Hyde, CEO of 360xec and global head hunter
Have there been any notable changes in terms of what senior execs are looking for in roles over the last 10 months?
A pattern that's developed a lot more over the last ten months is senior candidates getting in touch to say they don't want to 'do a particular job' anymore, they want to do something they find more meaningful. That they earn good money, but in a job that doesn't bring them much joy and that in itself is not enough anymore. I know of several CEOs of ad businesses that could have continued successfully in their roles, but have decided to leave these roles or the industry to pursue something that seems more important to them: something that more obviously impacts positive societal change, around wellness and areas like that. It seems many people have felt that way for a long time, possibly 4 to 5 years, but it was camouflaged by market changes in tech, innovation and things like in-housing, but Covid-19 has brought home everyone's stark realities that other things matter more.
The sort of challenges leaders have faced over this last year have felt unprecedented, what constitues great leadership at this time?
Brutally, the litmus test is whether they're led or whether they're managed. Many companies have found themselves, due to financial pressures and other factors, controlled by titled individuals who manage the business but don't really lead the business. And leadership is a characteristic that has become more obvious for those who genuinely have it, because they've demonstrated it throughout the pandemic. The diagonal-thinking capability that balances short-term necessity with longer-term opportunity. It's like if you compare the issues, challenges and friction that have existed between marketing and procurement. In truth, both are needed, but if we only adhere to short-term proven affirmation, over time our returns diminish and costs go up.
Various reports are pointing to softer skills as being in higher demand now, like openness to change and emotional intelligence. Is this something you see?
I do indeed see this and it is a positive thing, but it's the transition to that place that appears challenging. If you have more of a mix of personalities and characters, it's important to figure out how to adapt to each. What you each convey and how you receive. It's a matter of ensuring you can recognize different levels of emotion, many of which will be helpful and others which may need more supportive management. When hiring someone you're thinking of how that individual interacts with you and how they complete the team, not by being the same as you but by how they can complement by being different. Judging that right and for the right reasons is crucial. If it's superficial like a box-ticking exercise, it can be like putting a fish on a bike — both are beautifully designed but won't necessarily work well together.
Numbers don't lie:
—Nearly two-thirds of 500 U.S. workers polled in a global survey, said that co-workers not following safety guidelines pose a bigger threat than outdated ventilation systems. Nearly half said they're concerned about their building management's ability to consistently enforce health and safety guidelines. [Source: Wakefield Research on behalf of Honeywell Building Technologies.]
—Highlighting just how critical workplace culture has become, 32% of 322 senior marketing execs in the U.S. and U.K. people polled cited "interesting work and career growth" as their top motivation, followed by "flexibility" at 29% and monetary compensation at 27%. [Source: Recruitment firm Aquent.]
—Protests sparked by the police-involved killings of George Floyd and Breonna Taylor caused organizations around the world to hire more diversity experts. Hiring for these roles increased more than 90% since 2019. Most common job titles sought: Diversity coordinator, inclusion aide, diversity officer. [Source: LinkedIn's 2021 Jobs on the Rise report.]
What else we've covered:
—For some jet setters, the suspension of business travel has been a crushing blow. The variety and excitement of discovering new places and people away from the repetitive office routine is, for some, one of the most enjoyable aspects of the job. But for others, the enforced halting of all work travel has actually helped to reduce stress, improve productivity and overall mental health.
—Working from home and avoiding the daily commute might've seemed like a luxury at the outset of the pandemic, yet many c-suite executives in the marketing and brand space have come to find themselves on a whole other type of treadmill, with daily lives that are more demanding than ever. It's no wonder so many of us relish returning to the relative serenity of the office.
—More social media managers are exiting their roles because of the long hours, low pay and endless scrolling through hateful comments. And today's starkly polarized political climate is only adding fuel to the fire, according to social media managers.
—As reality sinks in that life must go on while still accounting for coronavirus lockdowns and safety protocols. People are moving back in with roommates and it's forcing them to continue rewriting the rules for what living with, and working around, someone truly means during a pandemic.
—New business models are emerging in fashion, as brands both recover from a period heavy in layoffs and get accustomed to a remote workforce. Rather than hiring full-time employees for specific roles, companies are enlisting workers with expertise in many areas and supplementing them with outside experts.
This newsletter is edited by Jessica Davies, managing editor, Future of Work.