Culture
// December 7, 2022 ■ 5 min read
'I have no idea what's going on in her life': What it's really like to work with family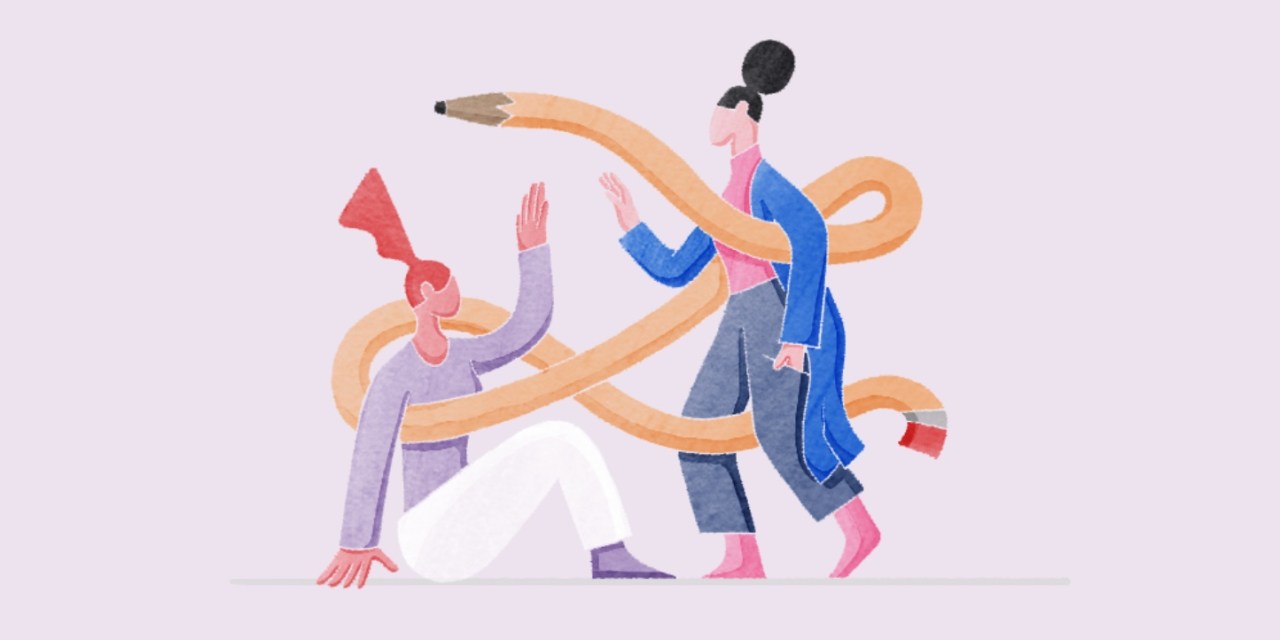 Ivy Liu
Some companies say they're like a family, others actually are a family and need to remind themselves not to bring up fourth-quarter revenue at Christmas dinner.
When you think of a family-owned business, local mom-and-pop stores might be the first thing that comes to mind. However, there are 5.5 million family businesses in the U.S. alone. Chick-fil-A is run by the founder's sons who are now CEO and executive vp. Henry Ford's family still owns a 40% stake in Ford Motor Company and family members serve as executive chairman, chief customer experience officer and on the board of directors. Estée Lauder has been passed down three generations. Dr. Bronner's has been through five. The list goes on.
According to Family Enterprise USA, over 90% of family businesses feel that what sets them apart from non-family firms is a long-term investment philosophy, commitment to employees and suppliers and contributions to their communities. But, that doesn't mean things are always smooth sailing. There are other challenges to face like the dynamics of older and younger siblings, how to separate work and personal life, family arguments and more.
Samantha and Aaron Edwards are a sibling duo that started a full-service digital and creative ad agency called The Charles (named after their great-grandfather) in 2011. Although they always knew they wanted to work together, it was still an uneasy jump to make.
"I'll never forget the conversation," said Samantha, who is the chief creative officer at The Charles. "Aaron was asking me 'are you going to do this with me? When are you going to quit your day job?' and I was like 'bro, I love you as family but I need a paycheck.'"
It was a bit of a fork in the road for Samantha, who is the older sibling. She worked at a company where she was starting to get major opportunities to work on the kind of campaigns that she had always dreamt about. At the same time, she had the chance to work on an exciting new venture with her brother.
She eventually jumped on board six months later when her brother was able to offer compensation. Ten years on and the family business has had success with clients in the luxury, lifestyle, hospitality and tech advertising sectors. To achieve that, they've had to learn how to navigate the choppy waters of being brother and sister and co-founders of a company simultaneously.
"In the early days, we would have arguments and blow-ups and not speak to each other for a day and then we'd just get back to it," said Samantha. "Now, having worked together for so long, it feels like we're in sync. We're on the same page, we don't even always need to talk to each other. We will catch up after a client call and both will be aligned."
Aaron said he thinks most of that success comes from the separation between their roles. Samantha is on the creative side while Aaron is on the financial side. "It's a collective power in a sense," he added.
However, things aren't always peachy. Aaron admits that for about three or four years, work dominated every single conversation between the two of them.
"I had this realization that I actually have no idea what's going on in her life, I don't know what's happening, I haven't been in touch with the kids," said Aaron. "I made a more conscious decision to have that personal time where we are not talking about work or any other pressure of just seeing our kids and catching up about things that have nothing to do with the day to day."
There was a point when the family dynamic of bickering ended up seeping into a work call, sometimes making it highly awkward for the other participants. "I'll never forget the one time we had an argument on Zoom and we were going at it and someone else was like 'well, wow, OK,'" said Samantha. The siblings say that is behind them now.
And at the same time, they do know what is going on in their personal lives now, so it allows them to be more empathetic and understanding when someone needs a break. "We bring a bit more of understanding to personal situations than perhaps you might see outside of a non-family-owned business," said Samantha. 
That's a statement that soap company Dr. Bronner's can second. The business currently has seven family members working there, including: David Bronner as CEO, his brother Michael Bronner as president, sister Lisa Bronner as company spokesperson, and their mother, Trudy, as CFO.
"We get in arguments over little things that other companies wouldn't argue about, but we don't really argue so much about big things in the company," said Michael. Overall, they are all aligned on the larger values and mission of the company. "With my brother, we definitely had to work on a lot of the childhood dynamics. He is two years older than me and we had to set boundaries and just reset the relationship of 'I'm the little brother, you're the big brother.' It's like we're equals here."
And at times it feels as though they are still getting their allowance from their mom, even though they bought the company from her. Similar to the Edwards, the family dynamic has given them a little more license to not hold back during arguments because at the end of the day it's family.
"I know that we can be complete selves around each other and we've never gone home angry with each other and there's no resentment," said Michael. Ultimately, it's a family who supports one another and Michael finds that that support often trickles down to the rest of the employees, family or not.
"People are able to see this is how the executives treat each other, and how we treat everyone," said Michael. "That really helps with the corporate culture."
He imagines that Dr. Bronners will keep being passed down from generation to generation.
"My son absolutely wants to work for the company," said Michael. "Right now he thinks it's the best thing ever and he wants to be our inventor. He's nine."