Culture
// January 13, 2023 ■ 5 min read
Tree-planting and beach cleanups: How CSR days are helping companies to build better teams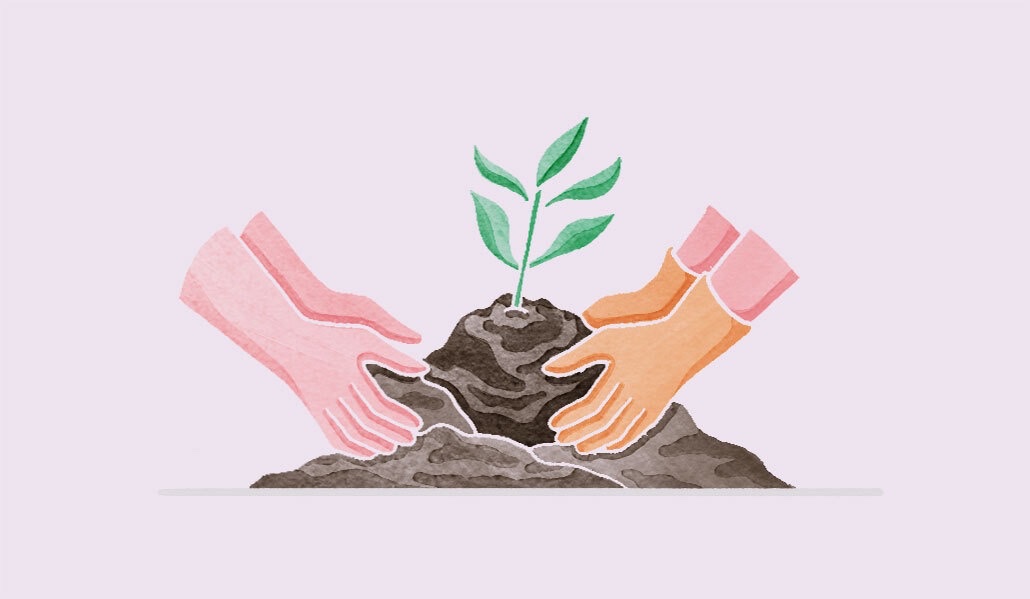 The orchard trees that DHL employees planted as a team activity in 2022 will provide a haven for wildlife, help to boost biodiversity and return fruit to the local community for years to come.
Whether for litter picks, park clean-ups or tree-planting like the above, DHL employees are actively encouraged to get out of the office during the working day to participate in team days built around environmental activities. For the office-based teams in particular, doing more physical work and using a different skill set than they usually would is seen as a valuable opportunity for colleagues to connect in a new setting, learn more about each other and build team spirit.
"We are committed to providing a positive workplace culture which focuses on the wellbeing and development of our people and communities," says Dean Knight, environment project manager, corporate affairs, DHL Express UK.
"One of the main things our colleagues value is the opportunity to engage with people in the community and support worthy causes. The experience helps to shift mindsets, giving colleagues the passion and confidence to get engaged with other community projects, either connected to DHL or independently."
For digital agency Calvium, enabling colleagues to connect in person has become increasingly important amid the shift to more hybrid and dispersed working. As part of its monthly mission to find different activities that are consistent with its wider company vision, the team recently took part in a local tree maintenance activity, which relies on volunteers to clear and mulch trees and help them survive to their optimum carbon capture age of 10.
Rather than doing a team-building exercise which is "totally false", the company's chief executive, Jo Reid, believes spending time together on something, co-working, is the "best way of forming bonds".
"It's always good when you have an opportunity to allow different competencies to shine and to bring people together, in a more natural way, that can make people appraise people in a different way or learn new insights," explains Reid. "This activity reinforced how important it is to make time for those opportunities for the team to get to know each other face to face."
Communication and professional development
U.K.-based charity Forest of Hearts, which runs corporate tree planting events among other green team-building activities, is seeing more and more interest from companies amid a worsening climate crisis and mandatory environmental, social and governance (ESG) reporting. 
The charity's founder, Carole Longden, has been working within corporate training and team-building for three decades. During this time, she has found that purpose-led activities are much better received by teams who see it as valuable to bonding. Outdoor activities, in particular, are an effective way to improve communication skills.
"People communicate when they're outdoors rather than sitting in a classroom," says Longden, whose charity planted over 2,000 trees last year and welcomed three new barn owl chicks into its specially-created woodland habitat. "Working on the basis of experiential learning, it's the moment, experience and place that causes people to remember it and find it valuable."
At U.S.-based biotechnology company Genentech, employees regularly volunteer with the Pacific Beach Coalition to help pick up rubbish and recyclables from local beaches and neighborhoods, while also learning about native species. It is one of the company's most popular activities on its corporate volunteer scheme and contributes to a strong organizational culture that benefits from enabling colleagues to "connect in the spirit of giving."
In addition to helping employees' professional development by strengthening their existing skills and supporting them to build new ones, going out into the community gives them the opportunity to build professional networks by engaging with community partners and honing managerial skills, says Genentech's senior director employee and community engagement, Karen Shen.
"Employees feel they are more effective Genentech employees as a result of volunteering," she says.
Indeed, according to an internal survey 89% of employees agree volunteering makes them feel more engaged and connected at Genentech, while 87% agreed that volunteering helped them strengthen skills or build new ones and 71% said it contributes to their retention.
More than just a tick box exercise
As companies face increasing scrutiny for greenwashing, empowering employees to take part in CSR activities during the working day – whether through corporate volunteer schemes or as one-off team days – can help to tangibly demonstrate to employees, as well as stakeholders and the wider community, that they are putting their money where their mouth is.
For an SME like Calvium, which is working to put sustainability at the centre of everything it does but still on a journey towards finding meaningful ways to measure its environmental impact, doing activities that have immediate local impact help to make internal conversations around company-wide values feel "more comfortable".
"One of the things people share at Calvium is a huge scepticism over too many buzzwords that don't mean anything," says Reid. "Being true to what you say is an important value for many people, and these activities instantiate things that can sometimes seem a little bit abstract."
At DHL, meanwhile, getting involved with environmentally-led community projects adds to the credits colleagues need to be certified as a GoGreen Specialist, which parent company, Deutsche Post DHL Group, is aiming to have 80% of staff fully certified as by the end of 2024.
The training seeks to improve understanding of the impact the business has on the environment and educate colleagues on how they can support sustainable practices – "not only to benefit the company but their own lifestyles too," says Knight.
The ongoing dilemma for organisations like Forest of Hearts, concludes Longden, is being discerning about the companies that approach them and deciding whether they are being used for greenwashing.
"One thing we won't allow organisations to do is use what they do with us as anything other than planting trees," she says. "We can't police it but we won't let them use carbon offsetting or anything that implies by planting a tree they're atoning for chopping down rainforests in the Amazon."