Culture
// April 12, 2021 ■ 8 min read
Shortage in mental health services fans flames of employee burnout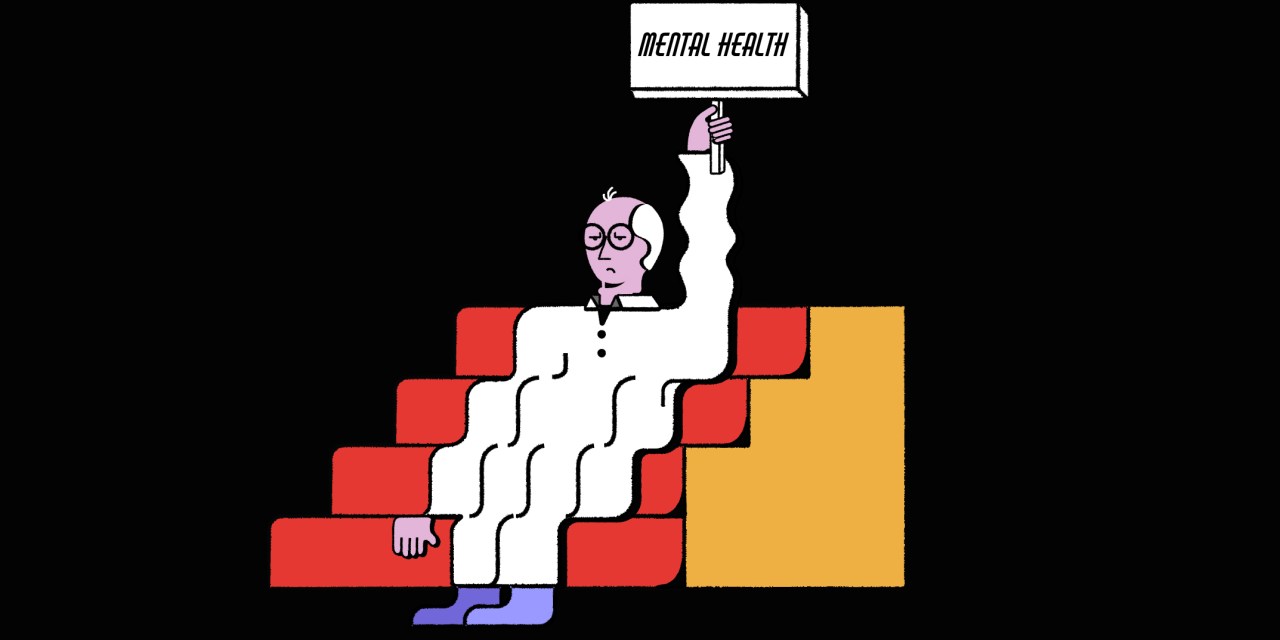 This article is part of the Future of Work Briefing, a weekly email with stories, interviews, trends and links about how modern work is changing the lives of the people within it. Sign up here.
As the pandemic drags on, the workforce is facing a serious burnout crisis — and a growing perception that bosses are tuned out when it comes to employees' mental health needs.
A study by the real estate platform Clever found that 41% of employees feel depleted because of work, yet just 17% believe their companies have made the mental health of employees a priority. More than one-third of 1,000 Americans surveyed said they'd experienced job stress so intense that it frequently impacted their personal lives.
While 40% of employees said working remotely helps with work-life balance, they continue to struggle keeping work from bleeding into their nights and weekends. Meanwhile, even as 60% of employees agreed that taking "mental health days" was important, the average worker last year left seven unused days of vacation on the table.
All told, some 41% of Americans report struggling with mental health issues during the pandemic, according to the Centers for Disease Control and Prevention, leading to a shortfall of treatment options for many.
And bad news for those who do seek outside help for their mental wellness: The pandemic has overwhelmed the healthcare system, including mental health providers, making it more difficult for many to find the professional help they require. In a survey of 1,800 psychologists by the American Psychological Association, 74% said they were seeing more people for anxiety disorders than before the pandemic, while 60% were seeing more patients for depression.
"Behavioral health providers of all types and levels have long been in short supply and this need has compounded during the pandemic," said Jami Doucette, president of Premise Health. "There are not enough psychiatrists, clinical psychologists and licensed social workers to meet the demand that we are currently experiencing."
Doucette noted that the current work-from-home trend — despite widely reported benefits like more freedom for employees and more cost savings for employers — has also had a negative impact in that it has led to an epidemic of loneliness, loss of social structure and pressure around balancing family and work responsibilities. Meanwhile, essential workers, including healthcare professionals and law enforcement, have faced those same concerns while also being on the frontlines of the pandemic.
Doucette said the result of all this could prove to be cataclysmic for employers, in that less access to mental health services could lead to lower levels of productivity and ultimately even greater expense for companies.
A survey of 1,200 employees and employers by the U.K.-based workplace mental health platform Unmind revealed that even when employers provide mental health support to their people in the form of more flexible work options and training, accompanying that is an expectation among bosses about higher productivity at the cost of employee well-being. It found that while 90% of employers said they were concerned about employee burnout as they acknowledged their people are working more, only 24% regularly review employee workloads and just 15% have increased paid time off.
A breakdown in communication between bosses and employees is making the situation even worse. One in three employees reported having fewer conversations with their managers about their mental health than before the pandemic, the survey found.
"Now more than ever, it's important for employers to take a proactive approach to supporting the mental well-being of their workforces," said Heather Bolton, head of psychology at Unmind. Employers who fail to do so, she added, risk ending up with a disengaged workforce that is stressed out, burned out and ultimately underperforming.
Some business leaders are bucking the trend, instituting policies that ensure the mental well-being of their people even as mental health providers are overextended and often unavailable.
San Diego-based Power Digital Marketing has introduced a range of services to employees aimed at improving their mental wellness, including "mental health days," a 24/7 support line with partner ADP, a platform employees are required to use to check in every week to ensure their well-being and to get them help when they need it, and "safe spaces" that let employees openly discuss things impacting their well-being.
"It's important to consider that each one of your team members is not just an employee — they are a whole person," said Power Digital Marketing founder and CEO Grayson Lafrenz. "As a company, we want our employees to be their best whole person."
The Atlanta ad agency Dagger has also made mental wellness a top priority. CEO Mike Popowski regularly has candid conversations across the company about topics like work optimization, benefits of remote working and the importance of human connections, all of which stand to impact the mental health of his people. But at Dagger, employee well-being is more than just talk. The agency also gives each of its staffers unlimited paid time off and half-days every Friday, plus the office shuts down one day each month, in addition to regularly scheduled holidays, to ensure employees have enough time away from work.
"Part of being a leader is having a pulse on how the other 74 people [in the company] are doing mentally and then leading accordingly," Popowski said. "We're all experiencing different challenges, together, especially over the past year. Being a leader right now is about caring for people, and people want to work in a place where they feel seen and heard and recognized. A company can only be as healthy as the people in it."
3 Questions with James Hunt, svp client solutions, CNN International
CNN international's annual sales conference is a tent pole internal event at the start of the year. How did you recreate it to be virtual?
What used to be a three-day, in-person event that the core sales teams would attend, became a two-week virtual conference with 55 sessions. That didn't mean having people sit in front of a screen for six hours a day, but they could attended focused, daily sessions. We accounted for numerous time zones, balancing childcare and other needs with work, so we did pre-recorded sessions for what would have been the main-stage content where everyone would come together. We had seven keynotes that which people could watch on their own schedule, and 27 live, focused workshop sessions people could engage with. We had health and wellbeing speakers talk to us about sleep patterns and managing daily schedules. For the more fun social stuff we had escape rooms and dumpling-making classes, and we also had news anchors from different markets do fireside chats.
What did you learn worked well enough to keep for future formats, once offices reopen?
A massive takeaway was the amount of people that were able to attend: We were never able to bring the whole company together like that, that just wasn't possible budget wise [before]. So we always had to be centered around the core sales teams attending each year, and that was a shame. We had 270 people join remotely — about double the number of people who would attend the in-person conference on a typical year. So in future we will do a mix of virtual and physical. It was such a big positive that the whole company could engage. We debated whether we should check people into sessions, but it turned out we didn't need to. It's hard for people if you're sitting on your own in a room for days on end. We had 95% attendance.
How have you adapted the way you communicate with employees over the last year?
I tried to normalize the work-life side of things. For instance, I haven't been afraid to tell people I can't join a call because my seven year-old is having a meltdown. We have had to learn fast. We went through a period of over communicating — everyone was doing six to seven hours of video calls a day and we learned that wasn't right. We've had to be cognizant that people are anxious and concerned and it's been a tough business environment. But there have been some massive positives: I am more connected to my senior group around the world and my 10 direct reports. I've become much closer with my Asia direct reports. The virtual video space has democratized direct reports and teams. It used to be HQs and hubs and it was always disproportionate: you're in London or a satellite office — they weren't treated in quite the same way. That no longer feels the case. I would like to think we will continue with that, and make sure there is a level playing field.
Numbers don't lie
34% of 2,651 employees said they feel burned out while working more than half the time, a 25% jump since April 2020. [Source of data: MetLife's U.S. Employee Benefits Trends Study.]

Women have lost 5.3 million jobs during the pandemic, and more than 2.3 million have left the workforce since February 2020, compared to 1.8 million men.
[Source of data: Deloitte's Global Human Capital Trends Report 2021.]
70% of 600 U.K. professionals said their business is still experiencing negative economic impact as a result of the pandemic, and 43% said their ability to service customer needs is becoming harder.
[Source of data: Direct Marketing Association's March 2021 — Coronavirus Survey.]

What else we've covered
"A lot of people are burned out but there's no solution," according to an agency exec at a creative shop, who spoke under condition of anonymity as part of Digiday's latest Confessions instalment. The pandemic has worsened the level of burnout, and people are struggling with their own mental health as well as that of their teenage kids.

Scores of new positions are heating up the employment market as companies plot their future beyond the pandemic. The demand for tech-based jobs in particular, is partly due to those roles' ability to be performed remotely.

After years of largely failing to deliver on its promise, virtual reality's time might have come. A bunch of businesses, including Morningstar, have begun using VR for major events. Delegates can use avatars to travel around an event venue, listen to different sessions, participate in workshops, and even more importantly — network with other attendees safely.