Culture
// November 7, 2023 ■ 4 min read
Employees are expensing Taylor Swift tickets, $350 haircuts, Formula 1 races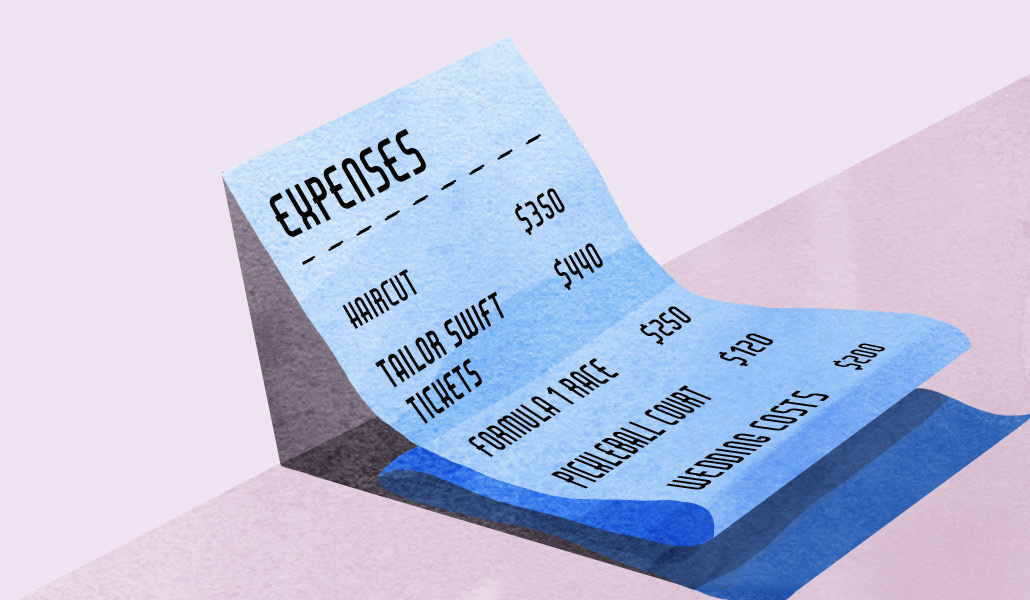 Ever since remote work took hold, some employees seem to be really pushing the bounds on what they expense for work.
A former Citibank analyst recently lost his claim of unfair dismissal from the bank, after a tribunal discovered he had lied about buying his partner food and expensing two of everything to his employer. It's more of an extreme case, but workers really are getting creative with what they're spending on the company card.
Global spending platform Brex analyzed the expenses of more than 20,000 companies on its platform since last year, and the results were eye-popping — ranging from pickleball costs to concert tickets.
However, Brex COO Michael Tennenbaum stressed that many of these expenses may have been sanctioned by companies for good reason. "What may seem wild and interesting from afar, could actually be quite explainable," he said. "For example, an expensive haircut, maybe you were doing a media interview and were required to travel somewhere and you needed your hair done for that."
Let's dive into some of the most interesting things people have experienced since last year:
A $350 haircut.
A $1,300 membership fee to a private network for digital nomads.
$4,300 for soundproofing an apartment unit.
Taylor Swift tickets were bought 47 times, while 19 people paid to see Beyoncé. Face value tickets to Taylor Swift's The Eras Tour ranged from $49 to $499 (plus fees) depending on the section. The average resale ticket sold for the concert was $1,619, according to SeatGeek. Brex found that 100% of the expenses for Taylor Swift and Beyonce tickets were approved.
Formula 1 races. Formula 1 tickets for the 2023 season range from $13 to $300,000, with an average price of $1,013.50. The cheapest races are in Hungary, Austria, and Imola, which cost less than $400. The most expensive races are in Las Vegas, Abu Dhabi, USA, and Miami, which cost $950 – $1,040.
Tickets to the Fifa Women's World Cup. Average cost through Brex was $2,800.
Brex saw a 35% uptick in receipt memos with the word "pickleball" in them. Pickleball is America's fastest-growing sport.
Travel as an expense category has seen the most increased spend over the last year, according to Brex.
Four different companies each expensed over $500 on "Hot Dog Day" in 2023 – that's on Jul. 3.
Seven people paid to board their pets on flights this year. Generally, airlines charge a pet fee of $100 to $200 each way, but prices will vary depending on the airline and destination.
People put $200,000 of wedding costs on their Brex card so far this year. That's things like travel to and from the wedding, accommodations and wedding gifts. A gift card was the most common wedding gift.
Almost $500,000 was spent on wellness stipends. Credits were often used for massages, skincare, personal trainers and gym memberships.
We also spoke with Coupa, a business spend management platform, which has conducted similar reports.
"One of the most popular expenses we have seen so far this year has been group meals," said Fang Chang, chief product officer and evp at Coupa. "Gathering together is a great way for employees to bond and build relationships with one another in and outside of the office. It reflects that group meals are an important aspect of employee morale and engagement, especially with the shift to hybrid work environments."
But there were some surprises in Coupa's data too: it found that $1.8 million in Home Depot items were expensed. "Our data found one employee at a healthcare company had an expense report of $1.8 million, that included items like an electro hand and back sprayer from Home Depot, much of which should have been ordered by the procurement team," said Fang. Another company expensed a flight for a celebrity and their bodyguard, which was a total cost of $233,633.58.
Does allowing employees to expense such a range of things make sense for the company? Despite the Citibank news, Tannenbaum thinks so.
"Think about the cost associated with letting someone get a nice haircut versus high turnover rates with new salaries that are X dollars," said Tannenbaum. "As long as you're monitoring it, it's not a big systemic problem."
A lot of people leaders have found a bigger impact with things like monthly wellness stipends. While they could just give everyone $1,000 more a month in salary, it doesn't have the same retention power as a $1,000 perk, which makes people feel better about the place they work.
And when it comes to things more outside of the box like concert tickets and entertainment? Tannenbaum said this could well be baked into what external-facing teams treat their clients to. "Who's to say going to a Taylor Swift concert isn't more exciting than bringing a client to play golf?," he added.