Culture
// May 27, 2022 ■ 5 min read
Giraffe excursions and bungee jumping: How employee recognition programs are evolving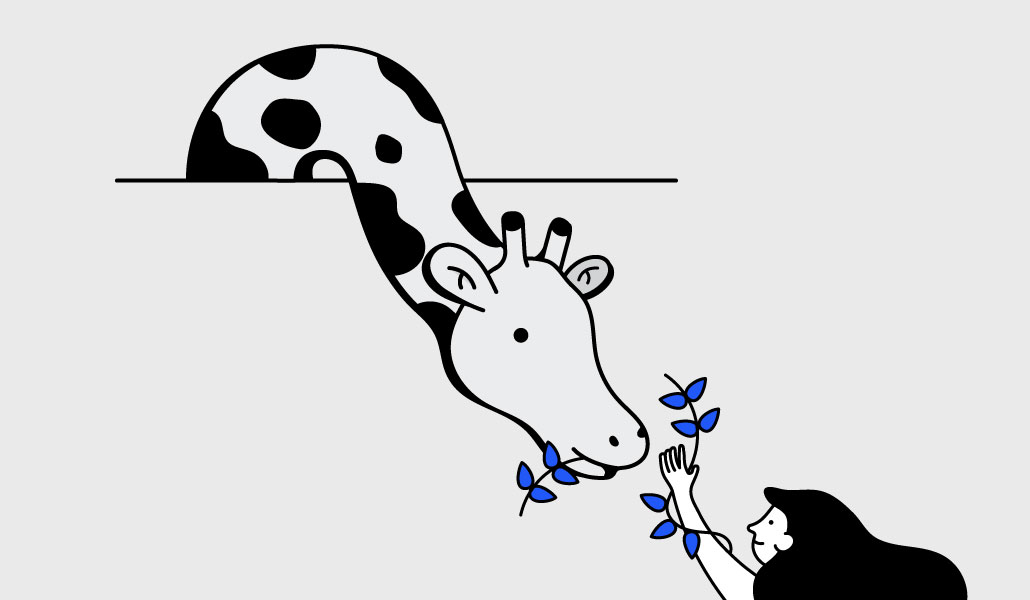 As the war for talent rages, employers are offering up increasingly extreme ways to recognize a job well done. Suffice it to say, Amazon gift cards no longer cut it.
Employers are pulling out all the stops, offering experiential rewards to employees ranging from giraffe feeding, helicopter rides, racing car track days, bungee jumping and Disneyland trips, to bump up staff morale where needed.

Software firm Zapier signed up with Blueboard, a rewards and recognition platform that provides experiences that their clients' employees can chose from. For Zapier's engineering manager Andrew Hedges, it meant getting to experience a helicopter tour of the Columbia River Gorge — an outing he never imagined he would take. He was able to take his dad for his 85th birthday and his partner with him for the ride. "This was a whole new level of recognition," said Hedges. "It's one thing to get a sweatshirt, and it's a whole other thing to go on a helicopter ride; you're creating memories instead of just getting stuff. I really enjoyed it."
Taylor Smith, co-founder and CEO of Blueboard, said the company's goal is to bring some "much-needed humanity and soul to the stale, 100+ years-old rewards industry." The company offers thousands of experiences on its platform and sends tens of thousands of people on adventures every year, according to Smith. People can pick perk options ranging from food and drink experiences like Michelin star meals, cooking classes and mixology classes, to adrenaline highs (bungee jumps between redwood trees, drive a BMW at a track day, go parasailing) to family activities including behind-the-scenes tours to feed giraffes at the zoo, and trips to Disneyland.
"We are a splash of color in a world that has turned gray… we're a company that is hellbent on getting people out and about into the world — spending quality time recharging and exploring with loved ones," Smith added.
Ron Clapman, a technical architect at software company ForgeRock, took his family glamping at Joshua Tree. He recalled the experience as a "different kind of honor instead of something that you put on your refrigerator door or an Amazon gift card, it's really something that you'll remember for a long time and it's just a nice gift and it's on a different level."
Employers have been getting more creative about the kinds of benefits they offer employees, to attract and retain talent, for some months. But many believe finding new ways to appreciate employee contribution is more important than ever as we enter another period of economic uncertainty. "Following the pandemic," said Leslie Tarnacki, a human resources executive at WorkForce Software, "staff are struggling with low morale, and recognition is what they need to stay engaged, motivated and productive."
Some rewards providers, like Caroo, have focused on offering gifts and rewards from a roster of client partner brands that aim to make meaningful changes and donate to charities.
"At Caroo, we believe that an extraordinary gift experience is one that features incredible brands, feels unique to every recipient and gives back in a meaningful way," said the firm's CEO Sean Kelly.
"Our gifting experts source the best-in-class goods, partnering with LGBTQ-, BIPOC- and women-founded brands," he said, adding that every Caroo gift is carbon neutral in the U.S., and many of brand partners donate to charities for social good, including Feeding America. "As of today, we've donated over 20 million meals and counting," he added.
Shannon — a pseudonym WorkLife agreed to — was on the receiving end of one of the gifts.
"For Black History Month, my company sent me a Caroo Amplify Box that had coffee, a notebook and some really tasty snacks all from BIPOC-founded brands. Not only that, but I found out that the gift donated a portion of proceeds to the Equal Justice Initiative and Feeding America" she added.
"I loved that my company incorporated something tangible into their DE&I programming for the month and I'm glad they partnered with Caroo to give back while giving us all a nice delivery that we could look forward to and share with our families," she said.
"Meaningful rewards and recognition programs create ongoing employee engagement — which is critically important as our workplace economy continues to evolve as a result of the pandemic," said Marina Hodges, an executive at Blackhawk Network, a loyalty program provider. "It's no longer smart business for employers to gloss over the importance of making employees feel seen and appreciated."
In an environment of remote and hybrid work, Reachdesk is a gifting platform for in-person and virtual connections.
"Group-based skill activities are fun and fantastic for team building," said CEO Temy Mancusi-Ungaro. "We offer a range of different Escape Room-style experiences including an Escape from Alcatraz. Wine tastings are also always a big hit but some of the more creative and educational experiences have proven to be very popular too. Recently, teams have been enjoying facilitated painting classes and an Asian art storytelling tour to celebrate Asian American and Pacific Islander Heritage Month," he said.
Another airborne experience from Blueboard took Madison Stein into the sky flying a Cessna plane over the San Francisco Bay area.
Madison is a product marketer at Envoy, a workplace management firm, and she received her reward in recognition of launching a new product.
"A spot bonus and a gift card are cool," she said, "but I'm not gonna remember what I bought with that. Flying a plane is an experience that I'm going to remember forever. And just giving an experience and something that is an adventure is so much more thoughtful and memorable."
But Madison was "glad" that a licensed pilot was sitting next to her on the plane to handle the takeoff and landing.